It's a fact that San Jose landlords get better tenants when they follow proper tenant screening steps. As a prosperous city in bustling northern California, San Jose has plenty of people looking for rental properties. Landlords that aren't familiar with San Jose tenant screening laws are doomed to suffer with bad tenants. When it comes to tenant screening San Jose landlords can steer clear of bad applicants and focus on the best of the best.
This post on the San Jose tenant screening process includes:
San Jose tenant screening laws
Free resources  and links for landlords
Overview of the screening processes
Finding tenant screening services
Tenant Screening San Jose Laws
Many metropolitan cities have an additional set of laws that govern landlord/tenant relations that go beyond the state or federal laws. San Jose is no different, so landlords need to learn about every level of tenant screening. San Jose tenant screening laws are always going to promote fairness for both landlords and applicants.
These are just a few things that San Jose landlords will want to know:
The state of California and the city of San Jose place limits on how much a landlord can charge for an application fee.
The application fee limits changes annually to reflect the reasonable cost of a background check and processing time.
Application fees are not refundable.
When it comes to San Jose tenant screening landlords will really benefit from proceeding in the right and legal way. Find out more on San Jose resources on application fees and tenant screening here.
Too Many Landlords Make This One Common Screening Mistake
Most San Jose landlords think they can perform a background check on an applicant no matter what. The truth is they can't proceed until they have written consent. This usually takes place on the initial application. Without an official consent from the applicant that appears on the rental application form landlords cannot run a background check. If a San Jose landlord is using an application form without a signature line, they should make changes or get a new application form right away.
Here's how it is done at RentPrep: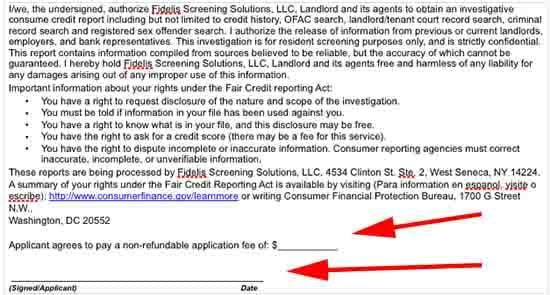 That top red arrow lets applicants know the application fee is non-refundable. That bottom red arrow points out where applicants must provide a signature so a background check can be run.
Resources for Tenant Screening in San Jose
RentPrep has gathered a helpful list of links for you to use in your real estate business. There's no better way to find top tenants than to use the information here.
*Go through application more efficiently by following a no blank space policy. This means that landlords can reject applications that are not fully filled out. If there are any blank spaces instead of answers, applicants may be trying to hide something. Using a no blank space policy just makes it fair across the board about rejecting incomplete applications.
San Jose Tenant Screening Process
Sorting through applications becomes easier with a proper San Jose tenant screening criteria list. Landlords create a set of criteria that they would want in an ideal tenant. Then they compare the batch of applications to the list and keep the ones that are closest. It's a fair and consistent way to find the best applicants and hold them to the landlord's standard.
This is just an example of a tenant screening criteria list:
No evictions
No criminal history
Must be at current job at least 6 months
No smoking
A 2:1 income to rent ratio
No bankruptcies less than 7 years old
Housing discrimination is serious, and San Jose, like the rest of the state and country, has a set of protected classes that landlords cannot make decision based on their characteristics. Landlords can stay up to date on all the fair housing laws for San Jose and more here and federal housing discrimination details at the hud.gov website.
Remember, San Jose tenant screening laws include:
A set limit on how much San Jose landlords can charge for application fees
In San Jose, applications fees are not refundable
Landlords must not discriminate against federal, state and municipal protected classes when screening tenants
It is legal for San Jose landlords to reject applications that are incomplete or that don't meet their proper tenant screening criteria
Look at this website for more San Jose tenant screening details.
Check Out Your California Screening Guide
In many cases cities have their own screening rules and regulations while the state has another set of rules that govern the screening process.
Click here to go to our post on "California Tenant Screening Process."
Check Out Our Tenant Screening Tutorial
We've created a tenant screening tutorial that walks you through the entire tenant screening process.
This will show you the ins and outs of tenant screening.
Take the time to go through this guide and your future self will thank you.
[activecampaign form=140]
Finding the Right Tenant Screening Services
With the top applications in hand, landlords in San Jose must locate a good tenant screening service to perform the background check on each applicant. Finding a good tenant screening service is not difficult, but making sure they get their money's worth is important.
For a reasonable fee, a good tenant screening company should provide info on:
Evictions
Bankruptcies
Judgments and liens
Previous addresses
Once the background checks are in, landlords in San Jose can pick the best applicant to fill the rental unit. The applicant with the cleanest background, good rental history and more will be the best choice to ensure rent is paid on time and that they will care for the unit properly.
At RentPrep, we have experience with over 21,000 landlords over the past 10 years. Check out our tenant screening packages to see the services we offer.
Our FCRA certified screeners will put your mind at ease by providing the best tenant screening report available.