California tenant screening is unique because the Golden Coast tends to do things a little bit different compared to other states.
This post is designed to give you all the tips and free forms you need to properly screen tenants in the State of California.
Watch this video for tips and things you should consider when screening.

If you learn better from reading content, feel free to select one of the topics below.
Be sure to check out the section of free forms you can download to make sure you're being compliant with your screening.
California Tenant Screening – Things Every Landlord Should Know
Things to consider before screening tenants:

| | | |
| --- | --- | --- |
| 1. California Tenant Screening Laws | Know what laws matter when screening tenants in the state of California. | California Laws |
| 2. California Forms & Documents | Make sure you have the right forms on file to screen your tenants. | California Forms |
| 3. Overview of screening process | Understand the entire screening process. | Screening Process |
| 4. Selecting A Screening Service | Know what to look for in a screening service. | Screening Services |
California Tenant Screening Laws
California laws tend to differ some from the other states. Here's some quick info you should be aware of as a landlord.
As of 2012, the most you can charge for an application fee is $49.50 and it should not exceed the landlord's actual out-of-pocket costs *dca.ca.gov
You can charge a maximum security deposit that is up to two times the monthly rent
You will be required to provide a copy of the credit report if the tenant requests it
It should be noted that an application fee is typically non-refundable and not part of the security deposit.
If a landlord chooses to refund the application fee they can do that. If you want even further detail on laws involved with California tenant screening, you can read it here.
Don't Make This Screening Mistake as a landlord you have the right to run a background check on your tenant only if you have signed consent from the tenant.
Most (but not all) rental application forms will have a section on the application that requests signed consent from the tenant applicant to run a background check.
Here's a snapshot of that language on our forms we use here at RentPrep.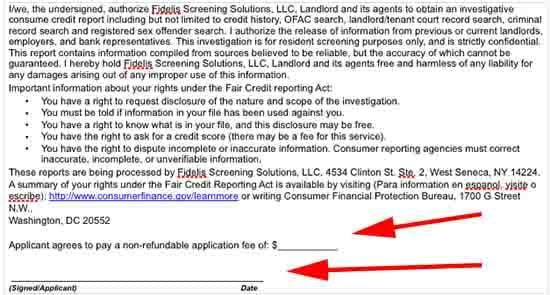 You will notice the first red arrow highlights the fact that the application fee is non-refundable. This is good to know because you will eventually get a tenant asking about this.
The second red arrow is for the applicant to sign and gives consent to run a background check. This leads nicely to our resources part of the post.
Resources for Tenant Screening in California
Here are some free forms and resources to help you find the best possible tenant for your rental.
*A quick note on the rental application form. We've found one of the best screening tactics you can do is to institute a "No Blank Space" policy on your rental applications.
Applicants with something to hide will tend to leave blank spaces on the rental app. If you don't accept rental applications with blank spaces you'll screen out bad applicants right from the start.
California Tenant Screening Process
It's important that you create screening criteria for each of your rental properties and write it down for safe keeping. Your criteria may include things such as the following:
No smoking
No pets
Must make 3x the monthly rent
No violent crimes
No previous evictions
You never want your criteria, marketing, or screening process to discriminate against any of the protected classes as defined by hud.gov.
Having your criteria written down is the first step in protecting yourself from a lawsuit from a denied applicant or Government agency. The second step is to make sure you're consistent in your screening of tenants.
Don't make exceptions or changes to your criteria on a case-by-case scenario because this could be deemed discrimination and could put you in legal trouble. For the most part, the tenant screening process is similar to state-to-state but there are a few things to keep in mind for California.
As we mentioned earlier… you can charge up to two months rent for a security deposit. However, if the rental is furnished, you can charge up to three months rent for the security deposit…… and a waterbed can add an additional half month worth of rent to the security deposit.
Again, we suggest reading this PDF for more insights specific to California.
We also have a thorough tenant screening guide you can read by clicking here.
Selecting a Screening Service
Once you have arrived at a select few tenant applicants you need to run a background check. A proper background check at the most basic level must include the following items:
Eviction History
Bankruptcy Search
Judgments & Liens
Address History
You don't want to rent to a tenant based only on your gut feeling.
This is a recipe for a future headache. Here at RentPrep, we've worked with over 21,000 landlords over the past 10 years.
Check out our tenant screening packages to see the services we offer.
Our FCRA certified screeners will put your mind at ease by providing the best tenant screening report available.