As the state capital of California, the city of Sacramento is a vibrant and bustling hub of culture, government and economics. Most people know that the rental market in Sacramento is ever changing, and now more than ever, people are seeking new properties. Sacramento landlords have plenty of applicants for their vacant listings, and if they follow their city's tenant screening laws, they can have their pick of excellent tenants.
Landlords can learn more about tenant screening in this post:
Sacramento tenant screening laws
Free landlord resources
Application screening process overview
Finding tenant screening services
Tenant Screening Sacramento Laws
Metro areas like Sacramento often have additional tenant screening laws along with state and federal laws. This is designed to keep the application and leasing process fair and balanced in a high rental place. Sacramento landlords need to know the laws that govern their business inside and out.
Here are a few of Sacramento's tenant screening laws:
There's a state-imposed limit on what landlords can charge for application fees.
Landlords cannot charge more than the cost of the screening as an application fee.
In Sacramento, all security deposits and application fees are separate transactions.
Any Sacramento landlord that wants to see success in their real estate business should pay attention to Sacramento tenant screening laws.
Many Landlords Make This Common Screening Mistake
If there was one screening mistake that Sacramento landlords make too often, it is not collecting a signature from the applicant. Without a signature of consent, a landlord cannot run any kind of background check. In other words, if a Sacramento landlord doesn't get the signature of the applicant on the paperwork, they won't be able to run a background check. Landlords should make changes to their current application form if it doesn't have a spot for a signature.
This RentPrep form is one example: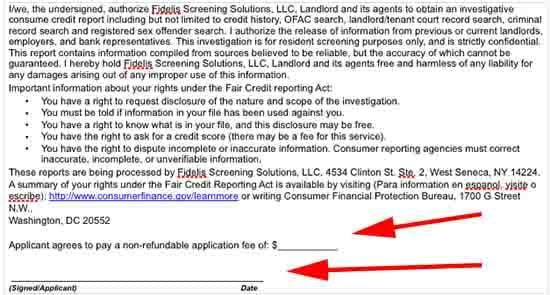 Top arrow:  Shows where the applicant is notified of the non-refundable application fee
Bottom arrow: Shows applicant where to sign for a background check
Resources for Tenant Screening in Sacramento
RentPrep has gathered a helpful list of links for you to use in your real estate business. There's no better way to find top tenants than to use the information here.
*Consider implementing a no blank space policy, like many Sacramento landlords. It allows landlords to deny all applications that aren't completed. In other words, if questions are left blank, they are not processed any further. Sometimes when applicants want landlords to avoid a certain part of their rental past they leave blanks instead of providing answers.
Sacramento Tenant Screening Process
If Sacramento landlords want to be able to sort out the best applicants from less than stellar ones, they can compose a tenant screening criteria list.  After composing a list of features they most want to see in a renter, they simply need to ensure that an applicant meets their minimum standards to be processed further. The criteria should provide decent standards but not be unrealistically restrictive. Landlords in Sacramento should have a good idea about the type of renters that have interest in their rental property.
Here's an example of a Sacramento tenant screening criteria list:
No smoking
Income to rent ratio must be at least 3:1
No past evictions
Credit score of at least 650
No pets
No criminal history
While landlords can compose whatever list they would like, they cannot discriminate against protected classes. Sacramento landlords can get up to speed on these certain groups by checking out the city's fair housing laws here and visit the hud.gov website for federal standards.
Sacramento tenant screening laws include:
Landlords must comply with the state's limit on application fee charges.
Sacramento landlords can create a tenant screening criteria list to sort applications.
Under no circumstances can landlords discrimination against protected classes.
Sacramento landlords will do best when they learn all about the city's tenant screening laws so they don't run afoul of the law
Check Out Your California Screening Guide
In many cases cities have their own screening rules and regulations while the state has another set of rules that govern the screening process.
Click here to go to our post on the "California Tenant Screening Process."
RentPrep's Tenant Screening Guide
In this post we will examine everything you should know as a landlord considering tenant applicants.
This guide will walk you through the tenant screening process.
[activecampaign form=140]
Locating a Tenant Screening Service
Sacramento landlords should leave the task of doing a background check to a professional tenant screening service. Instead of relying on their own instincts, landlords can trust what a good tenant screening service can uncover
The best tenant screening reports should include:
Prior evictions
Bankruptcies
Judgments or liens
Previous addresses
After the background check, a Sacramento landlords will be able to make a final decision on the applicant of their choice. The best tenants will pay rent on time and treat a rental property well, something that landlords look for.
At RentPrep, we have experience with over 21,000 landlords over the past 10 years. Check out our tenant screening packages to see the services we offer.
Our FCRA certified screeners will put your mind at ease by providing the best tenant screening report available.