As one of the busiest cities on the West Coast, Portland is attracting lots of newcomers thanks to a robust economy and vibrant culture. Portland is also home to many rental properties, and landlords in the city should definitely have no problems filling vacancies. Of course, some tenants are better than others, so how do Portland landlords find the best ones? The answer is to follow all the Portland tenant screening laws, because it's the best way to attract and sort the best applicants for a rental property.
This post will assist Portland landlords in learning about:
Portland tenant screening laws
All the free resources for landlords
The tenant screening process
How to find the best tenant screening services
Tenant Screening Portland Laws
The federal, state and municipal laws are put in place to regulate how landlords and applicants come together and determine whether or not the rental unit is a good fit. Portland landlords lead the way in maintaining compliance with the laws. Failure to follow them can land them in legal trouble. Portland tenant screening laws are worth following because they protect both parties.
Here are a few Portland tenant screening laws:
Portland laws don't limit how much landlords may charge for application fees.
All application fees are non-refundable in Portland
In Portland, a security deposit is a separate financial exchange from the application fee.
Information on Portland tenant screening laws and more are available here.
Many Landlords Make This Common Screening Mistake
Most Portland landlords want to do a background check on applicants for their rental unit. However, they often overlook the one thing they need to do so. Landlords must have written consent from the applicant in order to run a background check. Without a signature, Portland landlords won't be able to run a background check on an applicant. 
Here's an example in a RentPrep document: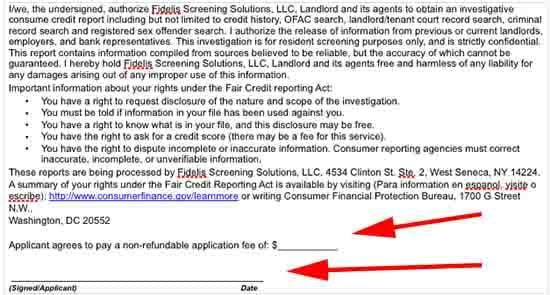 Top arrow: Shows that the application fee is not refundable.
Bottom arrow: Shows the signature line where applicants grant consent to a background check.
Resources for Tenant Screening in Portland
RentPrep has gathered a helpful list of links for you to use in your real estate business. There's no better way to find top tenants than to use the information here.
*Portland landlords can adopt a no blank space policy, where they deny all applications that are not completely filled out. If there's a blank space instead of an answer, that application will not be processed any further.
Portland Tenant Screening Process
Smart landlords create a tenant screening criteria list so they have a consistent standard when reviewing applications. A Portland tenant screening criteria list should be realistic, yet represent the ideal tenant. As the criteria is constant, it makes it easier and more fair for applicants seeking to rent.
This is an example of a possible Portland tenant screening criteria list:
No evictions
Smoking allowed
Credit score above 625
Income to rent ratio at least 2:1
No violent criminal history
One dog under 25 lbs accepted with vet papers
No bankruptcies
Portland landlords can create a tenant screening list with numerous factors, but they must never include any discriminatory features. Protected classes are those defined by federal, state and municipal law. Every landlord needs to learn more about anti-discrimination laws in their city. This Portland website covers all the laws and regulations about discrimination in the city. Of course, landlords can visit the hud.gov website for details on federal standards.
In summary, Portland tenant screening laws include:
Landlords have no limit to what they can charge for an application fee.
Portland landlords cannot discriminate against protected classes.
They can deny any application that doesn't fit their tenant screening criteria list.
Portland's landlord/tenant laws can be complicated, so this website can help them get up to speed.
[activecampaign form=140]
Check Out Your Oregon Screening Guide
In many cases cities have their own screening rules and regulations while the state has another set of rules that govern the screening process.
Click here to go to our post on "Oregon Tenant Screening Process."
Check Out Our Tenant Screening Tutorial
We've created a tenant screening tutorial that walks you through the entire tenant screening process.
This guide will show you everything you need to know even calling the previous landlord.
Take the time to go through this guide and your future self will thank you.
Finding the Right Tenant Screening Services
Landlords are ready to run a background check when they have a few applications that meet their approval. Now it's time to find a tenant screening service to help out. The best tenant screening services will give Portland landlords an excellent report for a fair price.
Portland landlords should look for a tenant screening company that checks on these areas:
Previous addresses
All evictions
Judgments and liens
Bankruptcies
Once the background check report is done, Portland landlords can make an informed decision on who to rent to. It's best when landlords follow the Portland tenant screening process because it is the best way to find the best applicants, which have the lowest risk of becoming bad tenants.
At RentPrep, we have experience with over 21,000 landlords over the past 10 years. Check out our tenant screening packages to see the services we offer.
Our FCRA certified screeners will put your mind at ease by providing the best tenant screening report available.