Does Oregon tenant screening really make a big difference in managing rental property? Successful landlords will testify that proper tenant screening helps them find the state's best tenants. Oregon has unique regulations and laws concerning tenant screening that landlords should know about.
From Salem and Portland to Medford and Bend, landlords across the state need to learn more on these topics:
Oregon tenant screening laws
Overview of the entire screening process
Free links and resources for Oregon landlords
How to choose a tenant screening service
Oregon Tenant Screening Laws
Oregon tenant screening laws can be different from other states, and landlords have lots of ways to learn all the details. When it comes to screening tenants, Oregon landlords can't be too careful.
A few of the Oregon tenant screening laws include:
The state has not set a maximum limit for what landlords may collect for an application fee.
Oregon landlords also don't have a limit on the amount of a security deposit.
Application fees are different from the security deposit, and they are not refundable.
Application fees are due to the landlord when the interested party turns in the completed application form.
Learn more about Oregon landlord/tenant laws here.
Avoid One Common Screening Mistake
Oregon landlords are working toward doing a background check on each qualified applicant. However, they can't do so without getting a signed consent form from the applicant.
If their current application form doesn't have a signature line, they need to make changes to it right away, either in the wording or as an addendum to the application.
This is what the forms at RentPrep include: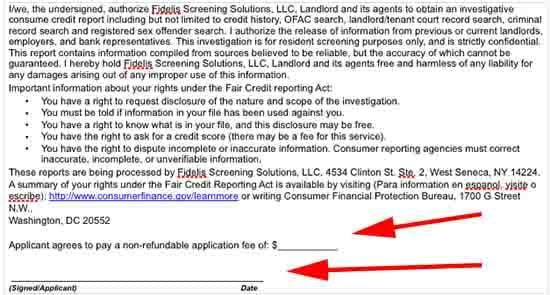 The bottom red arrow indicates where applicants are supposed to sign in order to give consent to run a background check.
The top arrow explains about the non-refundable application fee, in case applicants have any misunderstandings about it.
[activecampaign form=140]
Resources for Tenant Screening in Oregon
RentPrep has gathered a helpful list of links for you to use in your real estate business. There's no better way to find top tenants than to use the information here.
*Many landlords use a no blank space policy when reviewing applications. In other words, they don't accept applications where there are blank spaces left for answers. When people don't welcome investigation into parts of their past, they will often leave part of the application blank. Using a no blank space policy means they can screen out potential trouble up front.
Oregon Tenant Screening Process
Oregon landlords should create a list of screening criteria factors. This important list is then used to sort each application. The features included in the tenant screening list may include:
Credit score minimum
Any pet restrictions
Income to rent ratio
Smoking restriction
Any criminal history
Eviction history
As landlords create their tenant screening criteria, they should never include any features that discriminate. All the protected classes are covered at hud.gov.
Landlords should always hold applicants to the same standard. It's never a good idea to just pick and choose or rely on a gut feeling, because that can look like discrimination. A screening criteria list helps landlords across the country to avoid discrimination lawsuits.
With the screening list and knowledge of Oregon tenant screening laws, landlords are:
Application fees have no maximum limit, according to Oregon law.
Oregon application fees aren't refundable.
Landlords need to be consistent in screening criteria
Learn more about Oregon screening criteria here.
A Community Approach to Tenant Screening
You can fill out the form below to get access to our free Landlord Facebook Group.
When you enter your email we will send you the top 10 posts on tenant screening.
[activecampaign form=140]
Finding a Top Screening Service
Landlords that have gone through the entire process are now ready to send their top two or three applications to a tenant screening service. It's time to perform in-depth background checks on each one.
The best screening services should investigate:
Evictions
Bankruptcy history
Judgments and liens
Previous addresses
Landlords should never rent to someone without doing a background check. That's because they can get information on the potential tenant that they can't find anywhere else. It will indicate whether or not the applicant will be a good renter.
At RentPrep, we have experience with over 21,000 landlords over the past 10 years. Check out our tenant screening packages to see the services we offer.
Our FCRA certified screeners will put your mind at ease by providing the best tenant screening report available.