Sunshine, blue skies and lots of economic opportunities make Jacksonville an incredibly popular place to live. More than half of the residents in Jacksonville are renting. This means that landlords who own rental property in Jacksonville need to find a way to attract the best applicants and select the best tenants from among them.  Every landlord in the city should learn all they can about Jacksonville  tenant screening laws.
This post will help landlords understand a number of topics:
Jacksonville tenant screening laws
Lots of free resources
All about the screening process
Tenant screening services
Tenant Screening Jacksonville Laws
Jacksonville tenant screening laws are strict, and landlords can experience lots of legal trouble if they don't obey. Not only do landlords have to know about all the federal and state laws, Jacksonville and other large cities often have their own screening laws that are more strict.
These are just a few Jacksonville tenant screening laws:
The state of Florida and the city of Jacksonville don't have limits on how much landlords may charge for an application fee.
Application fees are not refundable.
Security deposits and application fees are separate transactions between applicants and landlords.
The Jacksonville tenant screening laws are in place to ensure that each party is treated fairly. There are definitely advantages to learning about the laws in place so landlords can attract the best tenants and avoid problems.
This Screening Mistake is Common Among Landlords
Landlords that don't know any better usually make one of the most common mistakes in tenant screening. It happens when they neglect to get a signature of permission from the applicant. If they don't have a signature, landlords cannot run a background check. Without a background check, landlords have no way to see whether or not the applicants will make good tenants.
Forms need to include a signature line, like this one from RentPrep: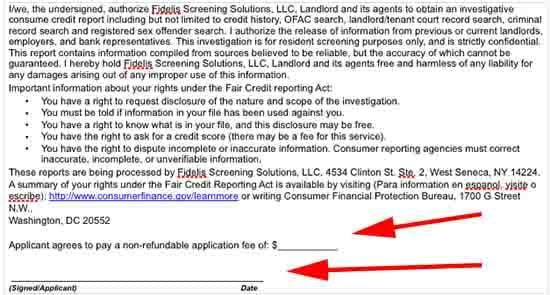 That top red arrow lets applicants know the application fee is non-refundable. That bottom red arrow points out where applicants must provide a signature so a background check can be run.
Resources for Tenant Screening in Jacksonville
RentPrep has gathered a helpful list of links for you to use in your real estate business. There's no better way to find top tenants than to use the information here.
*Notice how the top red arrow shows the applicants that they will be paying a nonrefundable application fee. Notice how the bottom red arrow indicates exactly where the applicants must sign to provide landlords with written consent.
Jacksonville Tenant Screening Process
Jacksonville landlords should create a tenant screening criteria list to help them sort through completed applications. This list has all the best features that landlords might want in a tenant. The list should have specifics, but not be so unrealistic that the ideal tenant doesn't exist.
Here's a good Jacksonville tenant screening criteria list, for example:
No smoking
Credit score above 650
No pets
Any bankruptcies must be older than 7 years
No criminal history
Rent to income ratio must be no more than 2:1
Jacksonville landlords will then need to match up all the applications with the tenant screening criteria list. The applications should then be ranked from most matches to least matches.
Landlords should never practice discrimination during tenant screening. In Jacksonville, as well as in Florida and the United States of America, housing discrimination is illegal. To learn more about discrimination and housing, check out this Jacksonville website. Landlords can also visit the hud.gov website.
Jacksonville tenant screening laws include:
There are no limits set for how much landlords can charge for an application fee.
Landlords in Jacksonville can deny an application that doesn't meet their screening criteria list.
Jacksonville landlords cannot discriminate according to city, state and federal housing laws.
Jacksonville landlords can stay informed with this website.
Check Out Your Florida Screening Guide
In many cases cities have their own screening rules and regulations while the state has another set of rules that govern the screening process.
Click here to go to our post on "Florida Tenant Screening Process."
[activecampaign form=140]
Finding the Right Tenant Screening Services
Landlords should send off their top applications to a reputable tenant screening service to perform background checks. A proper tenant screening service report should have:
Past evictions
All bankruptcies
Any judgments and liens
Address history
Jacksonville landlords need to follow the proper tenant screening steps in order to locate the best tenant. Every Jacksonville tenant screening law is in place to help both tenants and landlords.
At RentPrep, we have experience with over 21,000 landlords over the past 10 years. Check out our tenant screening packages to see the services we offer.
Our FCRA certified screeners will put your mind at ease by providing the best tenant screening report available.