When it comes to living in Florida, many residents feel like it is a true paradise.
However, if you are a landlord that ignores Florida tenant screening laws and regulations, you are in for a lot of stress.
Here at RentPrep, we want you to get the best tenants possible, and that's why we are providing you with detailed information on Florida tenant screening.
In this post, you'll learn more about topics like:
Florida tenant screening laws
High quality resources for free
Step-by-step review of the screening process
Help in choosing a tenant screening service to fit your needs
In addition this post we have a more thorough guide on tenant screening available here.
Florida Tenant Screening Laws
Florida laws on tenant screening procedures are just a bit different than other states across the country.
For example, as a Florida landlord, you should know:
The state does not limit the amount of application fee that you can charge.
It is advised that application fees be no more than the average out-of-pocket expense.
You aren't allowed to co-mingle any money collected–any fees or deposits must be kept in a separate account
In most states, an application fee is typically non-refundable and would not be included as part of the security deposit. If you want to refund someone's application fee, you could.
You should take the time to learn all you can about the Florida laws on tenant screening here.
Never Make This One Screening Mistake
Landlords in every state have the right to run background checks on applicants, but only if you've gotten a signed consent form from them.
A good rental application form will include an area that asks for signed consent from the applicant to run a background check.
Here's that language from one of our forms that we use here at RentPrep.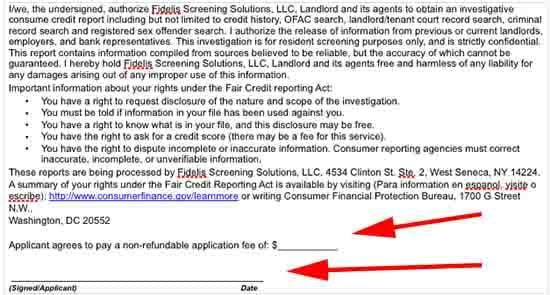 You can see that the first red arrow shows that this application fee is not refundable. The clear language is helpful because most applicants ask about this.
The second red arrow indicates where the applicant must sign to give consent to you to run a background check.
Once you have consent, you can start the process. In the meantime, get up to speed on resources for tenant screening in Florida.
Resources for Tenant Screening in Florida:
These free forms and guides are valuable resources that can assist you in finding the best possible tenant for your rental property.
*Remember that a "No Blank Space" policy on your rental applications is an excellent screening tactic. When applicants have information to hide they often leave blank spaces on the rental application. The no blank space policy is a good way to universally deny incomplete applications and eliminate suspicious applicants right away.
Florida Tenant Screening Process

Florida landlords like you should definitely create a list of screening criteria for each of your rental properties. A written record of the criteria can help you sort through applications and focus on the type of tenant you are looking for.
Some common criteria for screening applicants usually include factors like this:
There is no smoking
There are pet restrictions as to size and breed
They must earn 2 times the amount of monthly rent
Their credit score must be above a certain level
They have no history of violent crimes
There must be absolutely no previous evictions
Screening criteria is good, but it should never ever be based on discriminating against a protected class. For more details on the protected classes, check out hud.gov.
Keep your screening criteria up to date on your computer so that in the event you are hit with a lawsuit from a denied applicant, you can show that you had a set list and were fair to all applicants.
Landlords should always make sure they are consistent when they screen of tenants. In other words, never make an exception to your list, and don't fall for a sob story that changes your mind on what you want in a tenant. If you start approving applicants on a case-by-case scenario you are not only asking for trouble, but you will most likely be stuck with bad tenants.
The tenant screening process is much the same across the country but there are a few things to know about Florida.
There's no limit to the amount that a Florida landlord can charge for a security deposit
Florida law requires landlords to provide tenants with a written document about the relevant details of the account where the security deposit is being held within 30 days of the payment.
In Florida, landlords can legally reject an application that doesn't meet their criteria such as bad references, a short job history, or insufficient income, for example.
Remember, this guide provides lots of insights that are specific to Florida.
Tenant Screening Guide
Our tenant screening guide is designed to be educational and easy to digest.
Broken up into 10 chapters it makes it easy to read through the entire guide.
You can check it out here.
Choosing the Best Screening Service
Now that you've applied your screening criteria, it's time to run a background check on your finalists.
A good background check should always include these items, if nothing else:
Eviction History
Bankruptcy Search
Judgments and Liens
Address History
It's a bad idea to offer to rent to a tenant without knowing their status on at least these four areas. Trusting your gut in this case can introduce lots of problems to your life.
We invite you to check out RentPrep, where we've worked with over 150,000 landlords over the past 10 years.
Check out our tenant screening packages to get a better idea about all the services we offer.
Our FCRA-certified screeners will deliver the best tenant screening report available, every time.