Everyone knows life is better at the beach, and Virginia Beach is proof that this is true. This bustling seaside community has plenty of rental properties available for eager residents, and Virginia Beach landlords shouldn't have to wait long to fill vacancies. Knowing the Virginia Beach tenant screening laws and regulations will help landlords sort through applications legally and fairly and select the best renters to live in their properties.
This post will definitely help Virginia Beach landlords know more about:
Virginia Beach tenant screening laws
Where to locate free resources for landlords
Overview of the tenant screening process
Find top tenant screening services
Tenant Screening Virginia Beach Laws
Virginia Beach landlords need to obey all federal, state and municipal laws when it comes to proper tenant screening. The laws are in place to protect landlords as well as applicants and ensure fairness for both sides. When Virginia Beach landlords follow the proper process, they stand the best chance of finding top applicants to fill their vacancies.
Here are a few of the Virginia Beach tenant screening laws that landlords should know about:
The state of Virginia won't permit landlords to collect an application fee for more than $50 for tenant screening services.
 Landlords can collect the application fee to pay for screening services, as well as an application deposit.
If the applicant doesn't rent the unit, the landlord must refund the application deposit within 20 days.
A security deposit is separate from an application fee
There are plenty of tenant screening laws that Virginia Beach landlords need to know about, and they can find more information here.
This Screening Mistake is Common Among Landlords
Running a full background check on an applicant is a great way to discover what kind of tenant they have been in the past. However, Virginia Beach landlords are denying themselves the chance to do this when they neglect to get a signature of consent from the applicant. A Virginia Beach landlord that doesn't get the applicant's signature cannot run a background check on an applicant. 
This is a RentPrep form with a consent line: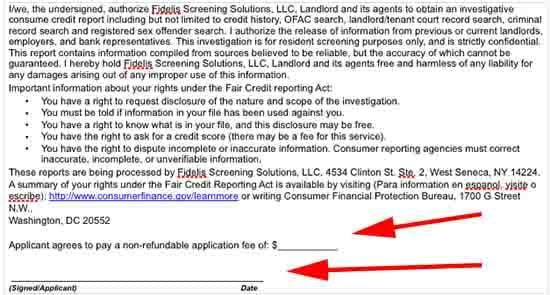 Look at the top arrow. It informs applicants that the application fee is not refundable in some conditions. Now look at the bottom arrow. It indicates the signature line so landlords are legally able to run a background check.
Resources for Tenant Screening in Virginia Beach
RentPrep has gathered a helpful list of links for you to use in your real estate business. There's no better way to find top tenants than to use the information here.
*Smart landlords implement a no blank space policy when reviewing applications. This means they don't process any applications with incomplete answers or blank spaces. It's impossible to do a full background check on an application with incomplete answers, so it is denied automatically.
Virginia Beach Tenant Screening Process
A tenant screening criteria list is something that landlords can create to help them process applications according to a consistent standard. When landlords have a Virginia Beach tenant screening criteria list, applications are much easier to evaluate. The tenant screening criteria list includes all the qualities a landlord desires in a tenant. If an applicant meets the standards, they move ahead to the next phase.
This is an example of a Virginia Beach tenant screening criteria list:
No prior evictions
No smoking
Credit score above 625
Income to rent ratio 3:1
Proof of current renter's insurance policy
No criminal history
One dog under 25 lbs or two dogs under 10 lbs each accepted
No bankruptcies
Virginia Beach landlords can be consistent and fair when reviewing applications when they have a tenant screening criteria list written up. If they use it for every application process, they are much less likely to be accused of discrimination. Metro areas like Virginia Beach usually have stricter anti-discrimination laws than the rest of their state, so landlords need to be up to speed on what to do. For more information on Virginia Beach fair housing, visit this website and learn more about federal housing discrimination issues at the hud.gov website.
More about Virginia Beach tenant screening laws:
Landlords can't charge more than $50 for an application fee.
Virginia Beach landlords can't discriminate against protected classes when it comes to renting units.
Landlords can deny application that doesn't meet their tenant screening criteria list.
Virginia Beach landlords that want more info on the city' landlord/tenant laws should refer to this website.
Check Out Your Virginia Screening Guide
In many cases cities have their own screening rules and regulations while the state has another set of rules that govern the screening process.
Click here to go to our post on "Virginia Tenant Screening Process."
Check Out Our Tenant Screening Tutorial
We've created a tenant screening tutorial that walks you through the entire tenant screening process.
This will show you the ins and outs of tenant screening.
Take the time to go through this guide and your future self will thank you.
[activecampaign form=140]
Getting the Best Tenant Screening Services
When landlords have narrowed down the top applications from their search, they are ready to submit them for a background check. It's important to locate the best tenant screening service for this task. Landlords can know they've found a good tenant screening service when they find one that delivers in-depth reports for a reasonable fee.
Virginia Beach landlords need a tenant screening company that reports on:
Previous addresses
Any evictions
All judgments and liens
Bankruptcies
Getting a complete background check report gives Virginia Beach landlords the information they need to pick the best applicant. When they follow the Virginia Beach tenant screening process from start to finish, they are the most likely to avoid those bad tenants.
At RentPrep, we have experience with over 21,000 landlords over the past 10 years. Check out our tenant screening packages to see the services we offer.
Our FCRA certified screeners will put your mind at ease by providing the best tenant screening report available.