One of the country's true crossroads is Tulsa, a city with culture and style like no other. Many people call Tulsa home, and a good portion of them are renters. Landlords in Tulsa need to follow the Tulsa tenant screening process to ensure they get excellent renters in their units.
In this post, Tulsa landlords will understand more on:
Tulsa tenant screening laws
Free landlord resources
Overview of application screening process
Find the best tenant screening services
Tenant Screening Tulsa Laws
The laws for Tulsa tenant screening were created to make sure the application process is fair and legal. Landlords that don't really pay attention or just proceed with applications at random are not in compliance with the law and can be in serious legal trouble.
These are a few of Tulsa's tenant screening laws:
Tulsa's laws about application fees don't include any limits, so they can charge what they want within reason.
Application fees are not refundable in Tulsa.
Like most other states, security deposits and application fees in Tulsa are separate financial transactions.
Landlords in Tulsa will do better in their business when they follow the steps in the tenant screening process. No landlords wants to get in to legal trouble or lose money. Following the Tulsa tenant screening laws will result in quality applicants and better tenants.
Don't Make This Common Screening Mistake
When it comes to the most common screening mistake, Tulsa landlords may not even realize they are doing it. To run a background check on an applicant, landlords need a signature.  Without it, they won't be able to run a background check. An applicant must provide a signature in order for landlords to run a background check on them. Any applications that don't have a signature line should get the change made soon.
This RentPrep form is a good example: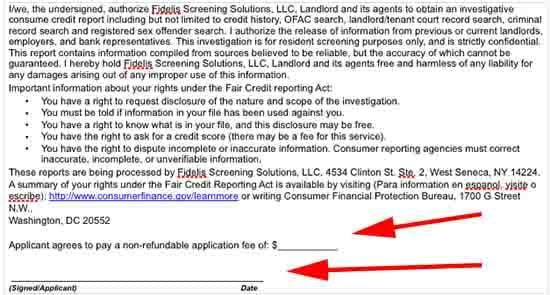 Top arrow: Non-refundable application fee notice.
Bottom arrow: Signature line so the landlord can run a background check.
Resources for Tenant Screening in Tulsa
RentPrep has gathered a helpful list of links for you to use in your real estate business. There's no better way to find top tenants than to use the information here.
*Be smart and use a no blank space policy for reviewing applications. With a no blank space policy, landlords can deny application that don't fully answer every question.
Tulsa Tenant Screening Process
Tulsa landlords will be miles ahead when they have a tenant screening criteria list ready for when the applications come in. They must write up a list of characteristics they most want to see in a tenant. Each application is then compared to the list and deemed whether or not it meets the minimum standards.
Here's an example of a Tulsa tenant screening list:
No smoking
Proof of renters insurance
No evictions
One dog under 20 lbs allowed
No bankruptcies
Income to rent ratio at least 3:1
No violent criminal history
It is against the law to discriminate against protected classes in Tulsa. With certain state, federal and municipal laws set up to protect certain individuals, landlords in Tulsa need to know about each one. Tulsa fair housing laws are discussed here and visit the hud.gov website for federal standards.
So, Tulsa's tenant screening laws include:
No limits on how much landlords can charge for application fees.
Tulsa landlords can deny applications that don't meet their personal criteria.
Housing discrimination is illegal in Tulsa and landlords should learn all they can about the laws.
Tulsa landlords can avoid bad applications when they abide by the city's tenant screening laws.
Check Out Your Oklahoma Screening Guide
In many cases cities have their own screening rules and regulations while the state has another set of rules that govern the screening process.
Click here to go to our post on the "Oklahoma Tenant Screening Process."
[activecampaign form=140]
Find the Best Tenant Screening Services
There's no debate that using a professional tenant screening service is the way to go when it comes to good background checks.. Landlords in the city of Tulsa know that a good tenant screening service requires hard work and dedication. For a reasonable fee, the report should include
Past evictions
Any bankruptcies
Judgments or liens
Previous addresses
Tulsa landlords will feel more confident about signing a lease with someone with a clean background check.
At RentPrep, we have experience with over 21,000 landlords over the past 10 years. Check out our tenant screening packages to see the services we offer.
Our FCRA certified screeners will put your mind at ease by providing the best tenant screening report available.