The Big Apple has plenty of rentals, this according to the latest census data, that says 51% of the city's housing is occupied by renters. This post on Tenant Screening NYC will delve into the specific of screening tenants in the big apple and also provide free resources on how to get the best possible tenant. If you're a landlord in Manhattan, the Bronx, Queens, Brooklyn, and Staten Island this article is a must read.
With the New York City tenant screening process, landlords will learn more about:
NYC tenant screening laws
Free resources
Screening tenants properly
Overview of screening processes
Basics of tenant screening services
Tenant Screening NYC Laws
It's true that tenant screening in NYC has plenty of laws and regulations that comes with the territory. Many of the country's largest cities have different landlord/tenant policies than other smaller communities because urban areas often need a different type of oversight when compared to suburban and rural rental properties.
Here are just a few particulars about tenant screening in NYC:
For example:
The state of New York places no maximum amount on application fees, and this also applies in NYC.
Landlords in New York City with application fees that are too high run the risk of good applicants going elsewhere.
NYC landlords are required to post a sign that states whether or not they use tenant screening reports to make rental decisions. They can be penalized if they neglect to post the sign.
Ignoring the laws on tenant screening is a bad idea for landlords in NYC. To keep up to date on all the different regulations, landlords can refer to this comprehensive NYC guide.
Avoid This Common Screening Mistake
Way too many NYC landlords are using rental applications that don't help them find out all the best information on their potential tenants. In order for a landlord to run a background check on an applicant, they need to have their signature of consent on file. In other words, NYC landlords need to get the written consent of applicants before they can run a background check.
Here's how we do it at RentPrep: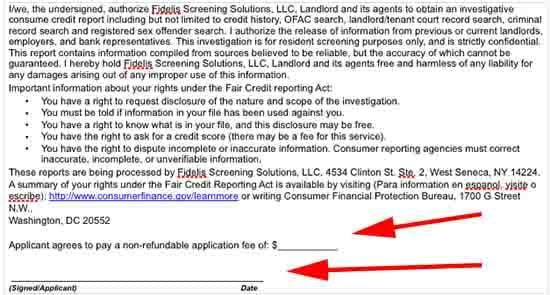 Top red arrow: This informs every applicant that the application fee is non-refundable.
Bottom red arrow: This indicates where the applicant needs to sign in order to give written permission for a background check.
Resources for Tenant Screening in NYC
RentPrep has gathered a helpful list of links for you to use in your real estate business. There's no better way to find top tenants than to use the information here.
*Consider adopting a no blank space policy to help sort through applications. This practice means that landlords can discard any applications that aren't completely filled out. If there is a blank space for an answer, it is automatically rejected.
NYC Tenant Screening Process
Another way to sort through applications is by creating a tenant screening list. NYC landlords can  create this list by writing down all the characteristics of their ideal tenant.  It helps landlords compare applications to a consistent standard and makes it easy to reject applications that don't measure up.
Here is just one example of an NYC tenant screening criteria list:
Income to rent ratio must be at least 2:1
Proof of holding current job for at least 6 months
No violent criminal history
Only one pet under 10 lbs.
No evictions in rental history
No smoking
NYC landlords with a tenant screening criteria list will find it to be helpful in sorting through various applications and cutting through all the confusion about which applications are the best.
There's one important thing to remember when creating an NYC tenant screening criteria list and that is to avoid discrimination in any form. Landlords in NYC must comply with all anti-discrimination housing laws on the federal and state level. However NYC has additional protected classes that are covered here. For federal housing discrimination laws, check out the hud.gov website.
More on NYC tenant screening laws and regulations:
NYC landlords don't have a limit on what they can charge for application fees
Any application can legally be denied if it does not meet an NYC's non-discriminatory screening criteria
NYC includes protected classes that are broader than federal and state protections, so landlords in the city must comply
Landlords in NYC can avoid discrimination lawsuits by applying consistent standards to application reviews.
NYC landlords can refer to this comprehensive website for more information on property management.
Check Out Your New York Screening Guide
In many cases cities have their own screening rules and regulations while the state has another set of rules that govern the screening process.
Click here to go to our post on "New York Tenant Screening Process."
[activecampaign form=140]
Finding the Right Tenant Screening Services
Once NYC landlords get the top applications in hand, they need to find the right tenant screening service to do a background check. There's no substitute for a real background check done by professionals.
For a modest fee, tenant screening services should provide details on areas like:
Past evictions
All bankruptcies
Any judgments and liens
Prior addresses
Once the real backgrounds of the top applicants is revealed by the tenant screening service, NYC landlords will be able to make a final decision on who to offer the lease agreement to.
At RentPrep, we have experience with over 21,000 landlords over the past 10 years. Check out our tenant screening packages to see the services we offer.
Our FCRA certified screeners will put your mind at ease by providing the best tenant screening report available.