While sun, surf and sand are closely associated with Long Beach, the city's vibrant economy and fine standard of living make it very desirable as well. When landlords have rental property in Long Beach, they want to make sure it is occupied with renters that will take good care of the place.  Selecting the best tenant isn't never easy but if landlords take the time to follow the Long Beach tenant screening laws, they have a much better shot.
This article shows landlords will learn more about:
Long Beach tenant screening laws
Where to find free landlord resources
Overview of the application screening process
Finding the best tenant screening services
Tenant Screening Long Beach Laws
Long Beach tenant screening laws are extremely important and landlords in the city must know as much about them as possible. That's because they are put in place to make the application process as fair as possible for both landlords and future tenants. Many times, city regulations are more strict than state law and Long Beach landlords need to know both.
Long Beach tenant screening laws:
Landlords can only charge up to the state's annual limit for an application fee.
The application fee can be no more than the cost of the background check.
In California, application fees are non-refundable, even if the application is denied.
To succeed in real estate, Long Beach landlords need to educate themselves on everything related to rental properties.
This Common Screening Mistake Can Cause Problems
Too many Long Beach landlords simply assume they can run a background check with minimal information from the applicant but that isn't true. Once common screening mistake that landlords make constantly is failure to get permission for a background check. A Long Beach landlord must get the applicant's signature on the application, or else they won't be able to do a background check. Current application documents ought to be changed to include a signature line.
Here's how RentPrep does it: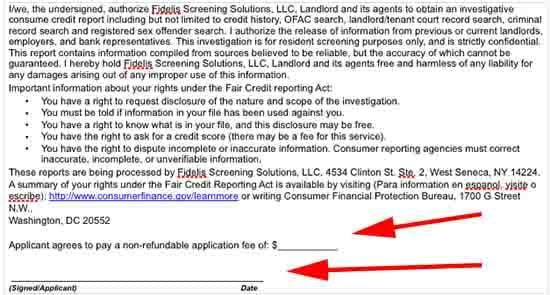 Notice how the top red arrow indicates that the application fee is not refundable. Then see how the bottom red arrow requests that applicants provide a signature to give consent to a background check.
Resources for Tenant Screening in Long Beach
RentPrep has gathered a helpful list of links for you to use in your real estate business. There's no better way to find top tenants than to use the information here.
*Many landlords stick to a no blank space policy, where any application that is not completely filled out is not processed any further. If there are blank spaces in the application, it's impossible to run a thorough background check.
Long Beach Tenant Screening Process
Landlords can create a tenant screening criteria list to help them stay consistent in reviewing applications. This written list needs to include all the ideal characteristics they want to have in a tenant.
This is an example of a Long Beach tenant screening list:
No prior evictions
Credit score minimum of 600
No smoking
One cat allowed, no dogs
Income to rent ratio at least 3:1
No criminal history
No bankruptcies
Long Beach landlords should never include anything on their tenant screening criteria that discriminates against protected classes. Discrimination is a serious thing and landlords could find themselves in real legal trouble. To find out more about fair housing laws in Long Beach, click here, and go to the hud.gov website for federal standards.
Remember that Long Beach tenant screening laws include:
A statewide limit on how much landlords may charge for their application fees.
Landlord's can deny an application that doesn't meet their tenant screening list criteria.
Long Beach landlords should never discriminate against protected classes.
Long Beach tenant screening laws are in place to ensure fairness for both sides, and landlords need to stay up-to-date on the law.
Check Out Your California Screening Guide
In many cases cities have their own screening rules and regulations while the state has another set of rules that govern the screening process.
Click here to go to our post on the "California Tenant Screening Process."
Tenant Screening Guide
If you're looking for a thorough course on tenant screening, look no further.
Check out our tenant screening guide at this link, https://rentprep.com/tenant-screening/
This will walk you through the tenant screening process.
[activecampaign form=140]
What About Tenant Screening Services?
When it comes to background checks, a professional tenant screening service is the best choice for landlords that want to find the best tenant from the pile of applications. For a modest price, a good tenant screening service will deliver a detailed report of the findings.
The best tenant screening reports should show:
Prior evictions
Bankruptcies
Judgments or liens
Address history
When background checks are completed, the Long Beach landlord will have a good idea of which applicant will make a good tenant. While no method is foolproof, doing a background check helps reduce the risk of bad tenants. Every Long Beach landlords should use the information from a professional background check.
At RentPrep, we have experience with over 21,000 landlords over the past 10 years. Check out our tenant screening packages to see the services we offer.
Our FCRA certified screeners will put your mind at ease by providing the best tenant screening report available.