Columbus is known for its hard-working residents and rich history. Landlords with rental properties in Columbus should take time to improve their business by choosing the best tenants. Good tenants pay rent on time and take care of the unit, so it's worth it to spend time figuring out how to do it right.  Landlords that follow all the Columbus tenant screening laws have the best chance of good tenants.
Learn more about:
Columbus tenant screening laws
Free landlord resources
Screening process overview
Ideal tenant screening services
Tenant Screening Columbus Laws
Many major metro areas across the country have passed tenant screening laws that are even stricter than state or federal laws. That's because they are dealing with urban populations with high percentages of rental units. Columbus tenant screening laws have been created to protect all landlords and all tenants.
These are just some of the Columbus tenant screening laws:
The city places no limit on the amount landlords may collect as an application fee.
Application fees in Columbus are not refundable.
Security deposits are separate from application fees and they are paid at different parts of the process.
Columbus landlords will definitely have a lot of advantages when they learn everything they can about tenant screening in their city.
This Common Screening Mistake Can Cause Trouble
If there's one common screening mistake that landlords make it's not collecting a signature from applicants. Why is this important? If a Columbus landlord does not have the applicant's signature on file, they won't be able to run a background check. If a landlord's current application doesn't have a signature line, it should be modified right away.
This is how it's done on a RentPrep form: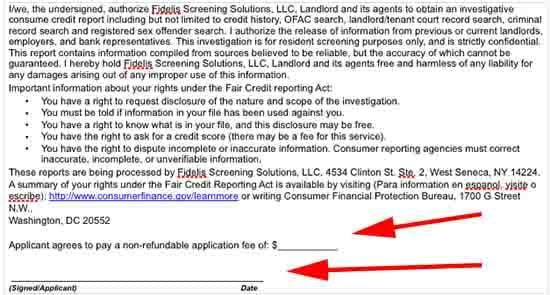 Top red arrow: Shows that the application fee is not refundable.
Bottom red arrow: Shows where applicants must sign to give consent for a background check.
Resources for Tenant Screening in Columbus
RentPrep has gathered a helpful list of links for you to use in your real estate business. There's no better way to find top tenants than to use the information here.
*Many landlords adopt a "no blank space" policy. Whenever they get an application that contains any blank spaces, it is rejected. It's impossible to do a background check on an applicant when there are no answers to important questions. They only accept completed applications.
Columbus Tenant Screening Process
Once the completed applications are turned in, Columbus landlords should compare them to their tenant screening criteria list. This is a list that includes all the desired components of the ideal tenant. Landlords can write it up so that it is selective but not too exclusive.
This is what a Columbus tenant screening list might look like:
No smoking
Income to rent ratio at least 2:1
Zero previous evictions
No pets
Definitely no violent criminal history
No bankruptcies within the last 7 years
Columbus landlords certainly should see what the market is like for their rental units and be selective but not too much so that their ideal tenant is unrealistic and will never appear. Landlords should also never include factors that discriminate against a protected class. Learn more about fair housing in Columbus here, and go to the hud.gov website for federal standards.
As a review, Columbus tenant screening laws include:
There's no limits on how much landlords can charge as application fees.
Landlords are able to deny all applications that don't meet their criteria.
Columbus landlords cannot discriminate against protected classes when reviewing applications.
There's no doubt that Columbus landlords deserve to be well-educated on how to get the best applicants when they take the time to learn about tenant screening laws.
Check Out Your Ohio Screening Guide
In many cases cities have their own screening rules and regulations while the state has another set of rules that govern the screening process.
Click here to go to our post on "Ohio Tenant Screening Process."
Tenant Screening Doesn't Have to be Boring
We've put together a tenant screening guide that walks you through the entire process.
We've included a comic where you can follow Laura through the tenant screening process.
Click here to check out our free tenant screening guide.
[activecampaign form=140]
Finding the Right Tenant Screening Services
Once Columbus landlords have a few applications that they feel good about, it's time to find the best tenant screening service to run the background check. The best tenant screening services deliver high quality reports and thorough research for a modest fee.
Landlords should make sure their report includes:
Past evictions
Prior bankruptcies
All judgments and liens
Address history
Based on the results of the background checks, Columbus landlords can then select the applicant they feel will make the best tenant. Never make a decision based on instinct or a gut feeling. Instead, rely on verified background check information to make the best choice.
At RentPrep, we have experience with over 21,000 landlords over the past 10 years. Check out our tenant screening packages to see the services we offer.
Our FCRA certified screeners will put your mind at ease by providing the best tenant screening report available.