With a rich history and a bright future, many people are heading to the city of Cleveland. Anyone who owns rental properties in Cleveland is looking at amazing opportunities to fill them with excellent tenants. However, many Cleveland landlords don't exactly know the best way to sort out the top applicants from the rest. That's why learning all about Cleveland tenant screening laws gives them the edge in their real estate business.
In this post, Cleveland landlords will get info on:
Cleveland tenant screening laws
Free landlord resources
Understand the tenant screening process
Find the best tenant screening services
Tenant Screening Cleveland Laws
Like most metro areas, landlords and rental properties are subject to regulations and laws at the municipal, state, and federal level. There's no doubt that Cleveland tenant screening laws were established to allow both landlords and applicants to operate fairly.
These are just some of Cleveland's tenant screening laws:
Ohio state law doesn't limit the amount landlords can charge for application fees and Cleveland is no different.
Application fees in Cleveland are not refundable.
Security deposits should not be confused with application fees, which are separate financial transactions.
Cleveland landlords need to get up to speed regarding tenant screening laws so they can avoid all kinds of legal trouble.
Many Landlords Make This Common Screening Mistake
Even the most careful landlords often make one of the biggest screening mistakes around. They may believe that any old application will allow them to run a background check on an applicant, but unless the applicant provides a signature, they won't be able to. In other words, if landlords want to run a full background check on an applicant, they need to get the applicant's signature. Cleveland landlords should make changes to their application form so they can provide a place for a signature..
This RentPrep form is a good example: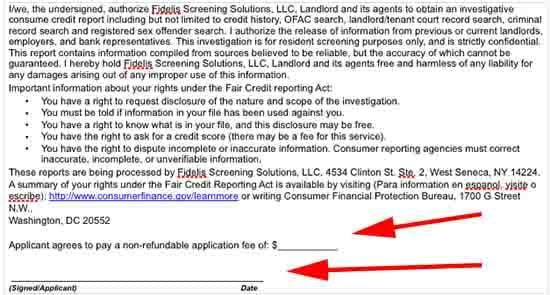 The top arrow points out that the application fee isn't refundable. The bottom arrow highlights where the applicant should sign for a background check.
Resources for Tenant Screening in Cleveland
RentPrep has gathered a helpful list of links for you to use in your real estate business. There's no better way to find top tenants than to use the information here.
*Smart Cleveland landlords automatically deny applications that are incomplete. This is often called a "no blank space policy" because when applicants leave a blank space for an answer, it's impossible to do a true background check. Landlords stop the process for these kinds of applications using their no blank space policy.
Cleveland Tenant Screening Process
Many Cleveland landlords stay fair and consistent when looking through applications by creating a tenant screening criteria list. This list, generated by the landlord for the specific rental property, collects all the qualities they want to see in an ideal tenant for the space. When the list is done, they compare the application to it. If it meets the minimum, the application moves forward.
Here's an example of a Cleveland tenant screening list:
No pets
Only 4 or fewer occupants per city occupant codes
No smoking
Proof of current renter's insurance policy
No bankruptcies
No violent criminal history
Consistent employment for the past 12 months
As long as the listed criteria does not discriminate against protected classes, landlords in Cleveland can approve or deny applications based on their screening choices. Of course, since certain groups of people are protected under state, federal and municipal anti-discrimination laws, landlords must be aware of these classifications. They can learn more about Cleveland fair housing laws here and also visit the hud.gov website for federal standards.
Among Cleveland's tenant screening laws are:
No limit on what landlords charge for application fees.
Landlords can deny applications that don't meet their tenant screening criteria list.
Housing discrimination is never OK for Cleveland landlords.
Landlords in Cleveland will definitely get the best applicants by following the city's tenant screening laws.
Check Out Your Ohio Screening Guide
In many cases cities have their own screening rules and regulations while the state has another set of rules that govern the screening process.
Click here to go to our post on the "Ohio Tenant Screening Process."
[activecampaign form=140]
Use a Professional Tenant Screening Services
A professional tenant screening service is just what landlords need to get the most complete background checks on applicants. The best businesses only charge a modest fee in exchange for a comprehensive background report on the applicant.
A detailed report should include:
Prior evictions
Bankruptcies
Judgments or liens
Previous addresses
Landlords in Cleveland will be able to make an informed decision when they review the background check information provided to them by a quality tenant screening service.
At RentPrep, we have experience with over 21,000 landlords over the past 10 years. Check out our tenant screening packages to see the services we offer.
Our FCRA certified screeners will put your mind at ease by providing the best tenant screening report available.