Do you know everything you need to about New Mexico tenant screening? If you are a landlord that really wants to find the best tenants, it's a process you should not ignore. Each state has different regulatory laws on tenant screening, and New Mexico is just a little bit different from the rest.
In cities like Albuquerque, Taos, Santa Fe, Las Cruces and more, landlords must follow each state rule when it comes to tenant screening.
Here are just a few of the things landlords can learn about in this article:
New Mexico tenant screening process
List of free resources
Guide to finding the best tenant screening service
New Mexico Tenant Screening Laws
Even New Mexico tenant screening laws, and landlords need to know all the different details so they can run their business properly. There's no national standard for tenant screening, so real estate investors look to the states.
Here are some of New Mexico's tenant screening laws:
The state places no maximum on what landlords can charge for an application fee
Security deposits are limited to 1 month's rent for less than a year lease, and there is no limit when the lease is 1 year or longer
Application fees are not refundable in New Mexico, even if the application is denied
Security deposits and application fees are distinctly different transactions
Application fees and security deposits and collected at different times during the application process
Landlords like you can learn more about New Mexico's laws here.
This Screening Mistake Is Too Common
As landlords prepare to run a background check on qualified applicants, they may be missing one important thing–a signature. It's a common screening mistake to receive an application without a signature. Landlords can't run a background check on someone unless they have a signed consent form from the applicant.
If your rental application form doesn't include a signature line, fix it right away.  Again, applicants must give signed consent on a background check for landlords to be able to run background checks.
Here is the RentPrep version: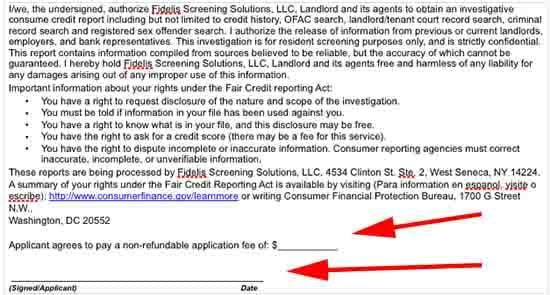 We've used two arrows to point out key parts of the application. The top red arrow indicates the fee and that it is non refundable. the bottom red arrow shows where the applicant should sign to give consent to a background check. Both are important in communicating to the applicant what is expected.
Resources for Tenant Screening in New Mexico
RentPrep has gathered a helpful list of links for landlords in New Mexico to use. There's no better way to find top tenants than to use the information here.
*Many New Mexico landlords have a no blank space policy when it comes to applications. This means they don't accept any applications with unanswered background questions. It's a quick way to get rid of applications that will be impossible to investigate. In other words, no answers means no consideration.
New Mexico Tenant Screening Process
New Mexico landlord really ought to create a list of screening criteria factors to help them sort applications. A comprehensive list of factors that the ideal applicant has is a wonderful way to reject applications that don't meet the standards.
A typical screening criteria list might look like this:
No smoking
Minimum credit score no lower than 650
No pets
At least 6 months in current job
Income to rent ratio must be 3 to 1
No criminal history
No eviction history
The criteria should not be so exclusive that it eliminates every applicant. Instead, it should be held as a standard that landlords match the closest applications to. Never discriminate against protected classes when making a tenant screening criteria list. Find out about all the protected classes on the hud.gov website.
Once the tenant screening list is complete, landlords like you can select the best of the best applications. Always use the same criteria for evaluating each application. That's because if you start to change your mind or make exceptions, you could be ignoring some clear warning signs of who to keep and who to discard.
The New Mexico tenant screening process includes:
Application fees are not limited, according to New Mexico law
Landlords can collect application fees when they receive a completed application.
Application fees aren't refundable in New Mexico
Learn more about New Mexico tenant screening here.
[activecampaign form=140]
Find Your Perfect Renter
Finding the right tenant can be a headache if you don't know what you're doing.
That is why we've created a tenant screening guide for you to find the perfect renter.
Check out our free tenant screening guide and learn how to find the perfect renter.
Choose the Best Screening Services
Now it's time to find a company that performs tenant screening services, but they are not all the same. Landlords need to rely on a company that gives in-depth background checks on applicants.
The best screening services should include reports on:
Evictions
Bankruptcy
Judgments/liens
Previous addresses
It's a no-brainer to figure out that the best way to find the top tenants for a rental property is to commit to the entire tenant screening process and do a full background check. Instead of relying on instincts or first impressions, landlords can use real data to make a decision.
At RentPrep, we have worked with over 21,000 landlords over the past 10 years. Check out our tenant screening packages to see the services we offer.
Our FCRA certified screeners will put your mind at ease by providing the best tenant screening report available.