When it comes to Montana tenant screening laws, landlords need to be familiar with what their state allows and doesn't allow. There's no landlord out there that wants to deal with bad tenants, so why not use the tools that will help reduce the risk? From Billings and Helena to Bozeman and Missoula, landlords that pay attention to Montana tenant screening laws can find outstanding applicants.
In this article, we'll talk about:
Montana tenant screening laws
Screening process overview
All kinds of free resources
Tenant screening service
Montana Tenant Screening Laws
Each state is different, and Montana tenant screening laws are unique when compared to its neighbors. As with any aspect of their real estate business, landlords need to know the specifics about the laws.
However, there are just a few interesting parts of Montana tenant screening laws:
Landlords don't have a maximum limit on what they can charge for application fees.
There's not even a limit on the amount of a security deposit they can charge.
Application fees, separate from the security deposit, are non-refundable in Montana.
Montana landlords that ignore the regulations set out by the state are going to suffer with lost time, lost income and extra stress.
This helpful guide goes into more detail on Montana landlord/tenant laws.
Don't Make This Common Screening Mistake
The first mistake landlords make is to not run a background check on applicants. The second mistake is that landlords have a completed application and believe they can go ahead and run one, but they haven't gotten a written consent. In other words, landlords need to have written consent from the applicant before they can run a background check.
If the rental application that a Montana landlord is using does not have a signature line for consent, they need to make changes right away. Before the next vacancy, the paperwork should reflect the need for written consent. Here's an example of RentPrep's applications: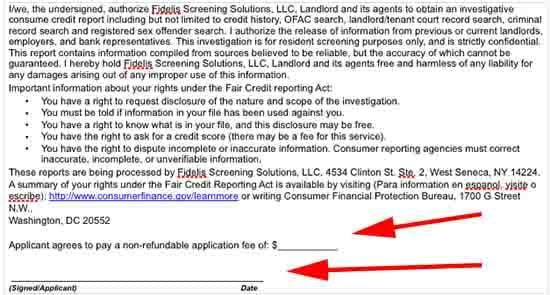 Top arrow: Shows the application fee is non-refundable.
Bottom arrow: Signature line for applicants to give consent.
Resources for Tenant Screening in Montana
RentPrep has gathered a helpful list of links for you to use in your real estate business. Therefore, there's no better way to find top tenants than to use the information here.
*Eliminate problem applications by following a no blank space policy. Often, blank spaces instead of answers means the applicant has something to hide. A tenant screening service can't do a proper check without all the answers filled in.
Montana Tenant Screening Process
Smart landlords have a tenant screening criteria list they've created to help them sort applications. The tenant screening criteria list outlines the characteristics of their ideal tenant. While it's good to have some specifics, keeping things broad will help landlords strike the right balance.
Here is a typical screening list:
No eviction history
Income to rent ratio must be around 2:1
No smoking
No credit score under 630
Single pet under 10 lbs with vet records
No criminal history
Landlords compare each application with their tenant screening criteria list, which gives them guidelines on sorting them out.
Montana landlords should never discriminate against protected classes.  Housing discrimination violations are serious and can lead to big financial trouble.  However, landlords should be very familiar with the hud.gov website on discrimination.
As a reminder, Montana tenant screening laws are no joke:
No limit for application fees in Montana.
Landlords need to be consistent when applying fair screening criteria.
Discrimination against federally protected classes is illegal.
Learn more about Montana screening criteria here.
RentPrep's Tenant Screening Guide Video
Smart landlords understand the entire tenant screening process.
That's why we've created the ultimate tutorial for finding the perfect renter.
Go through each chapter and learn the in's and out's of tenant screening.
[activecampaign form=140]
Finding the Best Screening Service
The final step in identifying the best applicant is locating the best tenant screening services. For a modest fee, a tenant screening service should offer a thorough background check.
It should include:
Past evictions
Bankruptcies
Judgments/liens
Address history
Tenant screening services help landlords make the final decision on who they will offer a lease agreement to. However, to reduce the risk of renting to a bad tenant, Montana landlords should take all the steps for a thorough background check.
At RentPrep, we have experience with over 21,000 landlords over the past 10 years. However, check out our tenant screening packages to see the services we offer.
Our FCRA certified screeners will put your mind at ease by providing the best tenant screening report available.