Alaska tenant screening laws are unique when compared to nearby states. That means landlords can't assume they know all there is to know about the process. In order for landlords in Alaska to get the best tenants, they need to pay more attention to tenant screening laws.
That's why we created this article. We'll give you information on these topics:
Alaska's tenant screening laws
The step by step overview of the screening process
Plenty of free resources for landlords
Finding a tenant screening service
Alaska Tenant Screening Laws
It's no surprise that many landlords simply haven't looked at Alaska tenant screening laws. However, in order to run a good real estate investment business, landlords should always know the specifics about the laws and regulations.
For example, here are just a few Alaska tenant screening laws:
The law doesn't limit how much a landlord can collect for an application fee
Alaska landlords cannot charge more than two months' rent for the security deposit
Application fees are separate from the security deposits
Application fees in Alaska are not refundable
Make no mistake, Alaska landlords who ignore or put off the information they learn about tenant screening are going to suffer the consequences. No landlord wants lost income or more stress—that's why it's great to know all about Alaska tenant screening laws.
Learn more about Alaska landlord/tenant laws from this guide.
Too Many Landlords Make This Common Screening Mistake
Alaska landlords want the best tenants possible yet they don't run a background check to ensure they have a qualified applicant. In order to do a background check, landlords need to have a signature that gives permission for them to do so.  The facts are that landlords need to have written consent from the applicant before they can run a background check.
Alaska landlords should check to see if their application form has a signature line. If it doesn't they need to add one or find new documentation that does.
RentPrep's application form looks like this: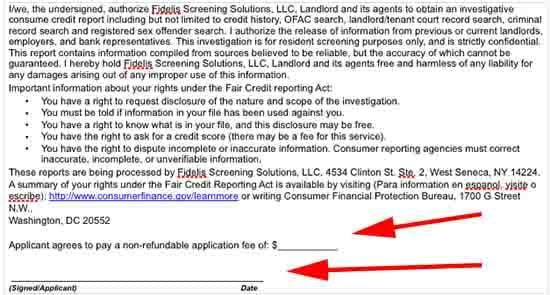 See how the top arrow indicates to the applicant that the fee is due and that it is non-refundable. You can also see how the bottom arrow includes a signature line where applicants give consent for a background check.
Resources for Tenant Screening in Alaska
RentPrep has gathered a helpful list of links for you to use in your real estate business. Therefore, there's no better way to find top tenants than to use the information here.
*A no blank space policy gives landlords the chance to avoid wasting time on incomplete applications. When an applicant doesn't want anyone looking closely at a particular part of their background, they will often leave that part blank on the papers. With a no blank space policy, landlords can discard these kinds of applications right away.
Alaska Tenant Screening Process
When the landlord has all the applications, they may be confused as to how best to sort them. They are definitely going to like having a tenant screening criteria list to work from. A tenant screening criteria list is one of the best ways to sort applications in a fair and focused way.
This is an example of a tenant screening criteria list that is specific enough to focus in on the ideal tenant:
Evictions: none
Pets: 1 dog is ok but no cats
Income to rent ratio: Between 3:1 and 2:1
Smoking: no
Minimum credit score: 600
Criminal history: nothing newer than 7 years, nonviolent
Landlords will then put up the list against the applications and keep those that come the closest to their criteria. Of course, landlords should not discriminate when creating a list or sorting applications. It is illegal to discriminate based on certain features. If landlords need a refresher on protected classes, they can review the information at the hud.gov website.
As a reminder, Alaska tenant screening laws include:
Application fees are not limited under Alaska law.
The application fee is a different payment than the security deposit.
Alaska landlords should always inform applicants that their application fees are not refundable.
No discrimination against protected classes.
This guide informs landlords about  Alaska laws and regulations.
RentPrep's Tenant Screening Process
There is a process for finding the right tenant.
It's not magic or difficult to follow.
All you need to do is read out tenant screening guide and you'll learn the exact steps to find the perfect renter.
[activecampaign form=140]
Tenant Screening Service
Once the applications are sorted, it's time to send them to a tenant screening service for a background check. For a reasonable rate, the tenant screening services should provide landlords with detailed information on the applicants.
A proper tenant screening service should include:
All past evictions
Any bankruptcies
Info on judgments/liens
Previous addresses
Tenant screening services help landlords from across make the hard choice on who to offer a lease agreement to.  Avoid the odds of getting a bad tenant and do a thorough tenant screening.
At RentPrep, we have experience with over 21,000 landlords over the past 10 years. However, check out our tenant screening packages to see the services we offer.
Our FCRA certified screeners will put your mind at ease by providing the best tenant screening report available.