Don't make the same mistake that too many landlords in The Equality State are making—ignoring Wyoming tenant screening laws. By following the simple process required for thorough tenant screening, landlords can identify the best applicants and narrow down the ones that will make the best tenants. Landlords from Cheyenne, Laramie, Jackson, and more are learning that proper tenant screening saves a lot of headaches in the long run.
With the Wyoming tenant screening process, landlords will learn more about:
Wyoming tenant screening laws
Free resources
Overview of screening processes
Tenant screening services
Wyoming Tenant Screening Laws
When it comes to Wyoming tenant screening laws, landlords need to stay abreast of all the latest information. Wyoming is a little different than its neighbors and the laws concerning landlord and tenant relations are also different.
Here are just a few particulars about Wyoming tenant screening:
For example:
Wyoming places no maximum amount on application fees
Landlords in Wyoming can charge whatever they want for application fees, but if they are too high, applicants will not pay and go elsewhere
Landlords should charge reasonable application fees to get the most applicants to choose from
Application fees are non -refundable in the state of Wyoming
There's no excuse for landlords in Wyoming to ignore the laws concerning tenant screening. For any questions regarding landlord and tenant relations, they can refer to this guide.
Too Many Landlords Make This Common Screening Mistake
The biggest mistake that Wyoming landlords make during the tenant screening process is that their application doesn't contain all the information they should. In other words, before landlords can run a background check, they have to get the signature of the applicant that grants them permission to do so. Landlords must have the written consent of the applicant, or else they cannot run a background check on them.
Check out this example from the RentPrep application form: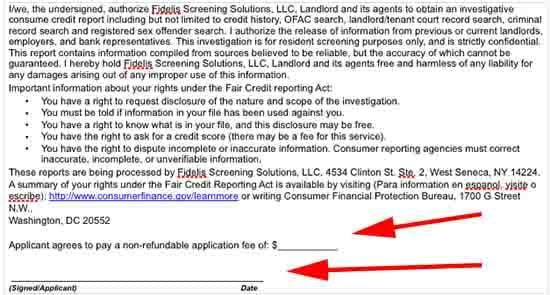 Note that the top red arrow shows applicants that the application fee is non-refundable.  Note that the bottom red arrow indicates that the applicant needs to sign to provide permission for a background check.
Resources for Tenant Screening in Wyoming
RentPrep has gathered a helpful list of links for you to use in your real estate business. There's no better way to find top tenants than to use the information here.
*No blank space policy: A policy adopted by many Wyoming landlords that allows them to discard any application that has missing information or a blank space for an answer.
Wyoming Tenant Screening Process
Many Wyoming landlords create a tenant screening list, or a list of all the things they want to see in their ideal tenant. While no application will match the list perfectly, it's a good way for landlords to sort through applications in a fair and consistent manner.
This is a sample tenant screening criteria list:
No smoking
Income to rent ratio must be 2:1
No criminal history newer than 7 years
Must be at current job for 9 months
No pets
Credit score must be above 650
No prior evictions
Landlords can compare applications to the list and pick out the ones that are the closest.
Of course, landlords in Wyoming and the rest of the country cannot use criteria that would lead to housing discrimination. There are federal and state laws that prevent discrimination against protected classes, so the tenant screening criteria list should be free from that.  Learn more on the hud.gov website.
Remember:
There aren't any application fee limits according to Wyoming law.
Landlords can deny any application legally that does not meet their screening criteria.
Wyoming landlords cannot discriminate against a protected class.
Consistent application of the tenant screening list is the best way to avoid discrimination lawsuits.
This guide will help all Wyoming landlords with tenant screening.
[activecampaign form=140]
Find Your Perfect Renter
Finding the right tenant can be a headache if you don't know what you're doing.
That is why we've created a tenant screening guide for you to find the perfect renter.
Check out our free tenant screening guide and learn how to find the perfect renter.
The Best Tenant Screening Services
Once landlords in Wyoming have selected a few applications that have passed all the tests, they need to forward them on to a tenant screening service for a real background check.  Tenant screening services provide an amazing level of research that help landlords figure out the best applicants.
Tenant screening services should provide details on:
Evictions
Bankruptcies
Judgments and liens
Addresses
With detailed background information, landlords in Wyoming can really identify who would be best for their vacant properties.
At RentPrep, we have experience with over 21,000 landlords over the past 10 years. Check out our tenant screening packages to see the services we offer.
Our FCRA certified screeners will put your mind at ease by providing the best tenant screening report available.