Do you know everything there is to know about Washington tenant screening? You can make your real estate business so much better when you know the rules and laws on the topic.
Washington tenant screening laws are somewhat unique, and it's important to educate yourself on how they can impact your business.
At RentPrep it's our goal to guide you on several different topics that get you the best tenants in your rentals. In this post we'll discuss:
Washington tenant screening laws
Free resource links
Screening process overview
All about tenant screening services
Washington Tenant Screening Laws
Washington tenant screening laws are just a bit different than the rest of the country so you should understand all there is to know about the laws.
Not every state has the same laws when it comes to tenant screening, so it's important to learn the laws of Washington so you stay compliant and do things the right way.
These are just a few of the things you should know:
The laws in Washington allow landlords to collect application fees from interested applicants.
In Washington, the application fee must be the exact amount that the screening service costs, and no more.
Washington landlords must provide a receipt to the applicant showing the actual cost of the background check.
You should already know that an application fee is different than the security deposit, a separate payment that you collect from an approved applicant. An application fee is generally the first one collected.
What Common Screening Mistakes Are You Making?
One of the biggest mistakes that landlords make for Washington tenant screening is failing to get a signed consent form from applicants. You won't be able to run a background check without one.
If you haven't got a space on the rental application for a signature,  you should add one right away so your next applicant provides you with a signature. That way, you can legally run a background check.
Check out the requirements we have on our application forms at RentPrep.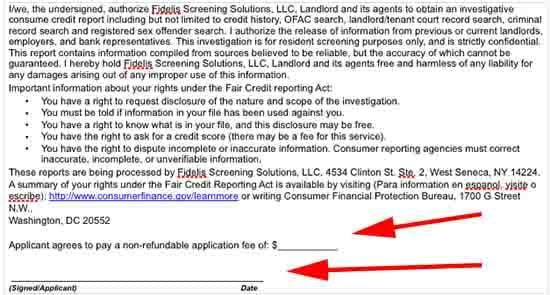 The upper red arrow indicates to the applicant that the application fee is non-refundable. Many applicants have questions about this.
The lower red arrow clearly points out where the applicant must sign, in order to provide consent for landlords to run a background check.
Resources for Washington Tenant Screening
No landlord should have to figure out tenant screening on their own. That's why we provide you with links to these helpful forms and free resources. We want every landlord to find the best possible tenant for their properties.
*Don't forget the "No Blank Space" policy, which is when landlords won't accept applications with any blank spaces. Sometimes, when applicants don't want landlords looking too deeply into one area of their lives, they leave the answer blank. If you insist on no blank spaces, you'll get the most comprehensive background check.
Washington Tenant Screening Process
Do you have a list of screening criteria yet? If you haven't written one down for each of your rental properties, it's never too late to start. A screening criteria list will solidify what qualities you need in an applicant.
A few suggestions on screening criteria include:
Pet restrictions
Smoking restrictions
Criminal past or arrest restrictions
Income to rent ratio
No eviction history
Remember that it is illegal to discriminate against protected classes as listed on hud.gov.
Write the screening criteria down and apply it to everyone who is interested in the rental property. You always want to be consistent so you don't get tangled up in a lawsuit for discrimination.
Consistency is the best way to check out applicants. If you stick to your list of screening criteria, you will have an easy reference point. If you always make exceptions, you are asking for trouble.
Washington landlords really need to pay attention to the tenant screening laws and more.
Landlord can only charge the amount of the screening costs
Washington landlords have no restrictions on how much they can charge for a security deposit
Landlords are required by law to provide a screening cost receipt to the applicant.
Tenant Screening Questions Answered
Tenant screening can be a pretty dry subject.
That's why we try our best to make our tenant screening course more fun.
You can follow Laura as she shares tips and advice throughout the tenant screening process.

Picking the Best Tenant Screening Service
Once you have the handful of applicants, you need to run thorough background checks to get the full story behind each one. Remember that at the very least, background checkers should look at:
Previous address history
Any eviction history
All bankruptcy history
Every judgment and lien
While you may get a good feeling about an applicant, it doesn't make sense to rent to someone without getting a good idea of what kind of tenant they will be based on their past. You can depend on RentPrep, where we've worked with over 150,000 landlords over the past 10 years.
Check out our tenant screening packages to see the services we offer.
Our FCRA certified screeners are hard at work to be the best tenant screening service available.