Washington DC is a city that is the heart of government, economic and cultural for the nation. That's part of the reason why so many people want to live here. Any landlords that own rental property in Washington DC should have plenty of applicants whenever they have a vacancy. Washington DC tenant screening laws and regulations are in place so that the process is fair, legal and workable.
After this article, landlords will know more about:
Washington DC tenant screening laws
Numerous free landlord resources
Tenant screening process overview
How to find the best tenant screening services
Tenant Screening Washington D.C. Laws
If landlord comply with all the Washington DC tenant screening laws, they will be in a better position to keep up with any changes to the system. It will also help them sort out the best applicants from those that won't become very good tenants. Ignorance of these laws is no excuse for landlords.
Take a look at these Washington DC tenant screening laws:
Landlords have no limits on what they can charge for an application fee.
Application fees are not refundable, even if the application is denied.
Security deposits and application fees are separate transactions between landlord and applicant.
You'll save both time and money when you know all you can about Washington DC tenant screening laws. This website can help keep you linked in on what's going on with the city.
Avoid This Common Screening Mistake
Above all, Washington DC landlords must gather all the right information so that they can run a background check on applicants that qualify.  However, they neglect to do one of the most important things—get consent. No Washington DC landlord can get a background check on an applicant without a signature of consent. Without a signature line, landlords won't be able to take the most important step in tenant screening.
See how the RentPrep form presents the information: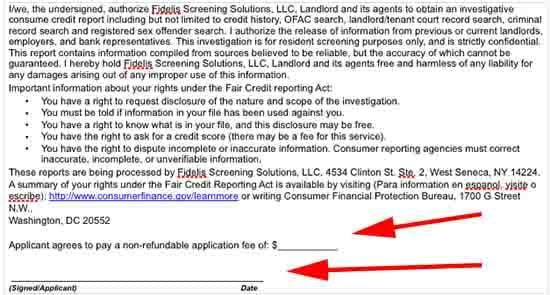 Top red arrow: Informs the applicant that the application fee is non-refundable.
Bottom red arrow: Shows the applicant where they need to sign in order to get a background check ordered.
Resources for Tenant Screening in Washington DC
RentPrep has gathered a helpful list of links for you to use in your real estate business. There's no better way to find top tenants than to use the information here.
*Many landlords are finding success with a "no blank space" policy. This means landlords can deny applications that are not completely filled out and have a blank space instead of an answer. There's no way that a true background check can be made on an incomplete application.
Washington DC Tenant Screening Process
When Washington DC landlords have some completed applications, they must sort them according to a  tenant screening criteria list. This landlord-generated list contains the ideal features and minimum standards that they want to see in a tenant.
Here's an example of a Washington DC tenant screening list:
No smoking
Zero evictions
Income to rent ratio at 3:1
No pets
Bankruptcy OK if longer than 7 years ago
No criminal history
Landlords can deny applications that don't meet their criteria as long as they are not discriminatory. There are many protected classes on the federal, state and municipal level. To learn more about Washington DC fair housing, click here. Federal fair housing standards can be found on the hud.gov website.
Additional Washington DC tenant screening laws include:
Any protected classes that meet federal or district standards cannot be discriminated against.
Protected classes include age, race, gender, familial status, source of income, sexual orientation and gender identity, among others.
Landlords can legally deny an application that doesn't meet their screening criteria as long as they are not discriminating.
Washington DC landlords can look here to find out even more on the city's landlord/tenant laws.
Check Out Your District of Columbia Guide
In many cases cities like Washington DC have a unique set of rules and regulations that differ from surrounding communities and states.
Click here to go to our post on "District of Columbia Landlord Tenant Laws."
[activecampaign form=140]
Finding the Right Tenant Screening Services
When landlords are ready to run the background check, they should definitely find a good tenant screening service. These professionals provide very detailed information for a modest price and they do a very thorough job. The best reports should include:
Any earlier evictions
Every bankruptcies
All judgments and liens
Previous addresses
Landlords in Washington DC can select the best applicants based on the background check results. It's not unusual for new and previously unknown information to surface that wasn't on the original application. Washington DC landlords can use the information therein to make their final choice.
At RentPrep, we have experience with over 21,000 landlords over the past 10 years. Check out our tenant screening packages to see the services we offer.
Our FCRA certified screeners will put your mind at ease by providing the best tenant screening report available.