San Diego is a city known for growth, innovation and opportunity. That's why so many people want to live here. There is a large portion of the population that are renting. Landlords with rental properties available are in good shape, but how can they reduce the risks of getting bad tenants? Abiding by the San Diego tenant screening laws is the best way to weed out bad applications and keep the good ones.
This article will share lots of information on the San Diego tenant screening process:
San Diego tenant screening laws
Free resources
Basic screening processes
Finding tenant screening services
Tenant Screening San Diego Laws
Landlords must comply with all kinds of federal, state and municipal rules and regulations. Often, large cities like San Diego have additional laws that are even more stringent than the state laws. There's no excuse for San Diego landlords to be uninformed about San Diego tenant screening laws.
San Diego tenant screening laws include the following:
San Diego follows California law in limiting the amount of money a landlord can collect as an application fee.
In San Diego, application fees should only cover the cost of the check plus a reasonable processing fee.
If requested, landlords must provide a copy of the report to the applicant.
Application fees are adjusted annually so landlords need to stay aware of the latest limits.
Applying proven tenant screening practices helps San Diego landlords find the applicants that have a background in being good tenants for others, and therefore are most likely to benefit landlords in their current situations.
Many San Diego Landlords Make This Common Screening Mistake
One of the most important parts of tenant screening is often left out by landlords who don't know any better. When landlords accept applications, they may think they can just do a background check on anyone that fills one out. However, unless they have a signature providing consent, they cannot run a back ground check. In other words, if San Diego landlords plan to run a background check, they need to have the applicant's signature on file. If the paperwork doesn't have the applicant's signature, it should be changed immediately to include it.
This is an example on a popular RentPrep form: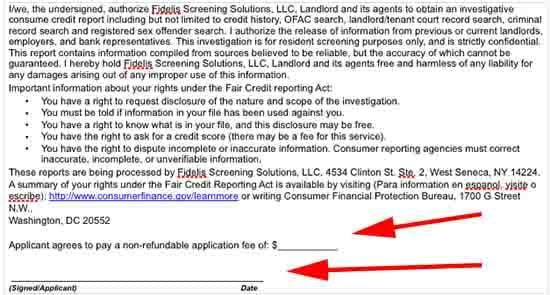 The top arrow shows the applicant that their fee is not refundable. The bottom arrow reveals where applicants need to sign the form to give their consent to a check.
Resources for Tenant Screening in San Diego
RentPrep has gathered a helpful list of links for you to use in your real estate business. There's no better way to find top tenants than to use the information here.
*Landlords across the country are choosing to use a no blank space policy. It allows landlords to reject any applications that don't have complete answers. If an application comes in with a blank space, it could mean the applicant has something to hide. It also prevents the landlord from completing a background check.
San Diego Tenant Screening Process
The next step in sorting out applications is to compare them to the landlord's tenant screening criteria list. It's a self-made list of criteria that landlords make so that they can figure out the most important characteristics they want to look for.  It makes things very consistent for landlords when they use a San Diego tenant screening criteria list.
This is an example of a tenant screening criteria list:
Income to rent ratio: 3:1
No smoking and no pets
Absolutely no prior evictions
Must have held current job for at least 6 months
No criminal history
San Diego landlords will want to compare all the applications and sort them according to which ones best meet their criteria.  They should hold onto the top three or so. Of course, the criteria should never include discrimination in any way. Not only are federal anti-discrimination standards important, but often big cities like San Diego have additional protected classes. Learn more about San Diego's anti-discrimination here and learn more about federal anti-discrimination at the hud.gov website.
San Diego screening laws include:
Maximum limits on how much landlords can charge for application fees.
Applicants can request a copy of the credit report from the landlord.
Landlords cannot discriminate against protected classes during the application process.
Using a proper tenant screening criteria list, landlords can accept and reject applications legally
San Diego landlords will be able to keep track of all the landlord-tenant laws at this website.
Check Out Your California Screening Guide
In many cases cities have their own screening rules and regulations while the state has another set of rules that govern the screening process.
Click here to go to our post on "California Tenant Screening Process."
[activecampaign form=140]
Finding the Right Tenant Screening Services
With the top three applications chosen, landlords must now find a tenant screening company that meets their needs. It should provide lots of services for a modest fee.
A high quality report should include:
All evictions
Any bankruptcies
Every judgment and lien
Prior addresses
Landlords can make the final decision based on the results of the background checks. The best applicants will rise to the top when landlords follow the San Diego tenant screening laws and regulations.
At RentPrep, we have experience with over 21,000 landlords over the past 10 years. Check out our tenant screening packages to see the services we offer.
Our FCRA certified screeners will put your mind at ease by providing the best tenant screening report available.