As the larger of the Twin Cities and part of one of the Midwest's most robust economies, Minneapolis is an outstanding place to live, work and play. Rental properties are in high demand, and landlords that own units in Minneapolis are fortunate enough to have lots of opportunities. Minneapolis landlords should have the goal of finding the best tenants out there to live in their properties. Using the Minneapolis tenant screening process, landlords can make that a reality.
In this post, landlords can gain information about:
Minneapolis tenant screening laws
Free landlord resources
Overview of application screening process
Find the best tenant screening services
Tenant Screening Minneapolis Laws
The set of regulations and laws known as Minneapolis tenant screening laws are in place to ensure fairness and legality for both sides during the application process. When landlords don't follow the steps, they run the risk of getting bad tenants as well as unwanted legal trouble.
Here are a few Minneapolis tenant screening laws:
Landlords must provide applicants with the tenant screening service's information before doing a background check.
Landlords should only charge the amount of the background check and not more.
If the applicant overpaid, the landlord must return the balance of the fee.
Minneapolis landlords should educate themselves on what laws and regulations are in place for their city.
Don't Make This Common Screening Mistake
One of the most common screening mistakes that Minneapolis landlords make is failing to get the applicant's consent for a background check. This means landlords need to get their signature on the application form. In other words, to run a full background check on an applicant, Minneapolis landlords must have a signature on hand. If the current application form doesn't have a signature line, they should be amended to have one.
This RentPrep form is a good example: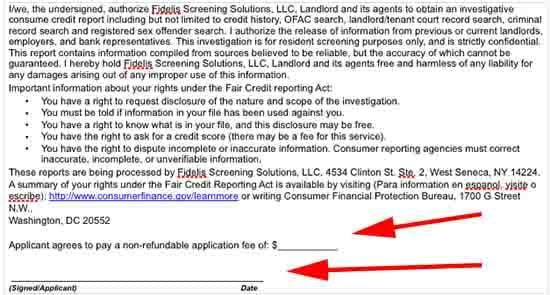 Top arrow shows the non-refundable application fee notice. Bottom arrow shows the signature line that gives consent for the landlord to run a background check.
Resources for Tenant Screening in Minneapolis
RentPrep has gathered a helpful list of links for you to use in your real estate business. There's no better way to find top tenants than to use the information here.
*Consider a no blank space policy for rental applications, which means landlords can deny applications that are not completely filled out. Because it's impossible to perform a complete background check without all the questions filled out, landlords can only concentrate on processing the ones that have no blank spaces for answers.
Minneapolis Tenant Screening Process
A tenant screening criteria list can help Minneapolis landlords stay consistent in reviewing applications. When they create the tenant screening criteria list, they should include all the features their ideal tenant would have. Then, they compare an application to the list. Of course, the list needs to be realistic and reflect the location, cost and condition of the rental property.
This is an example of a possible Minneapolis tenant screening list:
No smoking
Employed consistently within the past 12 months
No violent criminal history
Proof of current renter's insurance policy
No more than two dogs under 15 lbs each, with current vaccination records
Income to rent ratio at least 3:1
No prior evictions
Of course, such a list cannot include anything that might discriminate against protected classes. There are state, federal and municipal laws that make it illegal to discriminate against certain features such as race, age, familial status and disability. Landlords need to know all the protected classes, and they can find out more information here for Minneapolis, and they can also visit the hud.gov website for federal standards.
Minneapolis tenant screening laws include:
Landlords must provide information about the tenant screening service before a fee is paid.
Application fees must be exactly what the background check service costs.
Minneapolis landlords can deny applications that don't meet their screening criteria.
Housing discrimination is illegal and landlords can get into trouble if they discriminate during the application process
Every Minneapolis landlord has a good chance of landing the best tenants when they follow the city's tenant screening laws.
Check Out Your Minnesota Screening Guide
In many cases cities have their own screening rules and regulations while the state has another set of rules that govern the screening process.
Click here to go to our post on the "Minnesota Tenant Screening Process."
[activecampaign form=140]
Locate a Professional Tenant Screening Services
There's no better way to get detailed background information on applicants than to use a professional tenant screening service. Landlords in the city of Minneapolis will get the best results when they locate a service that provides extensive details for a reasonable cost.
A background check should include:
Any prior evictions
Bankruptcies
All judgments or liens
Previous address history
After landlords get the results of the background check, they will have the confidence they need to sign a lease with the applicant or not. Minneapolis landlords that follow a proper tenant screening process will have the best chance of avoiding bad tenants.
At RentPrep, we have experience with over 21,000 landlords over the past 10 years. Check out our tenant screening packages to see the services we offer.
Our FCRA certified screeners will put your mind at ease by providing the best tenant screening report available.