Mesa is one of Arizona's top economic and cultural cities, making it very attractive for both young and old to want to work here or retire here. This means that rental properties in Mesa are in high demand, which is good news for landlords. If you are a landlord with property in the city, you will run a better real estate business when you pay attention to  Mesa tenant screening laws.
In this post, Mesa landlords like you can learn about:
Mesa tenant screening laws
Where to find  free resources for landlords
Understand the tenant screening process
Find the best tenant screening services
Tenant Screening Mesa Laws
Every rental unit in Mesa is beholden to several federal, state and municipal laws that govern tenant screening. These laws are in place to make things fair and legal for both landlords and applicants. Every landlord has a  responsibility to comply with Mesa tenant screening laws.
Here are some of the Mesa tenant screening laws that landlords need to know:
There is no limit on how much landlords may charge for application fees.
All application fees in Mesa are not refundable.
Security deposits and application fees are separated transactions and have different laws regulating them.
Mesa tenant screening laws are all included in this helpful landlord/tenant guide.
Avoid This Common Screening Mistake
Many Mesa-area landlords have an application form that they use, but far too many of these are not complete enough to allow landlords to run a background check. Why? Because they lack a signature line. A Mesa landlord cannot run a background check on an applicant unless they have a signature of consent. If the current application form doesn't have it, then they should include it or use a new form.
Here's how the RentPrep form looks: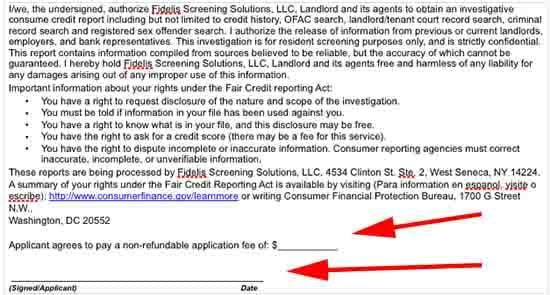 Top arrow: Informs applicants that the application fee is not refundable.
Bottom arrow: Informs applicants that they need to sign so landlords can run a background check.
Resources for Tenant Screening in Mesa
RentPrep has gathered a helpful list of links for you to use in your real estate business. There's no better way to find top tenants than to use the information here.
*Consider implementing a no blank space policy when reviewing applications. This means landlords deny all incomplete applications where the applicant has left blanks for answers. When an application has blanks instead of complete answers, it's impossible to run a complete background check.
Mesa Tenant Screening Process
Many landlords in Mesa make the application process as fair as possible when they use a tenant screening criteria list. This gives them a consistent standard to compare to. When landlords make a Mesa tenant screening criteria list, they write down all the qualities they want in an ideal tenant. Then they compare the applications to the list.
Here's an example of a possible Mesa tenant screening criteria list:
No evictions
Smoking is allowed
Credit score above 625
Income to rent ratio: at least 2:1
No criminal history
One dog or cat accepted with current vaccination records
No bankruptcies
Mesa landlords can never discriminate against protected classes as defined by federal, state and municipal laws. Very often, a large city like Mesa will enact stricter anti-discrimination laws than the rest of their state. Every landlord with property to rent in Mesa needs to know the laws well. This website provides excellent discrimination information for the city. Landlords can reference federal housing discrimination issues at the hud.gov website.
More about Mesa tenant screening laws:
Landlords are not limited to what they can charge for an application fee.
Discrimination against protected classes during the application process can mean big legal trouble for Mesa landlords.
An application that doesn't meet a Mesa landlord's personal screening criteria can legally be denied.
Landlords are making a mistake if they ignore Mesa's landlord/tenant laws, and this website is an excellent resource.
Check Out Your Arizona Screening Guide
In many cases cities have their own screening rules and regulations while the state has another set of rules that govern the screening process.
Click here to go to our post on "Arizona Tenant Screening Process."
[activecampaign form=140]
Locating the Best Tenant Screening Services
After following the tenant screening process carefully, landlords can now run a background check. A professional tenant screening service will do the best and most thorough job. Mesa landlords should get an in-depth report for a reasonable cost.
Mesa landlords need a tenant screening company that provides info about:
Previous addresses
Evictions
Judgments and liens
Bankruptcies
A thorough background check report will give landlords the information they need to make a final decision on whether or not to sign a lease. Completing the Mesa tenant screening process provides the lowest risk for renting to bad tenants.
At RentPrep, we have experience with over 21,000 landlords over the past 10 years. Check out our tenant screening packages to see the services we offer.
Our FCRA certified screeners will put your mind at ease by providing the best tenant screening report available.