As a cultural, economic and recreation hub, Fort Worth is a fine city that is attracting all kinds of residents from across the country. When landlords with rental property want to find the best tenants, they need to know how to properly screen applicants. Fort Worth tenant screening laws enable landlords and applicants to treat each other fairly and determine if things make a good match. Landlords need to learn all about Fort Worth  tenant screening laws.
This post gives Fort Worth landlords an overview of these topics:
Fort Worth tenant screening laws
An abundance of free resources
Overview of the screening process
Finding the best tenant screening services
Tenant Screening Fort Worth Laws
It may come as a surprise, but Fort Worth tenant screening laws are quite strict, even more than some state and federal regulations. If Fort Worth landlords don't comply with the laws, they can get into significant legal trouble. Landlords should figure out what they need to do to become educated on Fort Worth tenant screening laws.
Here are some important Fort Worth tenant screening laws:
The city doesn't impose a limit on how much landlords can collect for an application fee.
Application fees in Fort Worth are non-refundable, even if the application is denied.
Security deposits are different than application fees, and are treated as separate financial transactions.
It's important for landlords to know all about Fort Worth tenant screening laws so they can make sure they are running their real estate business in the best way possible. In doing so, they will attract the best applicants and stay on the right side of the law.
Avoid This All-Too-Common Screening Mistake
The number one mistake that landlords make in tenant screening is to not run a background check. All too often, landlords don't gather the one thing they need to do so—a signature from the applicant.  Landlords must have the applicant's signature or they cannot run a background check. The professional background check is the only true way that Fort Worth landlords have to judge whether or not the applicants will make good tenants.
This application from RentPrep is a good example: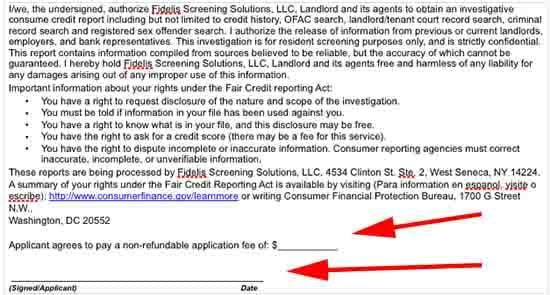 See where the top red arrow points? It is telling the applicants they have a nonrefundable application fee. See the bottom red arrow? It shows applicants exactly where to sign in order to give consent to a background check.
Resources for Tenant Screening in Forth Worth
RentPrep has gathered a helpful list of links for you to use in your real estate business. There's no better way to find top tenants than to use the information here.
*If landlords want to adopt a "no blank space policy," they will be able to discard any application that is not completely filled out. Blank spaces for answers won't allow anyone to perform a full background check. To make things as easy and thorough as possible, only completed applications should be considered.
Fort Worth Tenant Screening Process
If they haven't done so already, Fort Worth landlords ought to come up with an individualized tenant screening criteria list. This will enable them to sort through every application easily and consistently. When the Fort Worth landlord has a chance to write down all the top features they would like to see in their ideal tenant, it helps them to focus on what's important about each applicant.
This is an example of a Fort Worth tenant screening criteria list:
Only 1 dog or 1 cat, under 20 lbs
No smoking
At least a 620 credit score
No criminal history
A 3:1 income to rent ratio
No bankruptcies
Prefer at least 6 months at current job
Fort Worth landlords should take every application and compare it to the list. Those applications that contain the most matches will be the top considerations.
Including criteria on the list that discriminates is a bad thing for landlords to do. The city of Fort Worth has strict anti-discrimination laws for housing, as does Texas and the United States of America. To stay fair and equal, landlords should never discriminate when choosing applicants. , There's more information on discrimination and housing in Fort Worth here. Federal housing discrimination laws can be found on the hud.gov website.
Fort Worth tenant screening laws include:
Landlords can charge what they want for application fees because the city puts no limits on them.
Fort Worth has additional protected classes, even more than the state or the federal government. It includes sexual orientation, gender identity, gender expression and transgender.
Any landlord can legally deny an application if it doesn't meet their personal criteria (barring protected classes).
Landlords can stay up to date on Fort Worth fair housing and tenant screening laws here.
Check Out Your Texas Screening Guide
In many cases cities have their own screening rules and regulations while the state has another set of rules that govern the screening process.
Click here to go to our post on "Texas Tenant Screening Process."
[activecampaign form=140]
Choosing the Best Tenant Screening Services
Once they have a few great applicants, landlords need to find a tenant screening service. Only a professional company can get the proper background check needed to get a true picture of what kind of tenant any applicant will be.
Tenant screening service reports should include:
Any evictions
Past bankruptcies
All judgments and liens
Prior addresses
Fort Worth landlords will improve their business in many ways when they conduct proper tenant screening and take advantages of the tips and steps in this post. Fort Worth tenant screening laws are in place to make the process smooth and fair.
At RentPrep, we have experience with over 21,000 landlords over the past 10 years. Check out our tenant screening packages to see the services we offer.
Our FCRA certified screeners will put your mind at ease by providing the best tenant screening report available.