Dallas is an attractive and exciting Texas city that brings in many people from all over the country. A large number of people in Dallas are renters as well. This is good news for landlords that own property in the greater Dallas area. However, managing a real estate business here means landlords must pay attention to the Dallas tenant screening laws.
In this post about the Dallas tenant screening process, we discuss:
Dallas tenant screening laws
Free landlord resources
Screening process basics
Best tenant screening services
Tenant Screening Dallas Laws
Dallas tenant screening laws help keep everything fair between tenants and landlords. When screening applications, landlords have to obey the federal and state laws, plus any that their city has enacted, which can often be more strict. If Dallas landlords don't know the latest information on their city's tenant screening laws, they can really get in trouble with the law.
For example, some Dallas tenant screening laws include:
Like the state, the city of Dallas does not place a limit on what landlords can charge for application fees.
Application fees are not refundable in Dallas.
The application fee is a separate transaction from the security deposit, which happen after an application is approved.
Landlords that don't follow the laws concerning tenant screening are going to suffer from bad tenants in their rental units, causing them a lot of money, stress and time.
This Screening Mistake is Common With Dallas Landlords
Landlords that aren't familiar with running a background check for applicants may not know that they are accidentally committing one of the most common mistakes that they can do. Without a signature of consent from the applicant, there's no way the landlord can run a background check. This means if the applicant doesn't sign on the application form, the landlord has no legal way of doing a background check on them.
Forms need to include a signature line, like this one from RentPrep: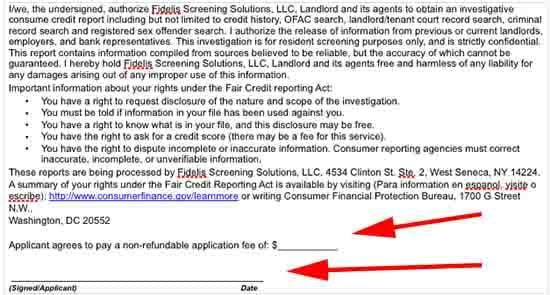 See how the top red arrow indicates a nonrefundable application fee. The bottom red arrow is where the applicants should sign for giving their consent.
Resources for Tenant Screening in Dallas
RentPrep has gathered a helpful list of links for you to use in your real estate business. There's no better way to find top tenants than to use the information here.
*Consider a no blank space policy. This happens when landlords don't accept any applications that aren't completely filled out. Anyone that leaves blank spaces in the application may have something to hide or may simply want to avoid questions about that part of their life. A no blanks space policy means that the landlord only accepts fully completed applications.
Dallas Tenant Screening Process
After the landlords have sorted through the applications for complete submissions, they can then compare them to their tenant screening criteria list. This is a thoughtful list that includes all the factors that people would like to see in their tenant. It should be specific enough to be effective but broad enough to include a good portion of the rental population. A Dallas tenant screening criteria list is both fair and legal.
This Dallas tenant screening criteria list is a good example:
No evictions
Only one dog with proper vet records
No bankruptcies newer than 7 years old
Credit score above 700 or income to rent ratio at 3:1, or both
No smoking
No criminal history
Dallas landlords should then compare the applications to the criteria list and rank them from highest to lowest. The highest applications go on to the next round while those that don't match the list well are set aside.
Remember that discrimination during tenant screening is completely illegal. Landlords should be very familiar with federal and state anti-discrimination laws. There are often municipal laws that even go beyond those. For more on federal, state and city housing discrimination, look at this Dallas website and also at the hud.gov website.
Dallas tenant screening laws include:
No limits on application fees.
Landlords cannot discriminate against protected classes at the federal, state and municipal level.
Legally, landlords can deny applications that don't meet their criteria as long as they are not discriminating.
Dallas tenant screening issues and more can be found here.
Check Out Your Texas Screening Guide
In many cases cities have their own screening rules and regulations while the state has another set of rules that govern the screening process.
Click here to go to our post on "Texas Tenant Screening Process."
Check Out Our Tenant Screening Tutorial
We've created a tutorial that walks you through the entire process of screening tenants.
This will show you the ins and outs of tenant screening.
Take the time to go through this guide and your future self will thank you.
[activecampaign form=140]
Finding the Right Tenant Screening Services
The top applications that have passed all the tenant screening steps so far are eligible for consideration. They should be sent to a tenant screening service that delivers the best background checks for the money. There are several reputable tenant screening services out there that will do a fine job of providing the background information of tenants
A tenant screening service report must include:
All evictions
Any bankruptcies
Past judgments and liens
Prior addresses
In Dallas, the best way to locate and contract with the best applicants is to follow all the steps in a proper tenant screening search.  Knowing about Dallas tenant screening laws and regulations will help make this difficult task much easier.
At RentPrep, we have experience with over 21,000 landlords over the past 10 years. Check out our tenant screening packages to see the services we offer.
Our FCRA certified screeners will put your mind at ease by providing the best tenant screening report available.