There are few cities as ideal as Colorado Springs, and people are gathering here for both work and recreation. If any landlords have property they own in Colorado Springs, it can be very profitable as there are lots of applicants seeking rentals. Knowing more about Colorado Springs tenant screening laws can really help landlords find the best tenants and avoid the troublemakers.
This post will tell Colorado Springs landlords about:
Colorado Springs tenant screening laws
Free resources for landlords
Overview of the the tenant screening process
Locating tenant screening services
Tenant Screening Colorado Springs Laws
Landlords in Colorado Springs are definitely going to benefit from learning all about the laws that cover tenant screening. At each level, such as federal, state and municipal, there are laws that regulate how landlords and applicants interact and what they can and cannot do. It's the responsibility of landlords to learn about and to comply with Colorado Springs tenant screening laws.
Here are some of the Colorado Springs tenant screening laws that landlords must know:
Landlords in Colorado Springs have no limits to what they can charge for application fees.
Colorado Springs application fees are not refundable.
Security deposits and application fees are separated transactions.
Learn more about Colorado Springs tenant screening laws here.
Avoid This Common Screening Mistake
It's standard to use an application form with a vacancy, but far too many landlords in Colorado Springs are falling short of doing the one thing the must do to run a background check. Every application form needs to have a signature line for applicants to sign. A Colorado Springs landlord cannot run a background check on an applicant unless they have a signature of consent. Landlords should make changes to the application form to reflect this very important feature if it doesn't have it already.
Here's how the RentPrep form looks: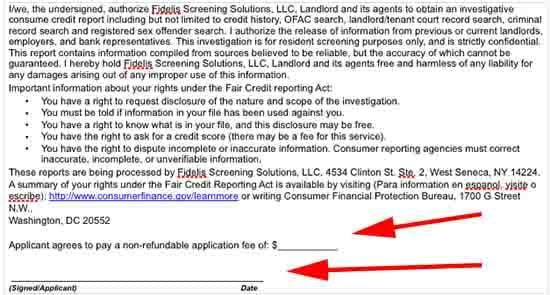 Top red arrow: Info about the non-refundable application fee.
Bottom red arrow: Signature line so landlords can do a background check.
Resources for Tenant Screening in Colorado Springs
RentPrep has gathered a helpful list of links for you to use in your real estate business. There's no better way to find top tenants than to use the information here.
*Lots of landlords implement a no blank space policy for accepting applications. It allows them to deny any incomplete application where an answer has been left blank. It's impossible to run a complete background check on an application with missing information, so it is denied upon being received.
Colorado Springs Tenant Screening Process
Colorado Springs landlords can further reduce the number of qualified applicants when they create a tenant screening criteria list. This creates a standard of tenant qualifications that they can be consistent with. A Colorado Springs tenant screening criteria list keeps landlords from being unfair or making decisions based on gut instincts or guesswork.
Here's an example of a Colorado Springs tenant screening criteria list:
No smoking
No prior evictions
Credit score above 600
Income to rent ratio 3:1
No criminal history
Current renter's insurance policy
One dog under 25 lbs with current vaccination records
No bankruptcies within the last 7 years
Colorado Springs landlords should be familiar with anti-discrimination laws in housing on a federal, state and municipal level. Discrimination laws were created to keep the application process fair and consistent, and landlords should never ignore discrimination laws. Colorado Springs landlords should check out this website for more information. Of course, landlords can reference federal housing discrimination issues at the hud.gov website.
Colorado Springs tenant screening laws include:
Landlords have no limits for what they might charge for an application fee.
Colorado Springs has many anti-discrimination laws when it comes  to housing to protect certain classes.
Applications can be denied if they don't meet a Colorado Springs landlord's tenant screening criteria.
To learn more about the city's landlord/tenant laws, landlords can visit this website.
Tenant Screening Done Right
If you want to learn tenant screening this is where you start.
We've put together a 10 chapter guide on tenant screening.
Each chapter will walk you through the process and show you how to identify and place the perfect tenant.
Take the time to go through this tutorial and your future self will thank you.
[activecampaign form=140]
Check Out Your Colorado Screening Guide
In many cases cities have their own screening rules and regulations while the state has another set of rules that govern the screening process.
Click here to go to our post on "Colorado Tenant Screening Process."
Locating the Best Tenant Screening Services
Colorado Springs landlords should be able to run background checks on qualified applications. However, now they need to find a professional tenant screening service that will look into all the important details found on the applications. For a reasonable fee, landlords receive an in-depth report.
A good tenant screening company provides information on:
Previous addresses
Evictions
Judgments and liens
Bankruptcies
Once the background checks are completed, Colorado Springs landlords will know whether or not an applicant will make a good tenant. When landlords follow the Colorado Springs tenant screening process, they can avoid questionable applicants and find good tenants for their properties.
At RentPrep, we have experience with over 21,000 landlords over the past 10 years. Check out our tenant screening packages to see the services we offer.
Our FCRA certified screeners will put your mind at ease by providing the best tenant screening report available.