No South Dakota landlord wants to get stuck with bad tenants but way too many feel like selecting applicants is just the luck of the draw. However, following the steps in the South Dakota tenant screening process can reduce the risks of getting a bad tenant and leading landlords toward the best residents possible.
Every landlord, from Sioux Falls, Rapid City, Pierre and beyond, have the responsibility to learn about their state's tenant screening laws.
Here's what you will learn in this article:
South Dakota tenant screening laws
Tons of free resources
Screening process overview
Locating a tenant screening service
South Dakota Tenant Screening Laws
South Dakota has tenant screening laws that differ slightly from its neighbors. That's why landlords in South Dakota should never assume they know everything about tenant screening.
Here are some basics:
The state does not limit how much a landlord can charge for an application fee.
Landlords in South Dakota can only charge one months' rent for a security deposit
Application fees are non-refundable, while security deposits are refundable.
Landlords in South Dakota can get into trouble if they don't know the right things to do when they are collecting money from applicants.
Use this guide to learn more about South Dakota tenant screening laws.
Avoid This Screening Mistake
Landlords in South Dakota may feel like they can run a background check on any applicant at any time. However, this isn't always true. Every landlord must get written consent from every applicant or they cannot run a background check. If their application material doesn't have a signature line, they cannot proceed.
Landlords should check their documents for a signature line and if they don't have one, it's time to add it.
Here is the RentPrep application: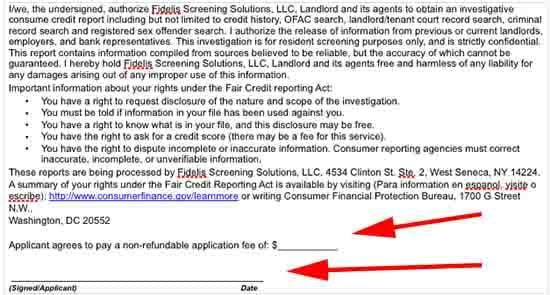 Top red arrow: Shows that the application fee is non-refundable.
Bottom red arrow: Indicates where applicants sign to give consent on a background check.
Resources for Tenant Screening in South Dakota:
These free forms and guides are valuable resources that can assist you in finding the best possible tenant for your rental property.
*Many landlords enact a no blank space policy, which means they discard any applications that have blanks spaces for answers. It's impossible to do a proper tenant screening without answers to questions, so it saves time and frustrations.
South Dakota Tenant Screening Process
Smart landlords in South Dakota use a tenant screening list of their own creation. The list is comprised of features they want in an ideal tenant.  While the features should be somewhat specific, they shouldn't set too high a bar or no applicant will qualify.
This is an example of a reasonable tenant screening criteria list:
No smoking
Credit score must be above 650
One pet under 15 lbs allowed
Income to rent ratio must be at least 2:1
No criminal history more than 7 years old
Absolutely no previous evictions
9 months minimum in current job
Landlords sort the applications they have according to whether or not each one meets the criteria. It helps them pick out applicants that best match what they want in their own rental properties.
Of course, landlords in South Dakota or anywhere in the country cannot discriminate against protected classes. The tenant screening criteria list should never include discriminatory features. Landlords can refer to the hud.gov website for more details on avoiding housing discrimination.
Here are more important factors in South Dakota tenant screening:
South Dakota landlords may charge whatever they want for application fees.
Application fees are not refundable, according to state law.
Landlords and applicants can negotiate a pet deposit as long as they both agree to it.
Landlords in South Dakota can reject applications that fall short of their criteria, as long as they are not discriminating.
To get the most information on South Dakota landlord and tenant regulations, look here.
[activecampaign form=140]
Find Your Perfect Renter
Finding the right tenant can be a headache if you don't know what you're doing.
That is why we've created a tenant screening guide for you to find the perfect renter.
Check out our free tenant screening guide and learn how to find the perfect renter.
Choosing a Tenant Screening Service
Once the South Dakota landlord has all the applications sorted, it's time to choose a tenant screening service. For a modest fee, they should provide the following:
Info on all prior evictions
Summary of all bankruptcies
Uncover any judgments and liens
Previous addresses
Landlords that have detailed background information on their applicants will have the best chance at finding the tenants that will take care of the property and pay on time. However, a good tenant screening service is the best way to find that info. South Dakota landlords that want great tenants in their rentals should follow all these steps for success.
We invite you to check out RentPrep, where we've worked with over 21,000 landlords over the past 10 years.
Check out our tenant screening packages to get a better idea about all the services we offer.
Our FCRA-certified screeners will deliver the best tenant screening report available, every time.