Every state does tenant screening a little differently, and New Jersey is no exception. New Jersey tenant screening is a big part of getting landlords like you to pick the very best tenants to live in your rental properties.
Our post today covers some of the most important topics that relate to New Jersey tenant screening, such as:
New Jersey tenant screening laws
Lots of free resources for landlords
The screening process overview for New Jersey
How to choose a tenant screening service
New Jersey Tenant Screening Laws
The laws in New Jersey often differ from other states when it comes to how landlords screen applicants.
For example, you should be aware of these as a New Jersey landlord.
The state of New Jersey puts no restrictions on the amount that a landlord can charge for an application fee
Landlords in New Jersey can charge a maximum security deposit up to one and a half times the monthly rent
The application fee (non-refundable) and the security deposit (refundable) are separate payments and are not the same thing
Many applicants don't know that an application fee is different than the security deposit, so it makes sense to take the time to explain it to applicants. Of course, if you decide to refund the application fee for some reason, you can do that.
To get even more details on laws involved with New Jersey tenant screening, you can use this guide.
[activecampaign form=140]
Don't Make This Screening Mistake
If you aren't running a background check on all your applicants, you must start as soon as possible. Remember that you can only do so if you have a signed consent form from the applicant.
Make sure your rental application form has a section that requests the signed consent from the applicant. Otherwise, you won't be able to run a background check and find out important information
Here's an example of the language we use on our forms here at RentPrep.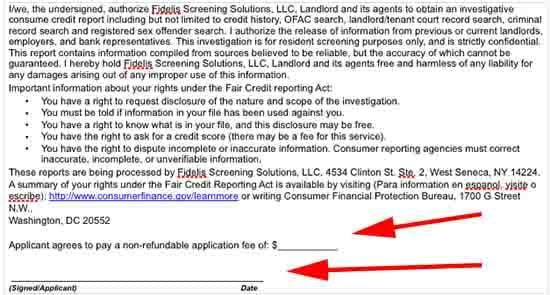 The top arrow emphasizes that the application fee is non-refundable. Many applicants get confused with application fees and security deposits and other fees.
The bottom arrow indicates where the applicant is to sign to give consent to run a background check.
Resources for Tenant Screening in New Jersey:
Here are some free forms and resources to help you find the best possible tenant for your rental.
*Don't forget the "No Blank Space" policy. This is when you don't accept any applications with blank spaces or areas that aren't filled out. Often, applicants with a shady rental history will leave out important information. By only accepting applications that are completely filled out can you get the best screening results.
New Jersey Tenant Screening Process
Successful landlords create screening criteria for each rental property. The criteria consists of the conditions you want to see in your tenant. Once you have a final list, write it down for future reference.
Not sure about what to put on your list? Some common criteria includes:
No evictions
No bankruptcies
Pet limits
Income to rent ratio (such as monthly income that is three times the rent)
No criminal history
It's important to keep your screening criteria legal, that is, don't ever discriminate against a protected class, as outlined by hud.gov.
When your screening list is final, stick to it when making your decisions about rental applicants. If you don't deviate, you will be protecting yourself from any kind of discrimination lawsuit from a denied applicant.
If you aren't consistent in screening tenants, you will make it look like you are discriminating. Take the time up front to list the criteria, so you won't have to make on-the-spot decision or go with your gut. Avoid legal trouble by sticking to your list.
Above all, take the time to learn the New Jersey tenant screening process. You may think you know all about it, but there are some different aspects to keep in mind.
Application fees are not refundable, meaning you can keep the money to cover the cost of screening
Make sure that every applicant knows that their fee is not refundable, whether they are selected or not
Some landlords return the application fee to the applicant they choose, but it is not required by law
Get all the details in this informative guide that gives more insights specific to New Jersey.
Tenant Screening Done Right
We've developed a comprehensive tenant screening guide you can access here.
http://rentprep.com/tenant-screening/
If you put the time into learn and implement this process you'll find it much easier to quality tenants.
It's a repeatable process any landlord can put in place.
Finding the Right Screening Service
After you've chosen the best of the best in rental applicants, it's time to run a background check.
To get the most out of a proper background check, you'll need info on the following items:
Eviction history
Bankruptcy search
Judgments/liens
Address history
Never rent to a tenant based on your emotions–use hard data instead. If you don't do a background check, you can't know what kind of tenant they will be.
Here at RentPrep we've helped more than 21,000 landlords over the past decade.
Check out our tenant screening packages to see the services we offer.
Our FCRA certified screeners know what to do to ensure that you'll get the best tenant screening report available.