Lots of people want to live in Hawaii, making it a great opportunity for landlords that own rental property. However, getting the right tenant into your rental can keep you in paradise or else cause lots of problems and cost lots of money. Landlords should know all about Hawaii tenant screening laws to make the best of it.
It's never too late to get educated on the detailed information on such rules and regulations, such as:
Hawaii tenant screening laws
Free resources
Overview of the screening process
Pick a tenant screening service
Hawaii Tenant Screening Laws
Hawaii laws on tenant screening procedures can be a little bit different than laws in other states on the mainland. It's best for landlords to get familiar with what they should and should not do for screening.
For example, as a Hawaii landlord, you should know:
There's no limit for landlords in the amount of application fee that you can charge.
Application fees are not refundable in Hawaii.
Security deposits are definitely separate from application fees.
There's always time to learn more about Hawaii tenant screening in order to find the ideal tenant. Learn more about Hawaii's landlord-tenant laws here.
Don't Make This Common Screening Mistake
Did you know that you can only run a background check on applicants that have given you written consent?
If your rental application form doesn't have space for a signature line, you need to create on or find a new document that does. Only then can you run a background check.
This is the form used here at RentPrep.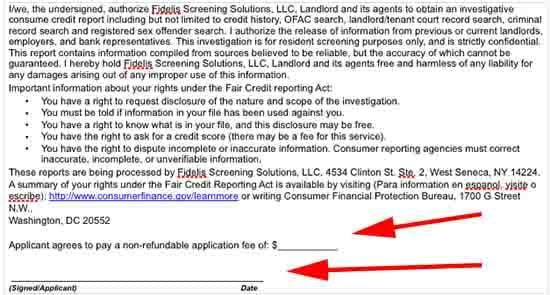 That top red arrow emphasizes that the application fee is not refundable, because most applicants will ask about this.
The bottom red arrow shows where the applicants must sign to give you consent on running a background check.
Resources for Tenant Screening in Hawaii:
These free forms and guides are valuable resources that can assist you in finding the best possible tenant for your rental property.
*Try a "No Blank Space" policy with all your rental applications so that you universally deny anyone with an incomplete application. It's a good way to eliminate applicants with things to hide and eliminate potential trouble makers right away.
Hawaii Tenant Screening Process
Hawaii landlords might want to create a list of tenant screening criteria for each one of your real estate investments. This means you draw up a list with criteria that can help you sort applications as you look for the best tenant out there.
Here are some common criteria you could include:
No smoking
Limited pet ownership
Earn 3 times the amount of monthly rent
Above average credit score
No history of violent crimes
No previous evictions
Of course, your list cannot include any characteristics of discrimination. The federal government has more information on protected classes at hud.gov.
Did you know that you need to be consistent when you screen applicants? If you start making exceptions to your list you will regret it in the long run because even the best intuition is not going to be better than a thorough background check.
The tenant screening process in Hawaii requires:
Hawaii landlords can charge an application fee to process an application.
There's no limit to the amount of application fee landlords can charge.
Application feels in Hawaii are not refundable.
Remember, this guide provides lots of details on Hawaii landlord tenant topics.
[activecampaign form=140]
Find Your Perfect Renter
Finding the right tenant can be a headache if you don't know what you're doing.
That is why we've created a tenant screening guide for you to find the perfect renter.
Check out our free tenant screening guide and learn how to find the perfect renter.
Picking the Best Screening Service
Using your screening criteria to sort applications, you can now run a background check on them.
A top tenant screening service ought to include this:
Evictions
Bankruptcies
Judgments/liens
Previous addresses
You'll never know what an applicant is truly like as a tenant without a background check. Please visit us and see how we can help.
Check out our tenant screening packages to get a better idea about all the services we offer.
Our FCRA-certified screeners will deliver the best tenant screening report available, every time.