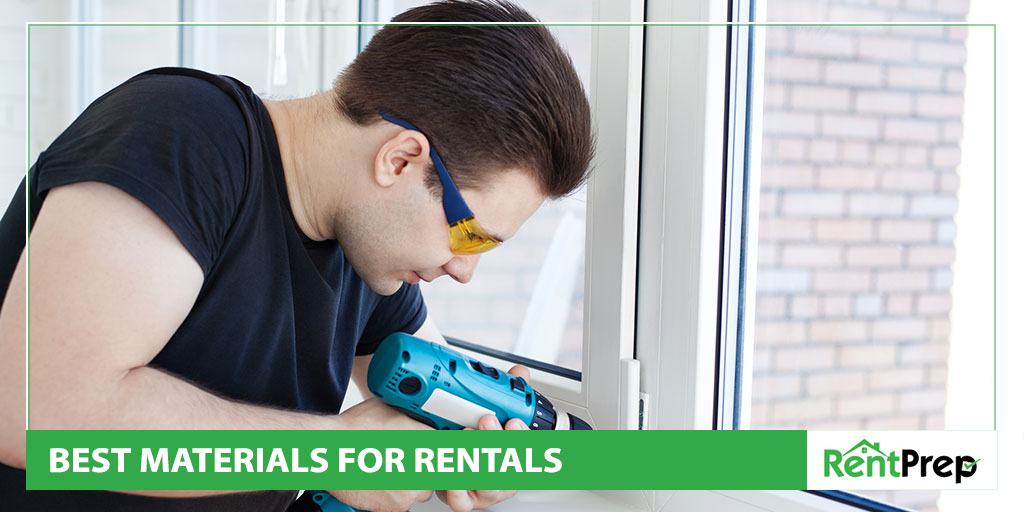 The repairs and improvements you make to your rental properties have a direct impact on the success of your business; will the effect be positive or negative? As a landlord, you know you must make repairs to your properties as necessary, and you might decide to make some improvements as well.
What are the best materials for rentals when you want to ensure the best bottom line long-term? Learning from the experience of other landlords when choosing the right materials can be incredibly beneficial.
We've gathered up some opinions from the landlords in the RentPrep community to serve as a brief guide to some popular materials. While you will always want to choose materials in the context of your specific property and business goals, knowing what has worked for others can be a great way to plan your next steps.
A Table Of Contents On The Best Materials For Rentals
These are the points and questions we'll cover below:
Why Improvements And Repairs Matter
Depending on the nature of your work as a landlord so far, you might not be certain about how much to invest in repairs, what type of materials to use, or whether making improvements is going to pay off. It's normal to have these concerns as a landlord, but all landlords need to learn when and how these things can matter.
There are many ways improvements and repairs can make a positive difference in your profits, but there are three main things that experienced landlords will share as part of the secret to their success.
Balancing Cost With Durability

It can be tempting to use the cheapest materials possible when making repairs or improvements to a rental property, especially when you are just getting started in the business. Using the least expensive materials, however, is not always the right choice.
Think about it this way. When you use inexpensive materials, you save money upfront. Down the line, however, these items will break down faster than other materials. That means they will need to be replaced sooner, and they could even cause additional problems.
By investing more money upfront, you may save money in the long term. There is a balance that must be struck between spending money on materials and keeping on budget. Finding this balance is part of the hard work of being a property owner!
Improvements Can Bring In More Prospective Tenants
One reason for spending more money on improvements especially using the best materials for rentals is that the improvements could bring in more prospective tenants.
Some tenants will be specifically looking for properties with certain features, such as upgraded heating or cooling systems. Find out what types of improvements renters in your area are often looking for and determine if those things can fit your budget.
A better tenant pool gives you a better chance to find the perfect tenant for your property, and that is always a good thing!
Repairs May Be Necessary After Tenants Move Out
Sometimes, you will have no choice but to spend money on your rental properties. Repairs often need to be made either because of tenant neglect or normal wear-and-tear. The bottom line is that the fixes have to be made.
When put into the position when you need to do such repairs, using smart material choices for rental properties is sure to not only make the job easier, but also help you manage costs.
The Best Paint Color For Rentals

Choosing the right paint color is an incredibly important part of the rental property management process. Usually, landlords like to stick to choosing a few base colors and keep those choices as the go-to for their properties. By doing this, you can ensure you will never waste any paint since the colors can be used at multiple properties.
Even if you do this, however, it is essential to choose the best paint color for your properties! Landlords in the RentPrep Facebook community found these three colors to be the best paint color for rentals:
All of these colors are neutral colors that can be used in a variety of spaces with great success. Neutral colors can be used in many different ways, and that will make the rental more appealing than bright, daring colors.
You may have noticed that standard white is not an option; why is that?
Experienced landlords have found that using a high contrast white is not as appealing as it might seem, as this color shows dirt easier and can be hard to photograph for rental listing photos.
Instead, choose a neutral color that matches the vibe of the house. For example, agreeable gray will be better for modern-styled homes while beige may be a better option for more traditional stylings.
FAQs About Painting Rentals
A sentence or two introducing FAQs
Should You Paint Your Own Properties Or Hire Painters?
Whether you've let your renters paint the property or you simply need to touch up the paint between tenancies, you might consider whether you should do the painting yourself or hire painters to do the work. There are benefits to both, and landlords each have their own opinions about what is the best option.
On the one hand, hiring painters to do the painting can help to shorten the vacancy periods on your properties. While it may take you a week or more to completely paint a unit, crews can do it in just a few days. Faster rental turnaround times will lead to bigger profits, and that's why this landlord chooses to hire a crew:

On the other hand, there are benefits to investing in learning how to efficiently do the work yourself as well. Painting properties can be time-efficient and cost-efficient once you invest the time into learning the right techniques and getting the money into the right gear. Many landlords do just that:


A big factor in your decision about whether you should hire a crew or do-it-yourself should be the number of properties you manage.
When you're managing a smaller number of properties, you can handle the work of doing it yourself, and you are likely to save money by doing this. Once you have dozens of properties, however, keeping up with the painting may become hard and lead to longer vacancies. In that scenario, having a painting crew on hire will benefit your business.
Consider how many times a year you would likely need to paint a property. If you can balance this with your current workload, get on Youtube, and start learning how to do it right! Otherwise, gather quotes from local painting contractors to see what to expect.
What if you have wallpaper on the walls prior to painting? No problem. In this video, we'll go over the best way to take down wallpaper:
How Can I Get The Smoke Smell Out Of Walls?
Have you taken on a property previously owned by long-term smokers or had tenants smoke while living in one of your properties? Smoking can lead to stained walls and smells that seem like they will never go away.
The right paint job, however, can help tackle your problem. Plan your attack to get rid of the smells before you market the property:
Wash down the walls using a sponge mop dipped in soapy water.
Choose an oil-based primer, such as Kiltz; oils help trap and eliminate smells.
Don't worry if the primer still shows smoke spots; paint the wall your desired color and it'll all be covered up.
Should I Paint Cabinets Or Leave Them Alone?
Another painting question landlords have when preparing rental properties is whether or not it would be advisable to paint cabinets. Like many parts of the rental business, landlords have different opinions on the matter.
Sometimes, you can help cabinets look fresh and new without touching them. One landlord suggests giving the room a fresh coat of paint or changing the hardware before making a decision:


If you find that the cabinets still look lackluster, it's time to paint! Community members recommend Benjamin Moore Advance or Valspar brand paints after prepping the cabinets with a mixture of ammonia and water. Painting cabinets typically takes multiple coats; follow the manufacturer's instructions.
We'll also go over cabinetry and more in this video on rental renovations on a budget. Check it out here:
The Best Countertops For Rentals
The best kitchen countertops for rentals need to bridge the gap between looking like they are high-end and being incredibly durable. Countertops are one of the most used surfaces in the entire house, and they will show signs of wear-and-tear if the material is not durable yet.
What products do landlords in the RentPrep community recommend?
Quartz
Quartz countertops are typically made from an engineered stone, and it is one of the most popular types of countertop material when homes are being renovated.
Does this material make sense for rentals?
Landlords in our community said yes, and we'd like to agree. Quartz may be a bit more expensive than granite, but it is very durable to chipping while still having a great appearance. It is also resistant to both stains and scratches, and that is a great feature for rentals. The added cost really pays off in durability, and you can also have it installed without any seams.
Granite
Some landlords do not find the cost of quartz to be worth it, however, and instead turn to granite as a great stone option:

Potential tenants often love the look of granite tops, and most even prefer its appearance to the look of man-made quartz countertops.
When it comes to durability, granite is not as durable as quartz countertops. However, it still has great durability ratings! It is stain, scratch, and chip-resistant. To get the best durability out of granite, it is advised to go with a darker granite as they are denser and less permeable.
Formica And Laminate
Finally, many rentals are fitted with Formica or laminate countertops for the super affordable price, decent durability, and variety of looks available:

Many people have a bad impression of laminate countertops because of what they remember from childhood, but modern laminate countertops are resistant to scratches, stains, and heat. They can also be easily cleaned with soap and water. They are incredibly affordable to install, but tenants will need to be careful about heat damage from very high heat.
Are Formica Countertops Repairable?
Formica and laminate countertops can pull away from the countertop over time, and that can be a serious eyesore. Thankfully, it is possible to make some repairs to these countertops on your own.
These landlords have some great ideas on how to make these repairs affordably:



The Best Backsplash For Rentals
When it comes to the backsplash, some new landlords do not consider adding a backsplash or realize why adding a backsplash might be a good idea.
A backsplash is not necessary, but it can be a great way to protect your rental property while also adding some charm. A backsplash keeps the walls from being stained by food and grease while also protecting them from water splashes. It acts as a barrier that can be easily wiped down and cleaned without ruining the walls.
What types of backsplash are landlords in the community favoring in the current market?
Backsplash Panels
A number of landlords find that backsplash panels are one of the easiest types of backsplash to install, and they are just as easy to clean! There are many different design options when it comes to backsplash panels.
One landlord even shared this great idea about using a reversible panel option:

Peel And Stick
Another top option by landlords in our community and around the country is to use peel-and-stick backsplash, which is heavily favored because of its low cost and the variety of styles it is available in. You likely already own all of the tools needed to install this type of backsplash, and you can easily do-it-yourself.
On the other hand, however, peel-and-stick can be difficult to remove without damaging the wall, and it is possible for the backsplash to sag or bubble when it starts to wear out.
This is very much a case of cost versus durability. Peel-and-stick doesn't have an especially short lifetime, but you should not expect it to be a "forever" product.
White Subway Tile
Finally, one landlord had great advice about the perfect tile for rental backsplashes:

As she said, white subway tiles never go out of style, and they are often a well sought-after feature in new builds as well as rentals. The classic style of these tiles is unmistakable. While there is a higher upfront cost in adding a tile backsplash, it will be more durable and potentially increase your rental value.
To save money, consider buying this tile in bulk and keeping it in storage for future properties and repairs. If you always use the same tile, you will be able to save a lot of money by purchasing the tile in this way.
The Best Flooring For Rentals
When it comes to flooring, many landlords in the RentPrep community were on the same page about the best flooring for rentals: vinyl plank flooring in every room except for the bathrooms is the top recommendation!




Vinyl plank flooring offers a great balance of durability with appearance and cost. Installing traditional hardwoods is not feasible in most rentals, but vinyl plank flooring can give a similar effect at a significantly lower cost.
Additionally, vinyl plank flooring has great water resistance and can be installed quickly. In fact, many landlords choose to install it themselves. Undertaking this project won't be for every landlord, but the installation cost of this type of flooring will definitely be lower than other types of flooring that are more labor-intensive.
For more information on the best flooring for rental property, check out this video:
What Are The Right Materials For Your Property?
It's important to remember that every property is going to need to be assessed individually. While your experience and the shared experiences of landlords in the community can help you to find good materials, you will always need to consider a few things before making your choice:
What materials are popular in the area?
What materials will fit the property's style?
Will the materials fit the budget for this property?
Can these materials be obtained and installed in a reasonable amount of time, or will they lead to a longer vacancy?
Are these materials easy to upkeep in the long term?
By asking yourself these questions and other questions that apply specifically to your property, you will be able to make the most informed decision possible.
It's important to choose the right materials whenever doing repairs and improvements as your property is the basis for your business and your bottom line. Take time to choose the right materials, and you will be pleased with the results that you see!
Do you want to get involved with a community of landlords and share your own thoughts about the best materials? Join the conversation with the RentPrep community on Facebook today.