So you've got a tenant in your rental but you've got a sneaky suspicion that they might have a murky past. Perhaps someone told you to run a background check but now you're left wondering, "Can I run a background check on a current tenant?"
The short answer is… yes you can.
However, you will want to make sure you do it in a legal way.
If you had your tenant fill out a rental application you will want to make sure they signed off on running a background check.
On our rental applications you will see on the backside something like this: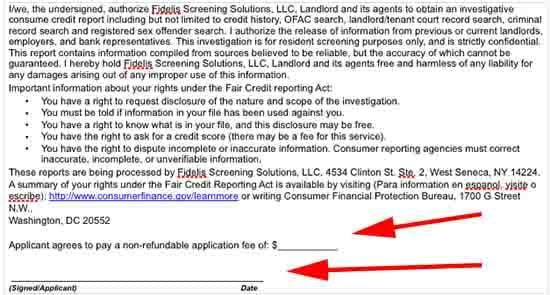 The top arrow highlights the fact that they're paying a fee for the application, the lower arrow is for their signature to run a background check.
Most rental applications do not specify a timeline of when you can run a background check so this leaves the door open.
If you have a signed lease and a signed rental application form then you can run a background check.
One thing to look for: Make sure that the rental application permission is giving permission to the "landlord" to run a background check.
If you look at the top of the image above it says the following:

"I/we, the undersigned, authorize Fidelis Screening Solutions* LLC, Landlord, and it's agents to obtain…"

You'll notice that the landlord is part of the written permission in this particular rental application. You'll want to make sure you have permission on whatever form you used.
*In case you were wondering… Fidelis Screening Solutions is the LLC we run our business under.

However, if you're running a report on your tenant after 30 days of them moving in… you're asking for trouble.
The tenant can see if their credit was pulled and many times will want to know why you (the landlord) ran a background check when they're already in the rental.
Things to consider before running a background check on a current tenant
If you're having issues with a tenant, it might be worth your while to address those issues directly with the tenant.
This could save you from a heated exchange when they discover you ran a background report.
If you're seriously concerned for the safety of neighbors then yes it may make sense to run the report.
We suggest running a Pro Package Report where you can see full criminal history of the tenant.
Make sure you reference your rental application
Before you run any kind of criminal records or background reports, make sure you have an application on file. That's going to be the legal consent to run your background check.
If you're interested in running a background check but still have questions, feel free to contact us with any questions you may have.