Michigan tenant screening is a vital part of being a landlord. Landlords in the state of Michigan really need to pay attention to what's going on when it comes to tenant screening.
Not all states are the same when it comes to figuring out how to check an applicant's background, and that's why our post today will cover key topics to help landlords like you get the best tenants into their rental property.
You need to know about topics like this:
Michigan tenant screening laws
All the free resources
Step by step of  the screening process
Picking the right tenant screening service
Michigan Tenant Screening Laws
Michigan laws about tenant screening may differ from the regulations set up in other states.
As a Michigan landlord you need to know the following about tenant screening laws in your state:
In Michigan, there is no maximum limit that a landlord can charge for an application
The maximum security deposit you can collect is one and one half times the monthly rent
Application fees and security deposits are completely different funds, and should not co-mingle.
Of course, remember that an application fee is non-refundable while the security deposit may be refunded if there is not care and no cleaning charges to be deducted. Of course, you can always choose to refund their application fee if you want.
Get more details on Michigan landlord tenant laws by clicking here.
Never Make This One Screening Mistake
Like most areas, nobody can run a background check unless they have a signed consent form. Michigan landlords must get the signature of the applicant before a company can even begin the process.
The best rental application forms will contain a place on the application that requests a signature for consent from the applicant. This legally allows you to run a background check.
Here's a graphic from one of our forms that we use here at RentPrep.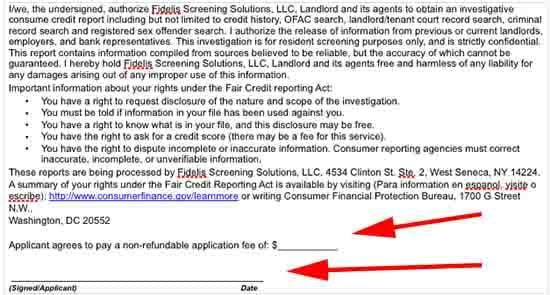 Michigan landlords will notice the first red arrow highlights information about the application fee being non-refundable, because applicants should be asking about this.
The second red arrow is where the applicant must sign to give consent. Every good application should have one.
Resources for Tenant Screening in Michigan:
Here are some free forms and resources to help you find the best possible tenant for your rental.
*Never accept applications that have blank spaces. If you use a no blank spaces policy on all your rental applications, you can eliminate any applicants who have something to hide. With a no blank spaces rule, you can weed out bad tenants right away.
Michigan Tenant Screening Process
Spend some time creating screening criteria for each one of your rental properties. It should be about things that you can see and measure. Of course, write the list down for safe keeping.
Screening criteria often includes things such as the following:
Non-smoking
Zero pets
Must make three times the monthly rent
No history of violent crimes
Never had any evictions
A good landlord doesn't want their screening criteria to ever discriminate against the protected classes that are defined by hud.gov.
You'll avoid a lawsuit when you have your screening criteria written down, because then it will be apparent what your reasons were for turning down an applicant. If that applicant ever files a lawsuit and claiming discrimination, your list is the first step in protecting yourself.
Of course, always make sure you are consistent when screening your tenants. Never make exceptions and don't make changes to your criteria on a case-by-case scenario. Anything seen as inconsistent or wishy-washy can be challenged as discrimination. Avoid the drama altogether and stay away from lawsuits.
The Michigan tenant screening process isn't difficult to master, but there are a few things to keep in mind for the state.
Charge one and a half of the monthly rent as the rental property's security deposit
The security deposit must be stored in a federally insured institution
Landlords can charge whatever they want for a security deposit, or at least what the market will bear.
Please read this handy landlord-tenant guide for lots more information as it relates to the state of Michigan.

[activecampaign form=140]
Tenant Screening Doesn't Have To Be Boring
We understand that you bought a rental to make money and not to screen tenants.
It's not a fun step but it's pivotal in making your life easy as a landlord.
We've created a tenant screening guide that will walk you through exactly what to do.
We've also added comics and a main character in Laura to follow along the way.
Click the comic strip to learn more.

Selecting a Screening Service
Choosing a select few tenant applicants is the hardest part, so now you need to run a background check on your finalists.
To do a proper background check on all the applicants, it should give you the information about:
Evictions
Bankruptcies
Judgments and liens
Address history
Stay away from applicants that don't give you a good reason to rent. In other words, choose a tenant based only on the background check results instead of your head or your heart. This is the formula for finding a great tenant.
At RentPrep, did you know we've worked with over 21,000 landlords over the past 10 years? It's true. Just take a look at our tenant screening packages to see the services we offer.
Our FCRA certified screeners will always deliver the best tenant screening report available.