Here at RentPrep we're a tenant screening company and we've noticed that tenant screening for realtors has been a growing niche in our business.
In this post we will discuss why we've seen an increase in tenant screening for realtors and what these real estate agents should be aware of.
Six Things To Know With Tenant Screening For Realtors:
The list above is clickable and will scroll you down to each subject on this page.
The Housing Crash Impact On Realtors And Landlords
We have over 30,000 clients at RentPrep and we've noticed an uptick in realtors who use our tenant screening service on behalf of their clients.
We've spoken with some of these realtor clients and they all have a similar story.
The housing crash in 2008 made life difficult for many realtors and home owners. Suddenly home ownership started to drop which creates a demand for rentals.
As demand increases so do rent prices.
This infographic below and article from Trulia highlights the trend from home ownership to rentals.

So it's not hard to see the impact on a realtor.
We've heard from many realtor clients that they themselves started investing in rentals and then started offering new services to landlords.
Why not go where the money is? The average rent check rose 22% in the 50 biggest housing markets and this allowed room for realtors to get involved and help landlords place new tenants.
There are some common issues that often gets overlooked and we want to address that next.
Tenant screening for realtors: Your legal obligations
Educated landlords use a tenant screening service like RentPrep to run a background check and credit report on their applicant.
It's not the only step with tenant screening, but an important step to identify if you have a good applicant.
In this traditional model the landlord is the "end user" and RentPrep is the "consumer reporting agency" sometimes abbreviated to CRA.
When a realtor becomes involved in the process they become the end user and the landlord is their client.
The FCRA (Fair Credit Reporting Act) is the U.S. Federal Government legislation enacted to promote the accuracy, fairness, and privacy of consumer information contained in the files of consumer reporting agencies.
Let's address two rules to be aware of that are covered by the FCRA.
Number 1: It's imperative you have signed consent from the applicant to run a background check.
Most rental applications will have a section requesting this signed consent to run a background check.
Here's what that section looks like on the free RentPrep rental application.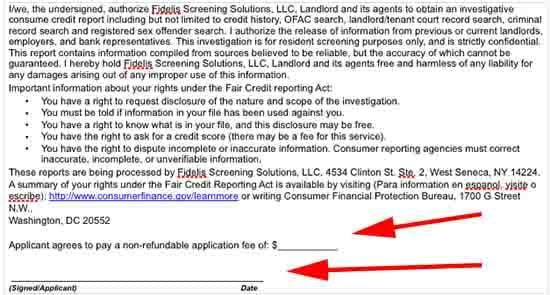 If you don't have signed consent you cannot legally run a background check.
Number 2: Understand that you are now the end user.
When you act on behalf of the landlord you are now the end user and will have access to very private information.
It might seem normal to share your findings with your client and send them the reports but it's not a good idea.
We recommend adding a clause to your agreement with your client that explains you won't be sharing direct findings from a background report.
This website explains in detail why you should add the following clause.:
Due to laws which may affect disclosure of private and credit information, LANDLORD shall not be provided with the TENANT'S credit report and/or application unless specifically authorized in writing by the TENANT(S) and the provider of the credit report.
Setting Up A Tenant Screening Account For A Realtor
You will be acting on behalf of your client and therefore you should look at any directive for the "landlord" as a directive for you the realtor.
For example, when you sign up for a free account at RentPrep you're prompted to enter landlord information.
On step 2 of our sign up you'll see a page that looks like this…

The red text has been added to show where you would enter your information as the realtor instead of the landlord.
Naturally, information provided on the rental will be the same if you're a landlord or realtor running the report.
Create Screening Criteria With Your Client
It's a good idea to establish screening criteria with your client.
The criteria will act as an answer key when you're looking at the background report.
Here at RentPrep we have a sample tenant screening criteria that you can use to get started.
Our suggestion is to fill this out on your own based on what you feel will yield a good tenant for the property.
Next, present the criteria to your client to sign off on or adjust as they see fit. This will help to speed up the process and make it easy for your client.
Now, you'll have a benchmark to grade applicants against that is agreed upon with your client.
This way if the applicant doesn't meet the criteria, you can simply let an inquiring landlord (and the applicant) know that they did not meet the criteria for the rental property.
Run A Background Check
Once you've created a free account and you've established screening criteria you'll want to run a background check on your applicant(s).
With RentPrep you'll have four different packages to choose from.
One advantage of the TransUnion Full Credit Report, formerly known as SmartMove, package is that the applicant directly controls who will see their report.
For 30 days they can share their report with whomever they choose. This is a nice option if your client (the landlord) insists on seeing the background check.
Our Basic, Pro, and Platinum reports are hand-compiled and this allows us to cross-reference data for accuracy. The downside to this approach is that you won't be able to see a full credit report with the background check.
Tenant screening for a realtor has an additional person involved so we'd recommend using our TransUnion Full Credit Report, formerly known as SmartMove, package because the authentication steps (after sign up) are done by the applicant and not the realtor.
This will save you time. If your client insists on seeing the report the applicant can agree to email them a copy within 30 days.
This is a safer way for your client to see the report. As a realtor you should never share credit reports and background checks directly with any other users.
If the applicants identity was stolen you may be liable. Stick with our TransUnion Full Credit Report, formerly known as SmartMove, package and let the tenant decide who has access to their report.
[activecampaign form=140]
Free Tenant Screening Resources
As you already know, running a background check is just one part of the tenant screening process.
That is why we have created a free tenant screening course that guides you through the entire process.
This course will show you how to find the best possible renter for your client.
Another great resource is our RentPrep For Landlords Facebook group.
The group is a mix of landlords, property managers, realtors, and aspiring investors.
With over 2,800 members you can find an answer to your questions quickly.
When you request to join you'll be asked if you're a landlord or property manager. Just reply "Realtor with landlord clients" so we know to accept your request.
We take this step because we don't want the group to become spammy with posts about available real estate deals. It's purely meant as an educational tool with zero promotion.
If you have any questions, ask one of our FCRA Certified Screeners by clicking the Live Chat button at the bottom of the screen or you can email screening@rent-prep.
Good luck and we look forward to helping you find that perfect renter for your client.