Landlords will do better with their rental properties when they heed Vermont tenant screening laws. Instead of suffering with bad tenants, landlords in Vermont can follow the process on how to get the best applicants out there.  Vermont tenant screening laws are the guides needed to do the job right.
In this article, Vermont landlords will gain more information on these topics:
Vermont tenant screening laws
Overview of the tenant screening process
Free resources for landlords
Vermont Tenant Screening Laws
Far too many landlords are not up to speed on Vermont tenant screening laws, and that means they are vulnerable to tenant problems and even lawsuits. Knowing all the specifics about the state's laws and regulations on screening applicants can help landlords navigate the best path for them.
Vermont tenant screening laws include things like this:
Landlords in Vermont are not allowed to collect any kind of application fee
There is no limit to what a landlord can charge for a security deposit
Security deposits must be kept in a separate, interest-bearing account
Instead of suffering through a stressful application process, landlords in Vermont can cut through the problems and find the best applicants.  Staying up to speed on Vermont tenant screening laws will help experienced landlords and newcomers alike.
Use this helpful Vermont landlord/tenant guide to learn more.
Avoid This Common Screening Mistake
When Vermont landlords advertise a vacancy, they want to have the best applicants to live in their unit. However, without following the right steps, landlords can really get into a tough situation. The first step that landlords need to take is to prepare an application that allows them to get permission to do a background check.  Landlords in Vermont cannot run a background check written consent from the applicant.
All Vermont landlords need to amend their application right away to include a place for applicants to sign to give consent. Without this signature line, landlords will not have the proper permission to proceed.
Here is what the RentPrep application form looks like: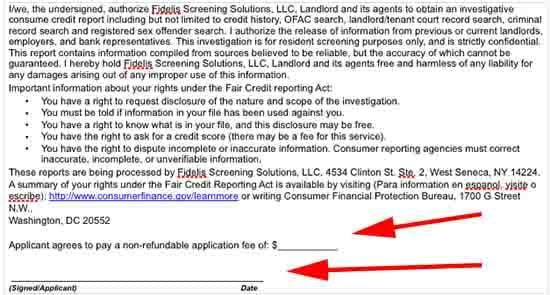 Top arrow: Provides information about the application fee and that it is non-refundable.
Bottom arrow: Highlights the signature line where applicants sign to provide consent for a background check.
Resources for Vermont Tenant Screening:
We've gathered some of the best forms and resources to help landlords like you find the best possible tenant for your rental.
*Landlords should implement a no blank space policy where they just discard any application that aren't completely filled out. When applicants leave blanks for answers, they often have something to hide or have less than stellar history in that area.
Vermont Tenant Screening Process
Vermont landlords should focus on creating a xxx tenant screening criteria list. This list helps them sort out applications and gives them a consistent standard by which to measure. Focusing on the top factors they want to see in a tenant, this tenant screening criteria list allows landlords to really determine which applicants are the best.
For those who don't know how to create a tenant screening criteria list, here is an example:
No smoking
Income to rent must be 3:1
Only one small pet with copies of vet records and an pet deposit
At least 12 months at current job
Minimum credit score: 700
No criminal history
No evictions
Vermont landlords can then compare all the applications against this list. They can discard applications that don't meet the requirements, and keep applications that are the closest. Of course, there should be no discrimination of protected classes when creating this list. For more information on housing discrimination, visit the hud.gov website.
So, Vermont tenant screening laws include:
There's no application fee allowed under Vermont law.
Vermont landlords can legally deny applicants based on a number of criteria such as criminal history or prior evictions.
Landlords cannot discriminate against protected classes.
There's more on the laws and regulations of Vermont here.
[activecampaign form=140]
Find Your Perfect Renter
Finding the right tenant can be a headache if you don't know what you're doing.
That is why we've created a tenant screening guide for you to find the perfect renter.
Check out our free tenant screening guide and learn how to find the perfect renter.
Tenant Screening Services
When Vermont landlords have a couple of applications that have made it to the final evaluation process, they must send them to a reputable tenant screening service. For a small fee, a tenant screening service will perform a detailed background check to provide landlords with the best and most thorough history of each applicant. Landlords can then make the best decision as to who they should offer a lease to.
Eviction history
Bankruptcy history
Judgement/liens history
Address history
Landlords just want to find the best tenants for their property and by following the tenant screening steps that are in place in their state, they can do so again and again. It's never too late to start learning more about Vermont tenant screening laws.
At RentPrep, we know what it takes to succeed, because we've worked with over 21,000 landlords over the past 10 years. Our FCRA certified screeners will put your mind at ease by providing the best tenant screening report available.
Check out our tenant screening packages to see the services we offer.