Are you a landlord in Utah that doesn't want to get stuck with bad tenants? Of course you are. Bad tenants drain resources an time. Utah tenant screening is the ideal way to find qualified applicants and determine whether or not they will care for your property and pay rent on time.
Whether you live in Salt Lake City, Ogden, Logan, St. George or somewhere in between, you can learn all there is to know about Utah tenant screening, such as:
Tenant screening laws in Utah
Overview of the entire screening process
Where to find free resources
All about tenant screening service
Utah Tenant Screening Laws
You might not know it, but Utah tenant screening laws are just a little different from some of its closest neighboring states. You're going to need to know the specifics about the laws and regulations as outlined by Utah state law.
For example, did you know this about Utah tenant screening laws?
There are no Utah laws that limit the application fee that landlords can charge
Utah law also doesn't limit what a landlord can charge for a security deposit
In Utah, application fees are non-refundable and they are not part of the security deposit
As a Utah landlord, it's to your advantage to figure out the best way to learn the facts and then apply them to your business.
You can use this helpful resource to learn all about Utah landlord/tenant laws.
A Common Screening Mistake
All too often, Utah landlords believe they have an application that will give them what they need to run a background check on an applicant. However, unless the application has a place for the person to sign, giving consent to the check, you won't be able to proceed any further. In other words, Utah landlords need to have written consent from the applicant before they can run a background check.
Take some time to see if the rental application you are using asks for a signature. If it doesn't, do whatever you need to in order to make a change for your next vacancy.
Here's an example of what that should look like, using one of RentPrep's documents: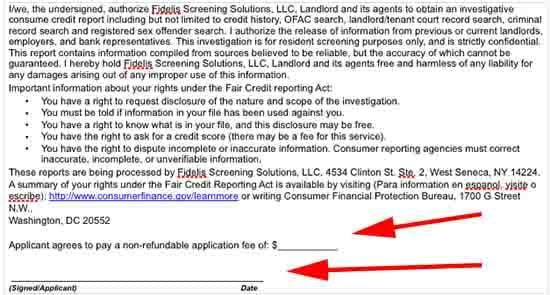 Note the top arrow showing that the application fee is non-refundable, because many applicants are not clear on this.
Note the bottom arrow, where it clearly shows the area where applicants must sign to give consent for a check. Without this, you won't have permission to proceed.
Resources for Utah Tenant Screening:
We've gathered some of the best forms and resources to help landlords like you find the best possible tenant for your rental.
*Join other landlords in implementing a no blank space policy. If you get an application that has blanks instead of answers, you discard it. Why? Anyone leaving a blank space to a question probably won't want you digging around into that part of their past. That's why a no blank space policy makes it easy to toss incomplete applications.
Utah Tenant Screening Process
Now that you have a handful of completed applications, you can compare them to your tenant screening criteria list. If you don't have one, you should write one up immediately. A tenant screening criteria list is simply a collection of features you want to see in an ideal tenant. They can be general or specific, but usually are broad enough to keep high standards without excluding everyone.
An example of a screening criteria list might look like this:
No smoking
Credit score minimum is 650
Only one pet under 15 lbs.
Income to rent ratio is 3:1
No violent criminal history
Zero prior evictions
You will then use this tenant screening criteria to pull out the top applicants that meet your requirements.
You must be careful not to discriminate against protected classes as you create your list. Even if you think you know about housing discrimination and protected classes, it's a good idea to review everything that the hud.gov website says about the topic.
Of course, you must always keep in mind the Utah tenant screening laws:
There's no application fee limit under Utah law.
Landlords can collect the application fee when the papers are turned in and it is always separate from the security deposit.
Landlords in Utah should inform applicants that their application fees are not refundable.
Keep on top of any changes to the Utah laws and regulations here.
Tenant Screening Tutorial
We've created a custom tenant screening tutorial that will walk you through 10 chapters on tenant screening.
This guide is thorough but will show you every step of the process.
Browse the chapters to easily find the information you need.
Picking a Tenant Screening Service
Now that you have gotten a few applications that you want to consider, you'll need to find a tenant screening service. You'll need to find a company that provides timely service and charges a moderate fee.
Their services should include:
Info on all past evictions
Any bankruptcies
All judgments and liens
Prior address history
Once you get the background information from the tenant screening service, you can make the final decision about who you want to offer the lease agreement to. The risk of a bad tenant is reduced significantly because you did a thorough background check.
At RentPrep, we know what it takes to succeed, because we've worked with over 21,000 landlords over the past 10 years. Our FCRA certified screeners will put your mind at ease by providing the best tenant screening report available.
Check out our tenant screening packages to see the services we offer.