From Austin and Dallas to Houston and everywhere in between, tenant screening is really important for all landlords in Texas.
The Lone Star State is unique, and the laws and regulations concerning tenant screening are slightly different than the rest of the country.
We're here to deliver the latest information tenant screening in Texas, so you'll know what it takes to get a great tenant to rent from you.
Review Texas tenant screening regulations and laws
Link to free resources for Texas landlords
Get an overview of the tenant screening process
Choose a top tenant screening service
In this video we cover some tips and tricks to screening your tenants in the Lone Star State.

Laws on Texas Tenant Screening
Texas marches to the beat of its own drum, and it's no different when it comes to the laws concerning tenant screening.
Any landlord with property in Texas should be aware of these specific regulations:
There is no limit as to how much a landlord can collect in application fees to cover screening costs.
You are required to provide a written notice of the tenant selection criteria
The applicant must sign an acknowledgement form verifying they received a written tenant criteria checklist
Generally, an application fee in Texas is considered nonrefundable unless the landlord has neglected to provide a tenant criteria checklist to the applicant. If that happens and the applicant is denied, they have the right to get the application fee refunded.
You can read more about Texas tenant screening laws, as well as many other landlord/tenant rules and regulations here or over on our Texas landlord tenant laws page.
Screening Mistakes You Must Avoid
Every landlord has the right to run a background check on applicants, but only if they have signed a document giving consent for you to do so.
You should always check to see that the rental application form you are using has a section that specifically requests a signed consent for a background check from the applicant. You won't be able to do the background check without it.
Take a look at how we included that in the forms used at RentPrep.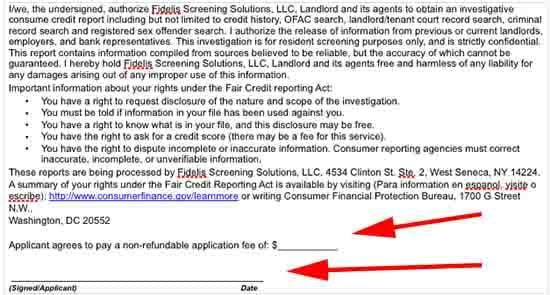 The first red arrow shows the applicant that the application fee is non-refundable. This way, there is no confusion from the applicant as to whether they get any money back.
The second red arrow indicates where the applicant will sign that allows you to run a background check.
Now that you have the proper paperwork for a background check, make sure to look at our list of resources.
Resources for Tenant Screening in Texas:
Here at RentPrep, we want to help you find the best tenants in your area, so we've provided some free forms with resource links to get you started.
*Hot Landlord Tip: One secret we've learned over the years is to insist that applicants follow a "No Blank Space" policy for every one of your rental applications.
All you have to do is make sure applicants fill in every space on your form.
Unfortunately, most applicants who want to keep information hidden will often leave blank spaces on a rental application, so if you insist on no blank spaces, you can often screen out troublesome applicants right away.
Texas Tenant Screening Process
Good landlords always write up a list of screening criteria for each of your Texas rental properties. When you write it down and update it, you'll always have it on hand for any interested applicants.
Screening criteria often include factors such as the following:
Absolutely no smoking
Pet restrictions or limitations
Income must be at least 3 times the monthly rent
No history of violent crimes
No history of evictions
Check with the federal standards found on hud.gov to ensure you are not discriminating against any protected classes, such as disability, age, familial status and others.
No matter where you live, it's always a good idea to have a current list of screening criteria. Remember that in Texas, it is required by law that you provide that criteria in written form for all applicants.
Having a clear and concise screening criteria checklist is the first step in protecting yourself from discrimination lawsuits
As you look at applicants, always be consistent in screening procedures.
Never make changes or exceptions to your screening criteria. You also should not jump from on view to another based on a case-by-case scenario.
Any deviations could be seen as discrimination and may thrust you into legal troubles.
The tenant screening process is quite similar from state to state but Texas does a few things differently, such as:
In the event that two or more people apply for a rental property and you reject one of them, all of the applicants are considered as rejected.
When you approve an applicant but they decide not to move in, you don't have to refund the application fee.
If the application is rejected, you must refund the application fee promptly.
Again, we suggest reading this detailed guide for more information that is specific to the state of Texas.
Tenant Screening For The Pro Landlord
We have an additional tenant screening tutorial that walks you through the entire process.
This guide is 10 chapters and will help you make sure that you've got the right person in your rental.
Take the time to read this guide and future you will thank you.
Selecting a Screening Service
As soon as you have decided on a few tenant applicants, it's time to run a background check on each one.
A thorough background check will always include the following items:
Eviction History
Bankruptcy Search
Judgments and Liens
Address History
Far too many landlords make the mistake of choosing an applicant simply based on an emotional reaction or a gut feeling. Don't rely on intangible or vague hunches. Use solid information that will point you to the best tenant applicant.
If you have any questions about tenant screening in Texas, let us know. We at RentPrep have worked with more than 150,000 landlords over the past decade.
Take a look at RentPrep's tenant screening packages to check out all the different services we provide.
Our FCRA certified screeners will always give you and every landlord the best tenant screening report available.