Way too many landlords living in the Volunteer State don't really know much about Tennessee tenant screening. However, this topic is vitally important and one that all landlords should know all about. Tennessee's laws and regulations regarding tenant screening are a little different than in other states, therefore, it's a good idea to get up to speed before its too late.
RentPrep wants to help you learn all you can about Tennessee tenant screening, because we know how important it is to get the finest tenants to sign a lease agreement with you. Your rental properties are a big part of your real estate business, and that's why we want to help you with some of these key topics:
Tennessee tenant screening laws
Lots of free resources
General overview of the screening process
Locating the best tenant screening services
Tennessee Tenant Screening Laws
Tennessee tenant screening laws help tenants get the best out of a rental situation without discrimination. These laws also help landlords reduce the risk of renting to people who may not be good tenants.  Check out some of the key features for Tennessee tenant screening laws:
In Tennessee, application fees are separate from the security deposit.
Application fees are not refundable regardless of the outcome of the application.
Tennessee places no limit on the amount of application fee a landlord can charge
Landlords should use the application fee to cover the cost of a background check and processing.
Application fees should be reasonable, or landlords will not get any applicants to start the process. Some states actually put a limit on how much landlords can charge, but Tennessee law leaves it up to the landlord.
You can learn more about Tennessee tenant screening at this website.
Are You Making This Screening Mistake?
Tennessee landlords should be running a background check on qualified applicants, but it can't be done without this one important thing. Landlords must receive a signed consent form from the applicant, or else they cannot get a background check performed.
Check your rental application to see if you are doing the right thing and asking for a signature.
This is an example of a signed consent form from our packet here at RentPrep.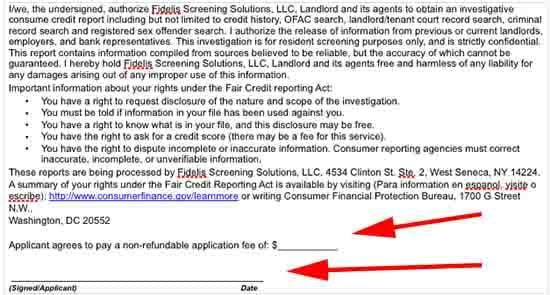 In this example, the top red arrow states that the application fee is not refundable. Many applicants are not sure of this information so it's nice to have it in black and white.
The bottom red arrow points to the place where applicants must give consent for a background check. Make sure all adults that are applying provide a signature.
Resources for Tenant Screening in Tennessee
Tennessee landlords like you can use all these free forms and resources to better your business. These fine resources can help you find the best possible tenant to sign your lease agreement.
*Implement a no blank space policy that prohibits you from accepting any application with blank spaces as answers. Far too often, applicants with something to hide will leave blank spaces, gambling that landlords or tenant screening services won't notice.
Tennessee Tenant Screening Process
If you don't have a written list of screening criteria list, you are opening up your business to a discrimination lawsuit. A screening list is a compilation of the qualities you want in a tenant that you use to sort through all the applicants.
A typical screening criteria list might look like this:
No smoking
No pets more than 10 lbs
At least 12 months at current job
No arrests or criminal record
Income to rent ratio must be at least three times
No bankruptcies
You can apply the criteria against every applicant to help you sort them out. However, you cannot include discriminatory factors in your list. Learn more about protected classes here at hud.gov.
If you are consistent and use the list, you will be protected from accusations of discrimination. Changing your mind from applicant to applicant, or making exceptions to who you rent to can look like discrimination. This can bring in unwanted scrutiny and even legal trouble.
Here is a list about screening criteria in Tennessee that can help you identify the best applicants.
Always remember:
Tennessee landlords don't have a limit on what to charge for an application fee
Also, landlords in Tennessee don't have a limit on security deposit amounts
Application fees and security deposits are different and the application fee should come from the applicant when they turn in their application
All background checks need the signature of consent from the applicant
You won't regret learning more about screening as outlined in the Tennessee Landlord/Tenant Handbook here.
Tenant Screening For Landlords
$3500
That's how much the average tenant eviction costs a landlord.
You avoid evictions by implementing a tenant screening process.
Go through our custom guide and learn how to avoid the common pitfalls that plague rookie landlords.
[activecampaign form=140]
Can You Select the Best Screening Service?
if you've been following all the steps, you should have several applications in hand that meet your criteria. The next step is to get a background check done on them.  You'll get much more thorough results when you hire a a professional screening service company to do the job.
The basic screening for applicants ought to include the following:
An eviction history
Recent bankruptcy history
All judgments and liens
Applicant's previous addresses
You should get a comprehensive report from the screening company about each applicant so you'll be able to make a fair decision about who to extend the offer to. Without a background check, you can only rely on your instinct, which may or may not be accurate.
We recommend choosing RentPrep, because we've worked with over 21,000 landlords over the past 10 years. Check out our tenant screening packages to see the services we offer.
Our FCRA certified screeners do the best work of providing the best tenant screening report available.