Set on the banks of the Arkansas River is the city of Wichita, the largest in Kansas. It's an industrial hub bustling with activity, which attracts a number of people seeking to live there. Landlords that own property in Wichita should be very excited about finding the best tenants to occupy the units. However, without following the Wichita tenant screening process, the odds of renting to less than stellar tenants is great. Anyone with rental properties in Wichita should take a good look at the city's tenant screening laws.
In this post, Wichita landlords will learn about:
Wichita tenant screening laws
Where to find  free resources for landlords
Understand the tenant screening process
Find the best tenant screening services
Tenant Screening Wichita Laws
When it comes to regulating the application process, Wichita ensures that all is fair between landlords and applicants. There are a number of federal, state and municipal laws that regulate what goes on in Wichita, so landlords need to learn what applies to their particular location. Only Wichita tenant screening will lead them to the best tenants.
Take a quick look at just a few of Wichita's laws when it comes to tenant screening:
The city puts no limits on how much landlords may charge for application fees.
All application fees in Wichita are non-refundable.
The application fee and the security deposit are separate financial transactions.
Wichita tenant screening laws can be found here.
Don't Make This Common Screening Mistake
Wichita landlords want to run a background check on applicants but sometimes thwart their own efforts without even knowing it. When the rental application doesn't have a signature line, the landlord can't proceed with a background check. In other words, a Wichita landlord needs an applicant's signature of consent to run a background check. Every application should be changed to reflect the all-important signature line.
This is an example on a RentPrep form: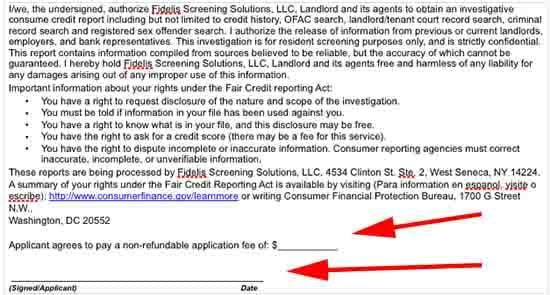 Top red arrow shows the notice about the application fees that are not refundable.
Bottom red arrow shows applicants where they need to sign so landlords can run a background check.
Resources for Tenant Screening in Wichita
RentPrep has gathered a helpful list of links for you to use in your real estate business. There's no better way to find top tenants than to use the information here.
*Ever heard of a no blank space policy? It allows landlords to stop reviewing any incomplete applications and focus just on those that have filled in every answer. When an applicant has not provided proper answers for all the questions, they can be denied.
Wichita Tenant Screening Process
Of course, the laws make the rental application process as fair as possible. Many landlords stay fair and consistent when they create a comprehensive tenant screening criteria list. In this list, landlords have all the minimum standards they want to see in a tenant. When they get an application, they compare it. Any applications that fall short of the standards will not be moved ahead.  There's no doubt that a Wichita tenant screening criteria list helps landlords out immensely.
Here's an example of a tenant screening criteria list:
Proof of current renter's insurance
No evictions
Credit score above 600
No smoking
No violent criminal history
Income to rent ratio at 3:1
No pets
No bankruptcies
Landlords in Wichita should definitely avoid discriminating against people in protected classes. Housing discrimination can get landlords into big trouble with the law. When conducting tenant screening, landlords always need to stay fair and consistent. For more on Wichita's fair housing, check out this website. Landlords can reference federal housing discrimination issues at the hud.gov website.
The tenant screening laws for Wichita include:
No limits on what landlords can charge for application fees.
Wichita landlords cannot discriminate against protected classes.
Applications can be denied that don't meet the personal screening criteria of Wichita landlords.
Landlords can find good applicants when they follow the Wichita tenant screening process. However, this website is an excellent resource.
Check Out Your Kansas Screening Guide
In many cases cities have their own screening rules and regulations while the state has another set of rules that govern the screening process.
Click here to go to our post on "Kansas Tenant Screening Process."
[activecampaign form=140]
Choose the Best Tenant Screening Services
The Wichita tenant screening process is almost done when it is time to find a tenant screening service. Of course, landlords should choose professionals for a proper background check.
Wichita landlords will receive a report about:
Previous addresses
Evictions
Judgments and liens
Bankruptcies
After the information is obtained, Wichita landlords will be able to know whether to offer a lease. Wichita tenant screening truly is the best way for landlords to avoid bad tenants.
At RentPrep, we have experience with over 21,000 landlords over the past 10 years. Check out our tenant screening packages to see the services we offer.
Our FCRA certified screeners will put your mind at ease by providing the best tenant screening report available.