Known for having some of the most expensive rent in the country, San Francisco is subject to a number of tenant screening laws unlike anywhere else. San Francisco landlords are going to prosper when they discover how to get the best tenants by following a set of steps that help them sort through applicants.  San Francisco tenant screening laws are in place to ensure fairness.
This post will help landlords learn all about:
San Francisco tenant screening laws
Free landlord resources
Screening process overview
Some tips and tricks to screening your tenants in San Francisco
Locating the best tenant screening services
Tenant Screening San Francisco Laws
While state and federal housing laws have a direct impact on landlords in San Francisco, the city has additional regulations that must be obeyed. San Francisco tenant screening laws make things fair between landlords and applicants when it comes to renting units.
San Francisco landlords should already know:
The state of California and the city of San Francisco place limits on the amount landlords may charge for application fees.
Every year, the application fee limit is adjusted, so landlords must keep up with any changes.
Application fees in San Francisco are not refundable.
San Francisco tenant screening ensures that landlords have a chance to find the best tenants, legally and fairly.  Get more information on the San Francisco application process here.
Avoid This Common Screening Mistake
Don't make the mistake of thinking you can do a background check on any applicant without their signature of consent. If San Francisco landlords do not have a signature from the applicant, they cannot run a background check. Application forms that currently don't ask for a signature should be changed right away.
Check out how we do this at RentPrep: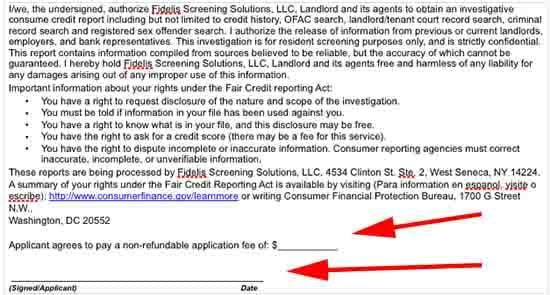 Look at the top arrow. It shows applicants that their application fee will be non-refundable. Now look at the bottom arrow. This is the place where applicants have to provide a signature so you can run a background check.
Resources for Tenant Screening in San Francisco
RentPrep has gathered a helpful list of links for you to use in your real estate business. There's no better way to find top tenants than to use the information here.
*Think about adopting a no blank space policy to help you get through applications quickly. Basically, it means that if an incomplete application comes in, it is automatically rejected. This helps limit the applications under consideration to those that will provide complete information. Blank answers stop landlords from doing a proper background check.
San Francisco Tenant Screening Process
Have you created your San Francisco tenant screening criteria list? That's where you write up a list of criteria that you want to see in your ideal tenant. Keep it realistic and only include basic essentials. As you review applications, compare them to your list. Sort the applications by how close they are to your list and narrow it down to 2 or 3 applicants.
Here's a good example of a tenant screening criteria list:
Prior evictions: 0
Criminal history: no violent crimes, non-violent must be more than 7 years old
Current job status: at least 6 months
Smoking: no
Income to rent ratio: at least 3:1
Bankruptcies: nothing less than 7 years old
The state of California and the federal government have established a set of criteria so landlords don't discriminate against protected classes. When it comes to applicants and tenants, landlords cannot discriminate. You can stay up to date on every fair housing law for San Francisco at this website. Learn more about federal housing discrimination details at the hud.gov website.
Remember, San Francisco tenant screening laws include:
An annual limit on the amount for application fees
Non-refundable applications fees
No discrimination of protected classes when processing applications
Rejecting applications that are incomplete or don't meet your screening criteria is fine and legal
Look at this website for more San Francisco tenant screening details.
Check Out Your California Screening Guide
In many cases cities have their own screening rules and regulations while the state has another set of rules that govern the screening process.
Click here to go to our post on "California Tenant Screening Process."
[activecampaign form=140]
Finding the Right Tenant Screening Services
Now that you have a few great applications, you need to find an excellent tenant screening service for the background checks. For a modest fee, look for a good tenant screening company that provides details on:
Evictions
Bankruptcies
Judgments and liens
Previous addresses
When you have the background checks, you can review them and make your selection on who to rent to. By following all the steps in the tenant screening process and obeying the laws of San Francisco, you are well on your way to putting the best possible tenant into your rental property.
At RentPrep, we have experience with over 21,000 landlords over the past 10 years. Check out our tenant screening packages to see the services we offer.
Our FCRA certified screeners will put your mind at ease by providing the best tenant screening report available.