Milwaukee welcomes newcomers from across the country and the economy and culture keep residents happy as well. When landlords have rental properties in Milwaukee, they have lots of chances to keep them filled with fine tenants. Of course, there are going to be bad tenants out there as well, but how can landlords tell?
The best way is to follow the Milwaukee tenant screening laws and regulations. Not only does it keep the process fair and balanced, but it helps landlords weed out applicants that haven't proven themselves in the past to be good tenants.
In this post, Milwaukee landlords will learn all about:
Milwaukee tenant screening laws
Where to find free resources for landlords
See an overview of the tenant screening process
Find the best tenant screening services
Tenant Screening Milwaukee Laws
If a landlord in the city of Milwaukee has a vacancy, they are subject to a number of tenant screening laws. Not only do federal and state laws apply, but since many municipalities in metro areas have their own additional requirements, landlords have a lot to pay attention to. At every step, they must comply with Milwaukee tenant screening laws.
These are just some of the Milwaukee tenant screening laws they must know:
Landlords can only charge up to $20 as an application fee.
The applicant must receive a copy of the report from the screening service.
Application fees are not refundable in Milwaukee.
Of course, there are many more Milwaukee tenant screening laws to know about, and the best place to learn more is here.
Avoid This Common Screening Mistake
Way too many Milwaukee  landlords think they can just run a full background check on any applicant they want, but they won't be able to without one important thing. Landlords in Milwaukee must get a signature of consent from the applicant or they won't be able do a background check on them. 
This is an example on our RentPrep application: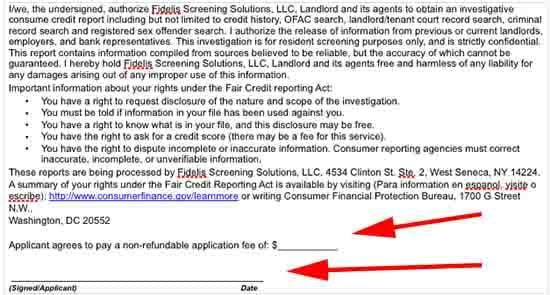 Top arrow: Informs the applicant that the application fee is not refundable.
Bottom arrow: Asks for a signature from the applicant so landlords can run a background check.
Resources for Tenant Screening in Milwaukee
RentPrep has gathered a helpful list of links for you to use in your real estate business. There's no better way to find top tenants than to use the information here.
*More landlords than ever are using a "no blank space" policy as they review applications. This means that they only accept applications that are completely filled out. Any answers that have blank spaces are not processed. After all, it's impossible to check something in an applicant's background if they won't provide landlords with basic information.
Milwaukee Tenant Screening Process
Milwaukee landlords can consistently and fairly sort through applications when they have a tenant screening criteria list. This means that they come up with a written list of criteria that they want in an ideal tenant. Then, they compare every application to the list. If an applicant meets most or all of the criteria, they move to the next phase.
Here's an example of a Milwaukee tenant screening criteria list:
Zero evictions
No smoking
Credit score above 620
Income to rent ratio: at least 2:1
No violent criminal history
One dog under 25 lbs accepted
No cats
No bankruptcies
Of course, Milwaukee landlords should never include criteria that is discriminating.  There are protected classes at the federal, state and municipal level, so landlords need to know about all three. They can look at this Milwaukee website to get an excellent overview of discrimination information in housing. Milwaukee landlords can also refresh their memories on federal housing discrimination issues at the hud.gov website.
Landlords in Milwaukee always need to remember this about tenant screening laws:
Landlords are limited to charging a $20 or lower application fee.
Milwaukee landlords cannot deny any applicants based on protected class criteria.
It's legal to deny applications that don't meet the requirements of their own tenant screening criteria list.
Any landlord that wants to know more about renting out properties in Milwaukee should look at this website.
Check Out Your Wisconsin Screening Guide
In many cases cities have their own screening rules and regulations while the state has another set of rules that govern the screening process.
Click here to go to our post on "Wisconsin Tenant Screening Process."
[activecampaign form=140]
Tenant Screening Tutorial
We've created a custom tenant screening tutorial that will walk you through 10 chapters on tenant screening.
This guide is thorough but will show you every step of the process.
Browse the chapters to easily find the information you need.
Getting the Right Tenant Screening Services
After all these steps, the time has come to run a background check on the applications that rise to the top. A professional tenant screening service will do the best and most thorough job. Landlords in Milwaukee should look for a tenant screening services that will provide in-depth reports for a reasonable price.
A good tenant screening company should provide information on:
Every previous addresses
All past evictions
Judgments and liens
Bankruptcies
Milwaukee landlords will be able to make that final decision once they get a completed background report on applicants. They will then be able to select who to offer a lease. By following the Milwaukee tenant screening process, landlords have the best chance of finding the best tenants.
At RentPrep, we have experience with over 21,000 landlords over the past 10 years. Check out our tenant screening packages to see the services we offer.
Our FCRA certified screeners will put your mind at ease by providing the best tenant screening report available.