The seaport city of Miami, located in southeastern Florida, is a hot spot for both young and old residents to live, work and play. So many of Miami's residents are renters, which gives landlords plenty of good reasons to find the best tenants. Any landlords that own rental properties in Miami will run a better business when they learn about and comply with Miami tenant screening laws.
In this post, Miami landlords will learn about:
Miami tenant screening laws
Where to find  free resources for landlords
Understand the tenant screening process
Find the best tenant screening services
Tenant Screening Miami Laws
Tenant screening laws help keep the interaction between landlords and applicants fair and legal. there are many different laws that come from federal, state and municipal entities. Miami tenant screening laws are not hard to understand and it is really important for landlords to fall in line when it comes to tenant screening.
Here are some of the Miami tenant screening laws that landlords need to know:
Landlords in Miami have no limits on what they can charge for application fees.
Application fees in the city are not refundable.
Remember that Miami landlords must collect application fees separate from the security deposit.
Miami tenant screening laws can be found here.
Never Make This Common Screening Mistake
When it comes to proper tenant screening, landlords in Miami need to be able to run a background check. However, they won't be able to do so without the right application form.  If the application doesn't have a signature line, the landlord is out of luck. A Miami landlord can't run a background check on an applicant without a signature of consent. Changes to the current application form should be made right away if it doesn't have this all-important signature line.
This is the RentPrep form: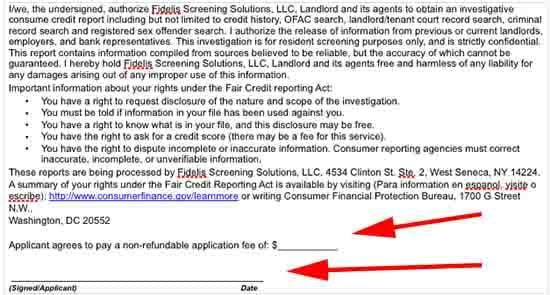 Top red arrow shows the notice about the application fees that are not refundable.
Bottom red arrow shows applicants where they need to sign so landlords can run a background check.
Resources for Tenant Screening in Miami
RentPrep has gathered a helpful list of links for you to use in your real estate business. There's no better way to find top tenants than to use the information here.
*Lots of landlords use a no blank space policy, which allows them to deny all incomplete applications. In other words, if an applicant has not provided answers for all the questions, and instead left blanks for answers, their application will be automatically rejected.
Miami Tenant Screening Process
The laws are in place to ensure that the application process as fair as possible. That's why landlords need to create a good tenant screening criteria list. It's a list where they write down all the minimum standards their ideal tenant would have. Then they compare the application to it. If the application meets or exceeds the standards, then it moves on to the next step. Landlords need to create their Miami tenant screening criteria list before their next vacancy.
This is just one example of a tenant screening criteria list:
No evictions
No smoking
Proof of renter's insurance
Credit score above 650
Income to rent ratio: at least 3:1
No violent criminal history
One dog under 25 lbs with current vaccination records
No bankruptcies
During the tenant screening process, Miami landlords must be careful to never discriminate against protected classes. These groups are clearly defined by federal, state and municipal laws. There's no excuse for Miami landlords to ignore housing anti-discrimination laws when conducting tenant screening. To learn more about Miami's fair housing, check out this website. Landlords can reference federal housing discrimination issues at the hud.gov website.
More about Miami's tenant screening laws:
Landlords don't have a limit on what they can charge for application fees.
Discrimination is illegal and landlords must know what protected classes apply to their rental during the application process.
Any application that doesn't meet the personal screening criteria of a Miami landlords can legally be denied.
Landlords will find the best tenants when they comply with the city's tenant screening process, and this website is an excellent resource.
Check Out Your Florida Screening Guide
In many cases cities have their own screening rules and regulations while the state has another set of rules that govern the screening process.
Click here to go to our post on "Florida Tenant Screening Process."
[activecampaign form=140]
Choose the Best Tenant Screening Services
After all this, the next step in the Miami tenant screening process is to find the best tenant screening service. Leave it to professionals to properly run a background check. Landlords will benefit from getting an in-depth background report for a modest cost.
Miami landlords should get a report about applicants that reveal:
Previous addresses
Evictions
Judgments and liens
Bankruptcies
It will be easy to know who to offer a lease to after getting a professionally done background check on applicants. It's the last step in the Miami tenant screening process and the best way for landlords to avoid renting to bad tenants.
At RentPrep, we have experience with over 21,000 landlords over the past 10 years. Check out our tenant screening packages to see the services we offer.
Our FCRA certified screeners will put your mind at ease by providing the best tenant screening report available.