If you are a landlord with property in Las Vegas, you have the opportunity to attract lots of different kinds of tenants. Trying to get the best tenants–the ones that pay rent in time and in full–are not easy to find, but when you follow the Las Vegas tenant screening laws and regulations, you have a better chance. Compliance with the tenant screening laws and regulations for the city. It makes good business sense to get fine tenants in a rental unit, because bad tenants waste a landlord's time and money.
This article will help Las Vegas landlords learn about:
Las Vegas tenant screening laws
Multiple free landlord resources
An overview of tenant screening process
How to find fair and affordable tenant screening services 
Tenant Screening Las Vegas Laws
Like any business, landlords are responsible for knowing the laws that regulate their business. Las Vegas tenant screening laws are put in place to make things as fair as possible between landlords and tenants. Many metro areas like Las Vegas have separate laws that help them determine what and where they can do with regards to rental properties.
Check out some of these Las Vegas tenant screening laws:
The city and the state put no no limit on how much a landlord can collect for an application fee.
In Las Vegas, application fees are not refundable.
Also, application fees are separate transactions from security deposits
Las Vegas landlords are in a unique position in that they live in a city with a lot of people that want to live in rentals. That's why it's so important for them to comply with Las Vegas tenant screening laws because they will definitely have an impact on their business.
Avoid This Common Screening Mistake
Often, landlords feel like they have the right to run a background check on anyone that wants a rental property, but when it's too late, they discover they haven't done this one important thing to make it happen. A background check can only be done on an applicant that has provided written consent. In other words, Las Vegas landlords are not able to run a background check on applicants without a signature. Any documents that currently don't have a signature line should be amended right away.
Here's how we do it at RentPrep: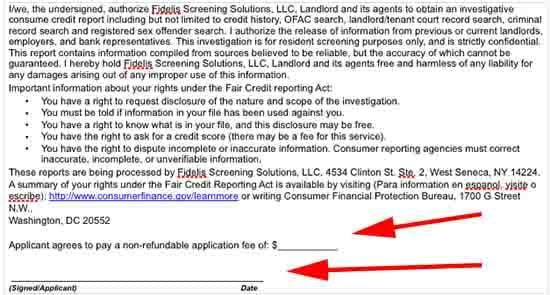 Look at the top red arrow, where it shows applicants that their fee is not refundable. Now look at the bottom arrow, where it asks the applicant to provide a signature.
Resources for Tenant Screening in Las Vegas
RentPrep has gathered a helpful list of links for you to use in your real estate business. There's no better way to find top tenants than to use the information here.
*Many landlords in Las Vegas use a no blank space policy. This means that if an application is submitted without every answer filled in completely, it is automatically denied. Because it's impossible to investigate an applicant's background without proper answers, landlords should only research completed ones.
Las Vegas Tenant Screening Process
Did you know that once some completed applications are submitted, a Las Vegas landlord can further sort them according to their own criteria? A tenant screening criteria list is an excellent way to consistently and fairly sort applications. The landlord writes up a list that contains all the features they want to see in a tenant, then they compare the list to the application.
Here's an example of a tenant screening criteria list:
No smoking
No previous evictions
Income to rent ratio must be 3:1
Credit score over 580
One dog under 25 lbs. and proof of vaccinations
No violent criminal history
No bankruptcies
Las Vegas landlords can sort applications that match their screening criteria. As long as they aren't discriminating against a protected class, they can do this. However, if they discriminate, they could get into a lot of legal trouble. Las Vegas fair housing info can be found here, while federal fair housing info is found at the hud.gov website.
Las Vegas tenant screening laws include:
No restrictions on what landlords may charge as application fees.
A Las Vegas landlords can't discriminate against a protected class.
Any application may be denied if it doesn't meet the landlord's screening criteria.
Las Vegas landlords want the best tenants, but they have to follow the tenant screening process correctly to get them. There's no doubt that Las Vegas tenant screening laws, as found here, is ideal.
Check Out Your Nevada Screening Guide
In many cases cities have their own screening rules and regulations while the state has another set of rules that govern the screening process.
Click here to go to our post on "Nevada Tenant Screening Process."
[activecampaign form=140]
Tenant Screening Questions Answered
Tenant screening can be a pretty dry subject.
That's why we try our best to make our tenant screening course more fun.
You can follow Laura as she shares tips and advice throughout the tenant screening process.


Getting the Best Tenant Screening Services
Las Vegas landlords now have to find a good tenant screening service that will do the hard work of conducting the background check. The final reports should provide exact details on the rental history, criminal background and employment confirmation of every applicant.
Most reports include:
All prior evictions
Bankruptcies
Judgment and liens
Address history
Las Vegas landlords have everything to gain when they follow the city's tenant screening process.  Instinct or a gut feeling is simply not good enough when it comes to choosing a tenant. Only the Las Vegas tenant screening process can eliminate bad applicants and find the best tenants.
At RentPrep, we have experience with over 21,000 landlords over the past 10 years. Check out our tenant screening packages to see the services we offer.
Our FCRA certified screeners will put your mind at ease by providing the best tenant screening report available.