Are you an Indianapolis landlord that wants to find the best tenants for your rental properties? Indianapolis is home to many renters, but how can landlords find the best tenants from among all the applicants out there? By following Indianapolis tenant screening laws, landlords will be able to sort out the good from the bad.
In this post, you can learn more about the Indianapolis tenant screening process:
All about Phoenix tenant screening laws
Lots of free landlord resources
More about the screening processes
Locating the best tenant screening services
Tenant Screening Indianapolis Laws
Its true that Indianapolis tenant screening laws include what is covered in federal and state laws, plus addresses things on a municipal level. There are times when Indianapolis laws are more narrowly focused. If you aren't familiar with the tenant screening laws in Indianapolis, there's no time like the present to start learning.
Indianapolis tenant screening laws include:
The city puts no limits on the amount of application fee that landlords can collect.
Application fees in Indianapolis are not refundable.
Security deposits and application fees are separate transactions.
Indianapolis tenant screening laws are designed to protect both landlords and tenants. They are definitely going to ensure a smooth process so everyone saves time and money.
Avoid This Common Screening Mistake
Far too many Indianapolis landlords don't get the chance to perform a background check on an applicant because of one small detail. Landlords must get a signature from the applicant in order to run a background check. If the application form you are using doesn't have a signature line, you need to make some changes right away.
Here's one of the forms from RentPrep: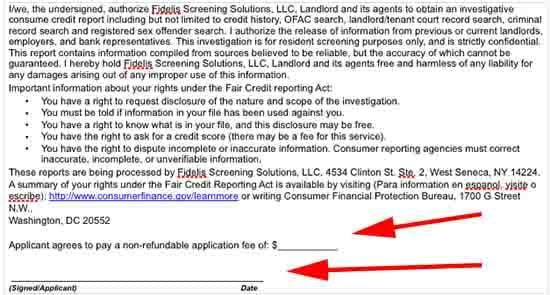 See how the top arrow shows the applicant that their application fee is not refundable. Similarly, the bottom arrow indicates the signature line where the applicant must sign to give consent on a background check.
Resources for Tenant Screening in Indianapolis
RentPrep has gathered a helpful list of links for you to use in your real estate business. There's no better way to find top tenants than to use the information here.
*You ought to think about using a no blank space policy as you review applications. If you receive one that doesn't have all the answer completed, you can reject the application. A blank space is impossible to fact check, so it often means the applicant doesn't want that information found.
Indianapolis Tenant Screening Process
Landlords across the state benefit from a tenant screening criteria list. If you don't have one, you should take the time to create one before your next vacancy. This list of ideal tenant features makes it easy to sort through applications with consistency and fairness. An Indianapolis tenant screening criteria list might look like this:
No pets
Zero previous evictions
Income to rent ration should be 3:1
No smoking
At least a 600 credit score
No criminal history
No bankruptcies in the last 7 years
Your list allows you to compare applications and keep the ones that match the closest. It helps you stay on a solid review path and not deviate because of a gut feeling or a whim. Of course, you can't discriminate against anyone as you review applications. Anti-discrimination laws in Indianapolis are serious, so don't get on the wrong side of the law by discriminating. Learn more about Indianapolis laws here and about federal laws at the hud.gov website.
Indianapolis tenant screening laws include:
No limit on what Indianapolis landlords can charge as application fees.
The city of Indianapolis includes additional protected classes that go beyond the state and federal level, such as Sexual Orientation and Military Service Veteran Status.
Landlords are able legally deny any rental applications that don't meet their personal criteria as long as they aren't discriminating against protected classes.
Indianapolis landlords can stay up to date here.
Check Out Your Indiana Screening Guide
In many cases cities have their own screening rules and regulations while the state has another set of rules that govern the screening process.
Click here to go to our post on "Indiana Tenant Screening Process."
Check Out Our Tenant Screening Tutorial
We've created a tutorial that walks you through the entire process of screening tenants.
This will show you the ins and outs of tenant screening.
Take the time to go through this guide and your future self will thank you.
[activecampaign form=140]
Locating the Best Tenant Screening Services
Now that you've got a few of the best applications, you need to find a tenant screening service that will deliver fast, thorough and affordable background checks on each one. Only then can you figure out which of the applicants would make the best tenant.
Make sure your report includes:
Prior addresses
Previous evictions
All judgments and liens
Every bankruptcy
As an Indianapolis landlord, it will really benefit you to follow the steps in the tenant screening process. To have a truly successful real estate business, you need to know and understand all the laws that govern the industry.
At RentPrep, we have experience with over 21,000 landlords over the past 10 years. Check out our tenant screening packages to see the services we offer.
Our FCRA certified screeners will put your mind at ease by providing the best tenant screening report available.