If you are a Houston landlord, you should be making the most of your rental properties and filling them with the best tenants the city has to offer. But how do you find those tenants? Following a proper screening process is the best way to get the job done. A large part of the city's population are looking for or already living in rental housing, so you are in a good position for your real estate business. When it comes to tenant screening Houston landlords often overlook some of the simple things that help them eliminate bad applicants.
The Houston tenant screening process has some unique features, but with this helpful post, you can read more about:
Houston tenant screening laws
Tons of free resources for landlords
Comprehensive look at the screening processes
All aobut tenant screening services
Tenant Screening Houston Laws
Like every major city, Houston has some additional laws and regulations that go beyond what the state requires. Houston tenant screening is important and landlords should know all there is when it comes to the process. From start to finish, Houston tenant screening can help landlords find top tenants and eliminate applicants that don't have a great history.
Here are some things about tenant screening Houston landlords should know about:
The state of Texas requires landlords to provide written eligibility criteria for applicants.
Houston follows the rest of the state in not regulating a maximum amount for application fees.
Landlords in Houston can make the application fee non-refundable, even if the application is denied.
Tenant screening in Houston is the key to getting what you need from applicants the right way. Learn more about application fees here.
Never Make This Common Screening Mistake
Have you looked at your rental application form lately? It's definitely going to slow you down in doing background checks if you don't have a place for the applicant to give you permission. For tenant screening Houston requires landlords to have a signature from the applicant granting permission. If your rental application form doesn't ask for a signature, you cannot run a background check on that person. Do what you need to do to make those important changes to the application right away.
Check out the rental application at RentPrep: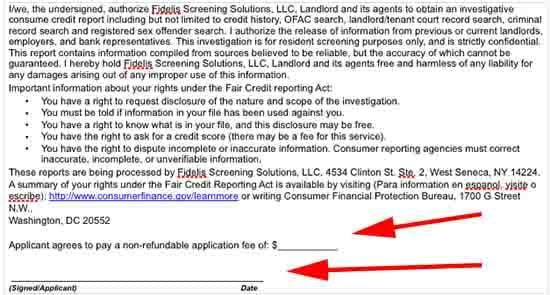 Look at the top arrow to show where it informs applicants that application fee is not refundable. Look at the bottom arrow that shows where they need to provide a signature so you can do a background check.
Resources for Tenant Screening in Houston
RentPrep has gathered a helpful list of links for you to use in your real estate business. There's no better way to find top tenants than to use the information here.
Rental Application PDF – Have every prospective tenant fill out this rental application.*
Move-In Move-Out checklist – This is helpful for after the tenant screening process to make sure you document the condition of the rental
Rental Lease Agreement – Once you've decided on a tenant you'll want to draw up a lease. (make sure this editable doc is compliant with your state laws)
Summary of Your Rights Under the FCRA – Our screeners here at RentPrep are FCRA certified to ensure compliance on your screening report
City of Houston Housing and Community Development – Valuable resource to highlight Houston rental laws and regulation.
*Have you considered implementing a no blank space policy to weed out bad applications? Simply disregard any applications that come in with blank spaces. When an incomplete application is submitted, often the applicants have something to hide. A no blank space policy simply eliminates incomplete applications.
Houston Tenant Screening Process
You'll need to organize your application review process to find the best tenants, so prepare a tenant screening criteria list to help you out. This is a list that has all the ideal characteristics you want to see in a tenant. Do it in writing, and then compare all the applications to the list. Applications that are close or exceed your requirements are keepers while those that fall short should be denied.
Here's just an example of a fair tenant screening criteria list:
No evictions less than 10 years old
One pet under 20 lbs.
No smoking
The income to rent ratio should not exceed 2:1
No criminal past
Whatever you do, make sure you are avoiding discrimination. Big cities like Houston often have very detailed anti-discrimination laws in place that match state and federal regulations. See more about Houston fair housing here and federal housing discrimination details at the hud.gov website.
More about Houston tenant screening laws :
There's no limit to what Houston landlords charge with application fees
Even if the application is denied, the fee is not refundable
Federal and state protected classes also apply throughout Houston
Houston landlords can avoid discrimination lawsuits when they stay consistent in reviewing applications
Houston tenant screening details can be found here.
Check Out Your Texas Screening Guide
In many cases cities have their own screening rules and regulations while the state has another set of rules that govern the screening process.
Click here to go to our post on "Texas Tenant Screening Process."
[activecampaign form=140]
Tenant Screening Doesn't Have To Be Boring
We understand that you bought a rental to make money and not to screen tenants.
It's not a fun step but it's pivotal in making your life easy as a landlord.
We've created a tenant screening guide that will walk you through exactly what to do.
We've also added comics and a main character in Laura to follow along the way.
Click the comic strip to learn more.


Finding the Right Tenant Screening Services
Now that you've got a few applications that seem ideal, it's time to find a tenant screening service to do the hard work of a background check.
Look for a tenant screening company that provides:
Evictions
Bankruptcies
Judgments and liens
Previous addresses
Armed with a detailed background check, you can finally make an offer of a lease agreement to the applicant that has the cleanest record and meets your criteria. Houston tenant screening reduces your risk of landing a bad tenant.
At RentPrep, we have experience with over 21,000 landlords over the past 10 years. Check out our tenant screening packages to see the services we offer.
Our FCRA certified screeners will put your mind at ease by providing the best tenant screening report available.