As the economic and cultural hub of the region, Chicago is a thriving metro area with lots of rental properties. According to the city, more than 60 percent of Chicago residents live in rentals. Landlords that manage property in Chicago should be aware of both state and municipal laws concerning their business, especially when it comes to Chicago tenant screening.  There's no doubt that the proper screening of applicants gives Chicago landlords the best chance of finding the ideal tenants.
When it comes to tenant screening Chicago-style, landlords can use this post to learn more about:
Chicago tenant screening laws
Free resources for landlords
Basics on the tenant screening processes
Finding the best tenant screening services
Tenant Screening Chicago Laws
IMPORTANT NOTE: As of January 1st, 2020 the Cook County Just Housing Ordinance is live.
This ordinance drastically affects landlords and the way they handle tenant screening.
This article sums up the recent changes with a detailed explanation.
Here's the ordinance for reference:
https://library.municode.com/il/cook_county/codes/code_of_ordinances?nodeId=PTIGEOR_CH42HURE_ARTIIHURI#TOPTITLE
The city of Chicago, like many metro areas, has additional tenant screening laws and regulations to help keep things fair for both landlords and tenants. Chicago landlords definitely should educate themselves to learn all they can about tenant screening issues and what makes Chicago different than the rest of the state and the country.
Here are a few interesting things about Chicago tenant screening:
Illinois does not limit how much a landlord can charge for an application fee.
Chicago follows the state laws and also doesn't have a minimum or maximum amount on application fees.
Landlords with properties in Chicago are able to charge an application fee that is non-refundable.
Even if the application is denied, landlords can keep the application fee.
Landlords without the proper knowledge of Chicago tenant screening laws run the risk of getting a tenant that will be a big drain on time and money. Chicago landlords should always look at what's new at this Chicago city website.
Avoiding This Common Screening Mistake
Chicago landlords are making a big mistake if their rental application doesn't ask for a signature from the applicant. Why? Because landlords need consent to perform a background check. Chicago landlords that have failed to get a signature from the applicant cannot run a background check. If the current application form doesn't have a space for a signature, landlords should do what they can to make changes right away.
Here's the proper way to do it, taken from the rental application at RentPrep: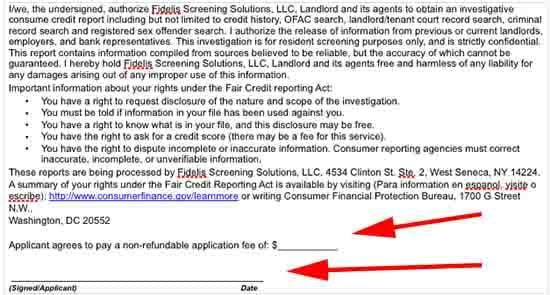 See how the top arrow reminds applicants that the application fee isn't going to be refundable. The bottom arrow points out the very important signature line, which gives landlords the right to run a background check.
Resources for Tenant Screening in Chicago
RentPrep has gathered a helpful list of links for you to use in your real estate business. There's no better way to find top tenants than to use the information here.
*Consider a no blank space policy to eliminate all incomplete applications. If a form is turned in with blank spaces for answers, it should be discarded as incomplete. This helps eliminate applicants that are trying to be sneaky and divert attention from troublesome parts of their past.
Chicago Tenant Screening Process
Finding the best tenant means getting the best applicants, and Chicago landlords need to use a tenant screening criteria list to do this. As part of the application process, landlords can come up with a list of their ideal characteristics in a tenant. Using that list, they can then compare all the applications to a consistent standard. The ones that are the closest match are kept and the ones that are way off are denied.
Here's a good Chicago tenant screening criteria list:
Definitely no past evictions
No pets
Smoking is allowed
A 3:1 income to rent ratio
At least 12 months in current job
No criminal history
Discrimination in housing is very serious, so Chicago landlords should avoid including criteria that would deny applicants based on a protected status. In other words, landlords need to know the federal, state and municipal discrimination standards when sorting applicants. Generally, large metro areas have even more strict laws on discrimination than the federal and the state level.  The city of Chicago, for example, doesn't allow landlords to discriminate against sexual orientation, gender orientation or identity, military discharge status and domestic violence order of protection status. For federal housing discrimination details, landlords may reference the hud.gov website.
Chicago screening laws include:
No limits on what landlords can charge as application fees
Never practice discrimination against protected classes, especially those outlined by the city which go beyond federal/state
Steer clear of discrimination lawsuits by creating a fair tenant screening criteria list to sort applications
This helpful site can assist landlords as they want to stay educated on what's going on in Chicago when it comes to landlord/tenant laws.
[activecampaign form=140]
Check Out Your Illinois Screening Guide
In many cases cities have their own screening rules and regulations while the state has another set of rules that govern the screening process.
Click here to go to our post on "Illinois Tenant Screening Process."
Finding the Right Tenant Screening Services
Once Chicago landlords have sorted out the applications and narrowed the search down to the best three applicants, it is time to do a background check. Finding a good tenant screening service isn't hard when landlords know what to look for. A background check is the best way to figure out what kind of tenant someone will be.
Chicago landlords should find a company that provides info about:
Previous addresses
Evictions
Judgments and liens
Bankruptcies
Landlords need to get the results of the background check before making the final decision. When following all the steps in the Chicago tenant screening process, they are most likely to have a great tenant occupying their rental.
At RentPrep, we have experience with over 21,000 landlords over the past 10 years. Check out our tenant screening packages to see the services we offer.
Our FCRA certified screeners will put your mind at ease by providing the best tenant screening report available.