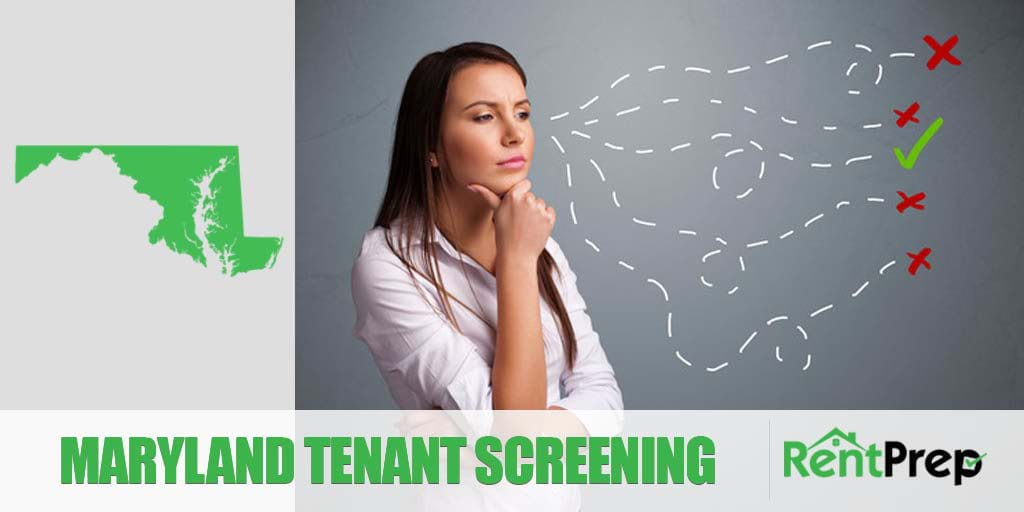 Because Baltimore is a bustling city with lots of opportunity, many people from across the country are choosing to live here. Major metro areas have large rental markets, and Baltimore is no different. If you are a Baltimore landlord, finding the best applicants should be a high priority. After all, the best applicants are most likely to become the best tenants. Follow the Baltimore tenant screening laws and you will reduce your risk of bad tenants in your rentals.
In this post, you can learn more about:
Baltimore tenant screening laws
Where to find free landlord resources
The overall application screening process
How to find the best tenant screening services
Tenant Screening Baltimore Laws
In places with a higher than average number of rentals, such as within a metro area, cities set up certain rules and restrictions to regulate landlords and tenants. Sometimes a city's tenant screening laws are more strict than that state's laws. You'll need to learn as much as possible about Baltimore's tenant screening laws to make sure you are compliant.
Here are just a few of Baltimore's tenant screening laws:
The city nor the state limits the amount landlords can charge for application fees.
Application fees in Baltimore are non-refundable.
Security deposits and application fees are separate and different laws apply to each.
There's no excuse for Baltimore landlords to not know and understand the tenant screening laws of their city.
Don't Make This Common Screening Mistake
Landlords across the country make a common screening mistake and those in Baltimore are no different. They may be planning on doing a background check, but forget to collect one important thing–a signature of consent. If a Baltimore landlord doesn't get written consent from the applicant they cannot run a background check. Any current applications should be changed right away so it will be ready for the next vacancy.
Here's an example on a RentPrep form: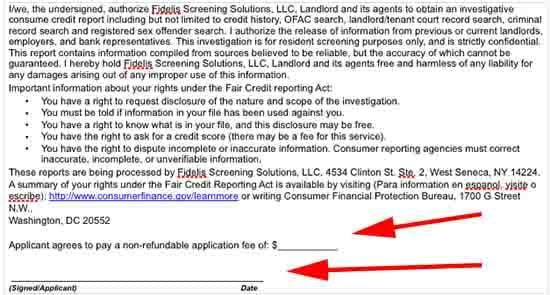 Top arrow:  Highlights the non-refundable application fee information.
Bottom arrow: Highlights where applicants need to sign to give consent for a background check.
Resources for Tenant Screening in Baltimore
RentPrep has gathered a helpful list of links for you to use in your real estate business. There's no better way to find top tenants than to use the information here.
*Join other landlords in using a no blank space policy to review applications. You'll be able to deny any application that is not completely filled out. A blank space instead of an answer is very hard to do a background check on. Sometimes, applicants with something in their past to hide will leave a question blank in hopes that the landlord won't follow up.
Baltimore Tenant Screening Process
If you haven't started using a tenant screening criteria list, you should start with your next vacancy. A Baltimore tenant screening criteria list helps landlords prioritize applications. They use a pre-written set of features they want in an ideal tenant and match up the application information to it.
For example, here's an example of a tenant screening criteria list:
No prior evictions
No smoking
Single dog under 25 lbs allowed
Income to rent ratio at least 2:1
No criminal history
No bankruptcies
Baltimore landlords can include just about any feature on their tenant screening criteria list. They should be realistic and reflect the demographics of the type of people that might be seeking to rent in the area.  Under no circumstances should the list include anything that discriminates against protected classes. Baltimore fair housing laws can be found here and you can visit the hud.gov website for federal standards.
Baltimore tenant screening laws include:
No financial limit on what landlords can charge for application fees.
Landlords can legally deny an application that doesn't meet their screening list criteria.
Baltimore landlords cannot discriminate against protected classes.
Adhering to Baltimore tenant screening laws will keep landlords away from legal trouble.
Check Out Your Maryland Screening Guide
In many cases cities have their own screening rules and regulations while the state has another set of rules that govern the screening process.
Click here to go to our post on the "Maryland Tenant Screening Process."
[activecampaign form=140]
Tenant Screening Doesn't Have to be Boring
We've put together a tenant screening guide that walks you through the entire process.
We've included a comic where you can follow Laura through the tenant screening process.
Click here to check out our free tenant screening guide.
What About Tenant Screening Services?
Baltimore landlords should use the research abilities of a professional tenant screening service. There's no better way to get complete background checks on rental applicants. When you locate a tenant screening service, make sure they provide a comprehensive report for a moderate fee.
The best tenant screening reports include:
Previous evictions
Bankruptcy
Judgments or liens
Address history
After looking at the report of the background check, Baltimore landlords can make a final decision. When you select the applicant with the cleanest history that meets your personal tenant criteria, you lower the risk of getting a bad tenant in your rental unit.
At RentPrep, we have experience with over 21,000 landlords over the past 10 years. Check out our tenant screening packages to see the services we offer.
Our FCRA certified screeners will put your mind at ease by providing the best tenant screening report available.