As one of the fastest growing cities in the nation, Austin is attracting new residents every week. Many of them choose to rent, which is wonderful news for landlords that own property here.  Landlords will attract better applicants and find the best tenants when they follow all the Austin tenant screening laws.
In this post, landlords will discover more about:
Austin tenant screening laws
Lots of free resources
Tips and free forms you need to properly screen tenants in Austin
Overview of the screening processes
Identifying the best tenant screening services
Tenant Screening Austin Laws
While every tenant screening process is subject to federal and state laws, there are some cities with additional regulations.  Austin tenant screening laws are designed to protect the landlord as well as the tenant, ensuring fairness and transparency.
Here are just a few Austin tenant screening laws:
The city of Austin follows the state law in setting no limits on how much landlords can charge for an application fee.
Application fees are not refundable.
There is a difference between application fees (to perform a background check) and application deposits (to hold the apartment while the background check is being done).
Austin landlords have a lot to lose if they don't learn and practice tenant screening as outlined by the law. Check this website for more details.
Don't Make This One Common Screening Mistake
Too many landlords across the state of Texas make one common screening mistake—neglecting to get consent from the applicant so they can do a background check. Just because someone fills out an application doesn't mean that they've given permission for a background check.  Unless Austin landlords have the applicant's signature on file, they cannot run a background check. Any current applications should be modified so they provide a space for the applicant to sign.
This RentPrep form is a good example: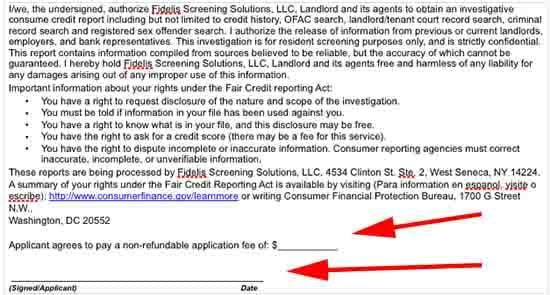 Top: This explains to the applicant that their application fee is not refundable.
Bottom: This indicates where applicants must sign to give consent for a background check.
Resources for Tenant Screening in Austin
RentPrep has gathered a helpful list of links for you to use in your real estate business. There's no better way to find top tenants than to use the information here.
*To make sorting applications easier, consider using a no blank space policy. If an application is turned in without every answer, it can be rejected.  All too often, if they leave blank spaces for answers, they don't want anyone investigating that part of their past.
Austin Tenant Screening Process
With a handful of completed applications, the Austin landlord can move to the next step–a tenant screening criteria list. This is a short list of tenant criteria that landlords want to see most. An Austin tenant screening criteria list represents the ideal tenant for the landlord.
Here is a sample tenant screening criteria list:
No smoking
One dog or cat under 20 lbs
Income to rent ratio must be no more than 2:1
No prior evictions
Absolutely no violent criminal history
No bankruptcies
Austin landlords should use their list to check every application to see how it stacks up. If it is close, it moves on. If it isn't close, it should be rejected. Of course, few applications will perfectly match so it's important to keep a good perspective and choose the ones that are closest in scope.
Never discriminate in any way when sorting applications. Austin tenant screening laws require landlords to comply with all federal, state and city anti-discrimination laws. If landlords in Austin don't know about these laws, they can visit this website as well as the hud.gov website.
Remember, Austin tenant screening laws include:
Non-refundable application deposits.
Absolutely no discrimination when selecting applications for approval.
Landlords can legally deny an application that doesn't meet their screening criteria as long as they are not discriminating.
Austin landlords will be able to keep track of all the landlord-tenant laws at this website.
Check Out Your Texas Screening Guide
In many cases cities have their own screening rules and regulations while the state has another set of rules that govern the screening process.
Click here to go to our post on "Texas Tenant Screening Process."
[activecampaign form=140]
Finding the Right Tenant Screening Services
Austin landlords can make the last part of the tenant screening process as smooth as possible by locating a reputable tenant screening service. For a moderate fee, a good tenant screening service should provide:
History of evictions
Past bankruptcies
Any judgments and liens
All prior addresses
Landlords can make the final decision based on the results of the background checks. The best applicants will rise to the top when landlords review the background check information that the tenant screening service presents.
At RentPrep, we have experience with over 21,000 landlords over the past 10 years. Check out our tenant screening packages to see the services we offer.
Our FCRA certified screeners will put your mind at ease by providing the best tenant screening report available.