Albuquerque is know for its unique blend of Southwest culture and style, and many people enjoy living in this lovely desert city. Landlords with property in Albuquerque are definitely going to appreciate the hot market and it's in their best interest to attract the best tenants possible. When landlords follow the Albuquerque tenant screening laws, they have the best chance of finding top quality applicants that will make excellent tenants.
In this post, Albuquerque landlords learn about:
Albuquerque tenant screening laws
Where to find free landlord resources
Overview of the application screening process
How to locate tenant screening services
Tenant Screening Albuquerque Laws
Often a metro area enacts tenant screening laws that apply to only the city limits. The cannot change state and federal laws but they can add to them. That's why a lot of big cities like Albuquerque can enforce these laws that landlords may not even know about if they haven't spent time educating themselves. These laws are in place to ensure the application process stays fair and balanced.
Some of the Albuquerque tenant screening laws include:
The city allows landlords to charge what they want for an application fee.
Albuquerque application fees are not refundable.
The security deposits and application fees are separate transactions, as in most municipalities.
Albuquerque landlords are definitely going to benefit when they comply with their city's tenant screening laws.
Avoid This One Common Screening Mistake
Albuquerque landlords assume that they have every right to run a background check on applicants regardless of what's on their application. However, too many are making a very common screening mistake. Unless a landlord gets a signature of consent from the applicant, they won't be able to run a background check. Any current applications that don't require a signature put the landlord out of luck for doing a formal background check.
Here's an example of an application from RentPrep: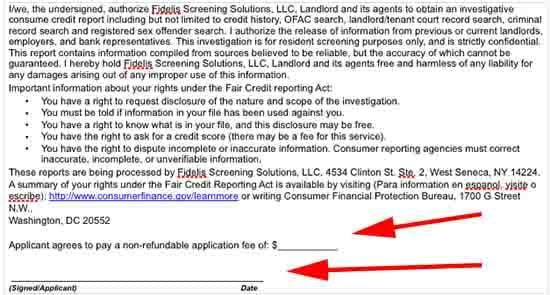 Look at the top arrow, which shows that the applicant's application fee is non-refundable. The bottom arrow indicates that a signature is required to complete the application.
Resources for Tenant Screening in Albuquerque
RentPrep has gathered a helpful list of links for you to use in your real estate business. There's no better way to find top tenants than to use the information here.
*More landlords across the state are considering a no blank space policy. This allows them to automatically deny applications if they are not completely filled out. In other words, if questions are left blank, landlords won't be able to investigate that part of an applicant's background. Only processing completed applications gives landlords a full picture.
Albuquerque Tenant Screening Process
Of course, every landlord has an idea of what their ideal tenant should be like, from income requirements to whether they have a pet or not. Landlords can put their most preferred qualities into a tenant screening criteria list and use it to rank applications. The applicants that best match their tenant screening criteria list get approved for the next level. Landlords in Albuquerque can focus on the type of renters they really want in their rental property.
Here's an example of an Albuquerque tenant screening list:
No smoking
No previous evictions
Only one dog under 20 lbs
Income to rent ration must be at least 3:1
Held current job for at least 6 months
Bankruptcy older than 7 years acceptable
No violent criminal history
Albuquerque landlords are in a good position to select the applicants that best fit their requirements. However, there are certain things that they cannot specify. In other words, landlords cannot discriminate against any protected classes. Certain groups are protected from discrimination by state, federal and municipal laws. Landlords need to know that it is illegal to discriminate against these protected classes. There's more information about Albuquerque's fair housing laws here. Landlords can also get details on federal standards at the hud.gov website.
Albuquerque's tenant screening laws include:
No limits on how much landlords can charge for application fees.
Albuquerque landlords may use a tenant screening criteria list to sort applications.
Landlords cannot discriminate against protected classes during the application process.
Every Albuquerque landlord shall comply with the city's tenant screening laws or the could get into serious legal trouble.
Check Out Your New Mexico Screening Guide
In many cases cities have their own screening rules and regulations while the state has another set of rules that govern the screening process.
Click here to go to our post on the "New Mexico Tenant Screening Process."
Tenant Screening Guide
Some subjects are more fun than others.
If we're being honest, tenant screening isn't that fun.
However, it's a necessary step to protect your rental investments.
We try and spice things up in our tenant screening guide by having you follow Laura throughout the tenant screening process.
[activecampaign form=140]
Finding the Best Tenant Screening Service
There's no doubt that a professional tenant screening service will provide Albuquerque landlords with the most detailed and thorough background checks.  Tenant screening services have the experience and time to really uncover everything relevant about each applicant. The best tenant screening companies provide info on:
Prior evictions
Bankruptcies
Judgments or liens
Address history
After the background check is completed for applicants, landlords can go ahead and choose the one that they feel will make the best tenant. Albuquerque landlords should rely on a real background check instead of their own instincts when it comes to selecting a quality tenant.
At RentPrep, we have experience with over 21,000 landlords over the past 10 years. Check out our tenant screening packages to see the services we offer.
Our FCRA certified screeners will put your mind at ease by providing the best tenant screening report available.