South Carolina tenant screening is very important in making your real estate business a success. Did you know that different states have varying tenant screening laws and procedures, and in South Carolina, you should learn what makes this state's screening unique. Whether you live in Charleston, Columbia, Greenville or somewhere else, South Carolina's laws can affect how you do business.
Here at RentPrep, we want to help landlords like you. So, our post covers all the topics landlords in South Carolina need to find the best tenants out there.
These are just some of the topics we'll talk about:
South Carolina tenant screening laws
Free resources for South Carolina landlords
Details about the screening process
Choosing a tenant screening service
South Carolina Tenant Screening Laws
South Carolina tenant screening laws are not much different than other states, but there are a few peculiarities.
Take a look at some of the interesting details:
South Carolina laws don't limit the amount that landlords can charge for an application fee.
The laws do regulate a maximum security deposit, which can be no more than one month's rent.
Application fees are non-refundable and not part of the security deposit.
While landlords can charge whatever they want for an application fee, most applicants will skip over places that have a high fee, so set it according to what the market demands.
Learn more about South Carolina tenant screening here.
Are You Making This Common Screening Mistake?
Are you under the impression that you can run a background check on your tenant no matter what? The truth is you can run a background check on someone only if they have signed a consent form for you to do so.
All too often, rental application forms will not have a place for the applicant to sign that gives consent, Without it, you can't run a background check.
See how we've taken care of that in one of the forms we use here at RentPrep.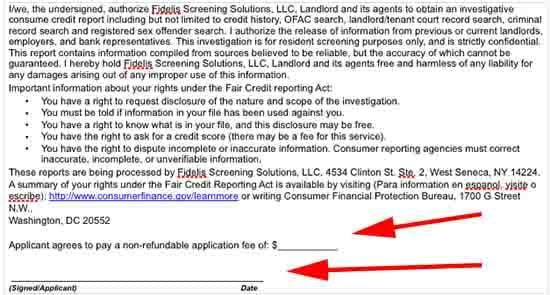 Top arrow:  Notifies the applicant that their application fee is non-refundable.
Bottom arrow: Where the applicant must sign to give consent to run a background check.
Resources for Tenant Screening in South Carolina:
We've gathered some of the best forms and resources to help landlords like you find the best possible tenant for your rental.
*Do you know about the "No Blank Space" policy that many landlords have implemented? That's when you don't accept any rental applications where all the questions have not been answered. Too often, applicants with something to hide don't fill out every space on the rental application because they don't want landlords to investigate. Screen out bad applicants from the start using this policy.
South Carolina Tenant Screening Process
Have you created a screening criteria list for each of your rental properties? There's no better time to start one than right now. It's a list of everything you want to see in a tenant.
A typical screening criteria list may include:
No smoking
Pet restrictions as to breed, weight or number
Set rent to income ratio
Any criminal history
Absolutely no prior evictions
Your criteria can be whatever you want within reason, but it should never include conditions that discriminate.   Learn more about legally protected classes as they are defined by hud.gov.
Always be consistent in applying your list when screening tenants. You should never allow for exceptions or implement changes to your criteria depending on the applicant. Inconsistent screening could be seen as discrimination and bring in legal problems for you.
Remember, South Carolina is serious about proper tenant screening"
Landlords have no limits on collecting application fees
Application fees are not refundable, even if the application is denied
Security deposits are separate from application fees
Application fees should go to pay for the screening services
Learn more about the process in this South Carolina landlord/tenant guide.
RentPrep's Tenant Screening Guide
When screening tenants there is so much information to consider such as data included in a tenant screening report.
That is why we've created a tenant screening guide to show you every step of the process.
Just click the link above to check out guide.
[activecampaign form=140]
Picking a Tenant Screening Service
By now you should have a few applications that interest you, so it's time to find a company to run your background checks.
Always pick a screening service that offers the basics of the background check:
Past eviction
Any bankruptcies
Judgments or liens
Previous Addresses
Wait for the results to come in before making your final decision. It's never a good idea to rent to someone without having all their information in hand.
We'd love to help you with your tenant screening, because at RentPrep, we've worked with over 21,000 landlords over the past 10 years.
Check out our tenant screening packages to see the services we offer.
Our FCRA certified screeners will put your mind at ease by providing the best tenant screening report available.