When it comes to being a landlord in Rhode Island, you may feel like you've got all the rules and regulations learned. However, if you don't know all about Rhode Island tenant screening laws and regulations, you may be missing out on the best ways to find the state's best tenants.
Therefore, take some time to read up on Rhode Island tenant screening laws. RentPrep is providing landlords like you with the detailed information on Rhode Island tenant screening that you need.
In this post, you'll learn about:
Rhode Island tenant screening laws
Free resources
Overview of the screening process
Selecting the best tenant screening service
Rhode Island Tenant Screening Laws
The laws in Rhode island that cover tenant screening are slightly different than neighboring states.
Here are just a few Rhode Island issues you should know:
There is no limit to amount of the application fee that landlords can charge.
Application fees that are collected are not refundable.
Landlords can only charge up to 1 month's rent for a security deposit.
Application fees and security deposits are not the same thing.
The laws don't specify how landlords must hold fees and deposits, while many states require they must be kept in separate accounts.
As  Rhode Island landlord, you can refund someone's application fee if you want to but it is not required.
Learn all you can about Rhode Island laws on tenant screening here.
An All-Too-Common Screening Mistake
Landlords everywhere should plan on running background checks on applicants. However, landlords can only run a background check if they have gotten a signed consent form from them.
Of course, a proper rental application form should include a place for signed consent from the applicant so landlords can run a background check.
For example, here is one of the forms from RentPrep: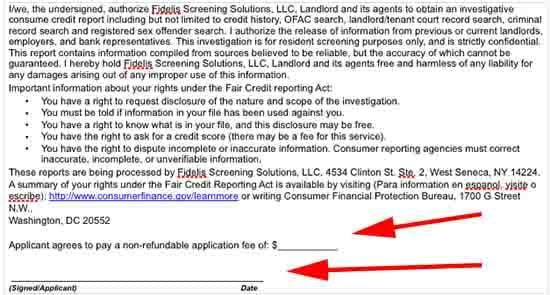 The top red arrow identifies language that tells applicants that this application fee is not refundable.
The bottom red arrow clearly shows where the applicant must sign to give consent for a background check.
Once a landlord has consent, they can start the process of checking out an applicant's background.
Resources for Tenant Screening in Rhode Island:
These free forms and guides are valuable resources that can assist you in finding the best possible tenant for your rental property.
*Try a "No Blank Space" policy to screen rental applications. When an applicant leaves a blank space instead of an answer, you can discard the application. Only accept applications that are completely filled out.
Rhode Island Tenant Screening Process
As a Rhode Island landlord, you need to sort out applications. The easiest way to do this is to create a tenant screening criteria list. It helps you really focus on the type of tenant you are seeking for each of your rental properties.
Here's an example of a tenant screening criteria list:
No smoking
Only one pet with approved vet records
Income to rent ratio must be approximately 2:1
Minimal credit score of 650
No history of violent crime
No previous evictions more recently than 7 years ago
A simple list of screening criteria can help you separate the good from the bad. However, your list should not include anything that would be discriminating against a protected class. Learn more on protected classes by checking out hud.gov.
Landlords must be consistent when screening applicants. They should not make exceptions or go with their instinct alone.  Resorting to a case-by-case scenario of approvals, landlords open themselves up to discrimination lawsuits and run the risk of getting a bad tenant.
Remember in Rhode Island:
Landlords are not limited in how much they can charge for an application fee.
All landlords should use fair and consistent screening criteria.
Landlords can legally reject any applications that don't meet their criteria, as long as they are not discriminating against a protected class.
Refer to this Rhode Island guide with specifics on being a landlord in the state.
[activecampaign form=140]
RentPrep's Tenant Screening Guide
If you have questions about tenant screening your tenants just click this link.
That link will take you to our ultimate tenant screening guide that will walk you through the entire process of screening your tenants.
Take the time to go through and learn all the steps involved with finding the perfect renter.
Finding a Tenant Screening Service
Once you've narrowed it down to just a few applications, you must find a good tenant screening service.  A good background check must cover the following topics:
Past evictions
Bankruptcies
Judgments/liens
Previous address history
Criminal history
Never offer a lease to an applicant without a background check. Even the nicest people can have something to hide. A tenant screening company will help you find out who will make the best tenant.
We invite you to check out RentPrep, where we've worked with over 21,000 landlords over the past 10 years.
Check out our tenant screening packages to get a better idea about all the services we offer.
Our FCRA-certified screeners will deliver the best tenant screening report available, every time.