Pennsylvania tenant screening is unique. All states do things a bit differently, but if you are a landlord in
Pennsylvania, you have everything to gain by getting familiar with landlord-tenant laws for the state.
Here at RentPrep, we've gathered all the information you need into one post, which will cover such interesting topics as:
Pennsylvania tenant screening laws
All kinds of free resources
Everything about the applicant screening process
How to choose a tenant screening service
Pennsylvania Tenant Screening Laws
Pennsylvania tenant screening laws have some one-of-a-kind rules that might be different than those of other states.
Check out this info about Pennsylvania:
Pennsylvania puts no limit on how much landlords can charge for an application fee
Even if the applicant is not approved, Pennsylvania law says the fee is non-refundable
Landlords can only charge up to two months rent as a maximum security deposit for the first year of tenancy
It should be noted that an application fee is never part of the security deposit. If you are the type of landlord who chooses to refund someone's application fee for whatever reason, you can do that.
If you want even further detail on laws involved with Pennsylvania tenant screening, read all about it here.
Screening Mistakes to Avoid
As a Pennsylvania landlord, you simply must run a background check on every applicant. However, you can only do this if you get signed consent from the applicant.
Go ahead and get your rental application form–we'll wait. Got it? Check whether there is a section on your application that requests signed consent from the applicant to run a background check. If it's there, you are doing great. If you don't see anything like that in your application form, it's time to update it.
Here's a snapshot of consent language from our forms that we use here at RentPrep.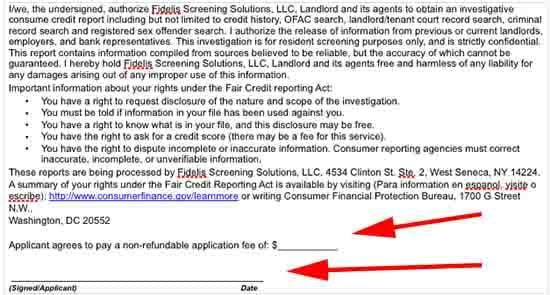 Notice how the first red arrow points out where it states that the application fee is non-refundable. Many applicants will ask about this, and Pennsylvania law says that you get to keep all application fees.
Notice how the second red arrow points out where the applicant is to sign that gives consent for you to run a background check. You can't do it without a signature.
Resources for Tenant Screening in Pennsylvania:
Here are some free forms and resources to help you find the best possible tenant for your rental.
*One important thing to keep in mind when you are accepting applications is the "No Blank Space" policy. This means that you don't accept any applications with even one blank space. Why? Because bad applicants with something to hide quite often leave blank spaces on the rental application, hoping that people won't mind or that they won't do a very thorough job. Screen out bad applicants right from the start by implementing this policy in your application process.
[activecampaign form=140]
Pennsylvania Tenant Screening Process
Do you have a list of screening criteria that you use for each application? No? It's way beyond time for you to create such a list for each of your rental properties. Of course, write the list down so you'll always have it.
Tenant screening criteria may include things such as the following:
No smoking
Pet limits or restrictions
Income > three times the monthly rent
No history of violent crimes
Absolutely no prior evictions
You can put anything you want on your screening criteria as long as it does not violate the discrimination laws set out by HUD. At no point in your marketing, or screening process should you discriminate against any applicant. If you are not clear about the protected classes, go to this website: hud.gov.
Once your screening criteria is written down, you should keep a list in your files for safe keeping. This is the first step in protecting yourself from a discrimination lawsuit. Another way to reduce the risk of a discrimination suit is to make sure you are always consistent when screening all applicants.
While the tenant screening process may be similar from state to state, there are even some differences within the state of Pennsylvania:
Some municipalities within the state, such as Philadelphia, have landlord tenant regulations that are different from the rest of the state
You can charge up to two months rent for a security deposit, but you must place the funds in an escrow account
Landlords in Pennsylvania may deduct 1% of the tenant's total security deposit that is in escrow each year to cover administrative fees, which are separate from application fees
We definitely suggest reading this helpful guide for more insights into Pennsylvania landlord-tenant law.
Tenant Screening Doesn't Have to be Boring
We've put together a tenant screening guide that walks you through the entire process.
We've included a comic where you can follow Laura through the tenant screening process.
Click here to check out our free tenant screening guide.
Picking a Tenant Screening Service
Now that you've picked the top tenant applicants, you need to pick a tenant screening service to run a background check.
To get a good background check, make sure the tenant screening service looks at the following:
Prior evictions
Prior bankruptcies
Any judgments and liens
Prior address history
Never rent to a tenant without knowing where they've been and what kind of tenant they are. It's a mistake to choose an applicant only based on your gut feeling.
We know what we are doing with tenant background screening, because here at RentPrep we've worked with more than 21,000 landlords over the past 10 years.
Check out our tenant screening packages to see the services we offer.
Our FCRA certified screeners will help put your mind at ease by providing you and other landlords across the country with the best tenant screening report available.